Tom Cotton Ducks TV Debate with Libertarian Challenger, Event Goes Ahead Without Him
Senator Tom Cotton (R-AR) chose not to attend an election debate on Wednesday but the event went ahead with just his opponent, Libertarian candidate Ricky Dale Harrington Jr.
There's no Democrat running for Senate in the state, making Harrington Cotton's only challenger. The Republican has represented Arkansas in the Senate since defeating the incumbent Mark Pryor in 2014.
Arkansas PBS hosted the debate, which lasted more than an hour. Journalists quizzed Harrington, a 34-year-old prison chaplain who's currently trailing Cotton by 11 points.
"I'm a little disappointed that he's refusing to participate in a bedrock of our constitutional democratic republic, which is a debate for public officials," Harrington said before the debate.
"I will be there. I will use that time to try to engage with the people of Arkansas."
In a written statement, the Cotton campaign explained why the senator would not be attending.
"Tom Cotton is following the precedent set by former Senator Mark Pryor, who did not participate in a 2008 debate because there was no major party challenger. He is enjoying being on the campaign trail and looks forward to speaking with Arkansans across our state as we approach this November's election," the senator's campaign told Newsweek.
The Green Party's Rebecca Kennedy ran against Pryor in 2008, winning 20.5 percent of the vote to his 79.5 percent.
The Harrington campaign told Newsweek: "We appreciate that Arkansas PBS had the integrity to have the debate, despite Senator Cotton's decision not to participate. Ricky got a chance to make his case directly to Arkansans, and we're absolutely thrilled with the response we've been getting from voters across the political spectrum."
Closing the debate on Wednesday, Harrington addressed Arkansas voters directly, saying the U.S. had been through a number of difficulties but he struck a positive tone, saying "the people of America are resilient."
"Right now, we are enduring turmoil in the streets as people try to protest police brutality," Harrington said. "We are dealing with a pandemic, but I know who you are."
"You are resilient people. You can overcome this just like we have overcome all the troubles in our past. But we can only do it if we work together, if you remember that those who disagree with you are still human beings."
"Our differences make us stronger. And I appeal to this great people that even though we have failed, even though we are still continually striving for that great ideal, of justice, of liberty, and equality under the law, we can overcome anything," he said.
Cotton leads Harrington by 49 points to 38 points, according to a recent poll from American Research Group. Polling tracker FiveThirtyEight gives that pollster a B rating.
Harrington has pointed to the fact that 13 percent of respondents to the poll were undecided as evidence that he can defeat Cotton in November. The percentage of undecideds is larger than Cotton's lead.
This article has been updated to include comment from the Cotton and Harrington campaigns.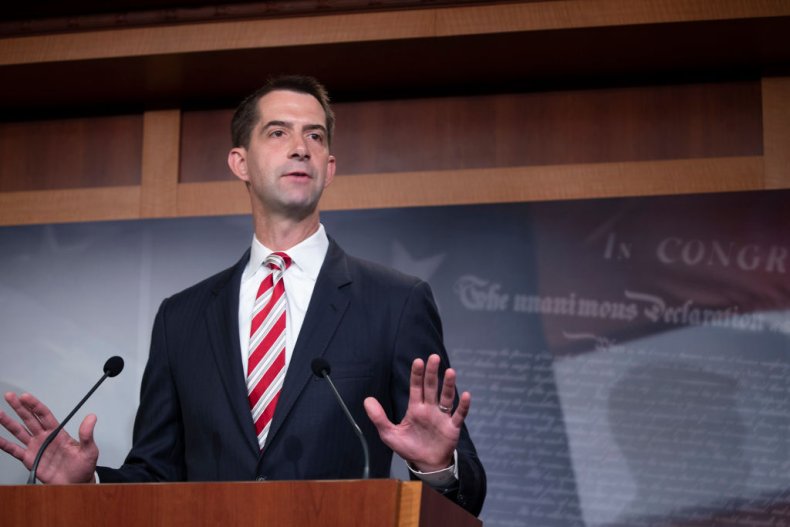 Tom Cotton Ducks TV Debate with Libertarian Challenger, Event Goes Ahead Without Him | Politics