Kate Middleton's Reaction to Tom Cruise Hand Holding Divides Opinion Online
Tom Cruise's interactions with Kate Middleton at the royal charity premiere of his Top Gun sequel Top Gun: Maverick have divided opinion on social media, with some users hailing him as a "gentleman" and others claiming that the royal awkwardly stopped the star from holding her hand.
Kate and William attended the premiere on Thursday in London's Leicester Square, marking the 72nd Royal Film Performance raising money for The Film and TV Charity of which Queen Elizabeth II is the patron.
When the royals arrived on the red carpet, which featured a model fighter jet, they were greeted by Cruise, who escorted them to meet fellow cast and crew members.
In a TikTok video posted by user mrstevenhargrave, the royals are shown meeting cruise, over which a narration reads "Tom waits for no one—except a future King."
The star is shown to nod his head as William and Kate approach before William presents his wife to Cruise and greets the actor himself.
A later move by Cruise sparked discussion online after he offered to take Kate's hand as she climbed a flight of stairs to greet a lineup of cast members. The duchess was wearing a figure hugging black and white evening gown with high heels and video footage shows her accepting the gesture that users have called "gentlemanly" online.
Others have suggested that Kate wasn't so thrilled with the offer as after climbing one flight of steps she is seen to change which hand she was holding her handbag in to Cruise's side and ascended the last flight solo.
Ironically, the theme song for Top Gun: Maverick, performed in the movie by Lady Gaga, is titled Hold My Hand.
Sky News Australia contributor Dr Erin Watson took to Twitter to post:
"Kate Middleton then immediately switched her clutch so he didn't touch her again as she went up the next set of stairs like a total #bossroyal who wasn't going to be touched by Tom Cruise."
Adding: "Kate Middleton is all of us strategically shifting our clutch because someone thinks they can touch you but #nope"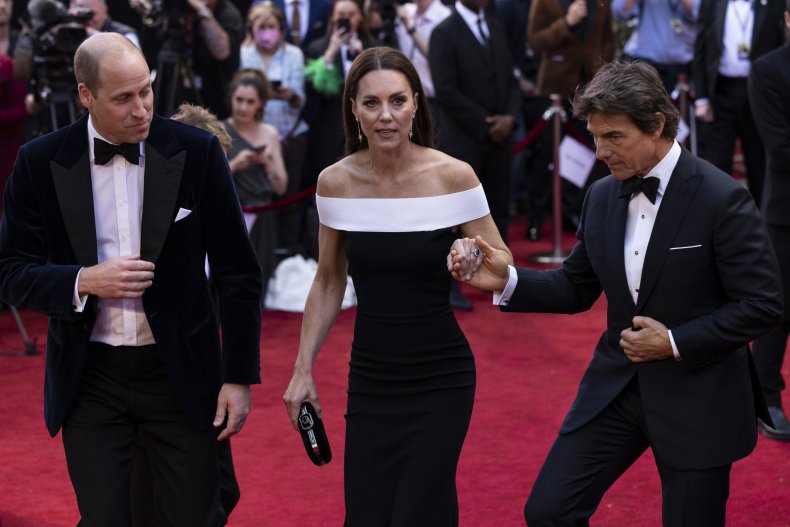 In response to a later comment, Watson claimed that the royal looked "mortified" and that William was prevented from offering his support due to her carrying her bag on his side. She posted:
"Her face is mortified - she reluctantly accepts, then switches. a. Royals aren't to be touched, and b. One doesn't want to be touched by Tom Cruise. Kate is traditional and conservative in many ways, she clearly didn't like it. Wills couldn't take her hand because of the clutch"
Royal fashion expert and author Elizabeth Holmes also identified Kate's switching of her bag from one hand to the other as a deliberate move by the duchess.
In a story posted to Instagram, Holmes wrote: "A moment of silence for the absolutely stealth clutch hand switch. McQueen makes shields! Who knew! Clutch, indeed."
The author of HRH: So Many Thoughts on Royal Style also posted a story saying: "I just have to say that Kate's look when having to hold Tom Cruise's is highly relatable. Same girl. Same."
Despite this interpretation by some, others have praised Cruise for the gesture and the footage of the incident may suggest that the duchess climbed the last steps alone because she needed both hands to hold her bag as well as her floor length dress.
In a TikTok video posted by user shazzacarpenter, Cruise is shown helping Kate up the steps with the audio "Tom Cruise is such a gentleman" playing over the top.
Broadcaster Rachel Sweeney also found the gesture endearing as she posted to Twitter:
"Kate is perfection and I love so much that Tom Cruise held her hand!"
Following the hand-holding incident, Kate and William took their seats alongside Cruise for the film. This was by no means the Hollywood star's first brush with royalty. Only last week, he appeared as a guest host during a Platinum Jubilee equestrian spectacular for the queen, praising her "devotion" and "dignity."
In 1992 Cruise also met William's mother, Princess Diana, at the movie premiere for Far And Away, in which he starred alongside Nicole Kidman. The couple were invited to Diana's funeral at Westminster Abbey five years later following her death aged 36 in a Paris car crash.