Tom Cruise Memes Flood Internet After Actor Rips Movie Crew for COVID Breach
Tom Cruise's profanity-enhanced tirade against crew members breaking COVID-19 protocols on the U.K. set of Mission: Impossible 7 quickly became the subject for memes on Tuesday with many social media users in agreement with Cruise's words.
According to The Sun, Cruise noticed two individuals hovering over a computer screen in violation of social distancing protocols. Cruise has attempted to keep the film set COVID-free after the virus created delays in October filming. In audio posted online, Cruise can allegedly be heard telling the crew members that behavior similar to theirs was responsible for the virtual shuttering of the movie industry.
"You can tell it to the people who are losing their f*cking homes because our industry is shut down," Cruise allegedly says in part. "It's not going to put food on their table or pay for their college education. That's what I sleep with every night—the future of this f*cking industry! So I'm sorry, I am beyond your apologies. I have told you, and now I want it, and if you don't do it, you're out. We are not shutting this f*cking movie down! Is it understood? If I see it again, you're f*cking gone."
Some social media users found themselves surprised to be in agreement with Cruise while others compared his on-set remarks to characters Cruise has played in other films.
Some of the following memes contain language that some readers may find unsuitable. Discretion is advised.
"I.... am actually agreeing with Tom cruise," tweeted @MichaelGar93.
Cinematographer Jeff Schwartz drew a comparison between Cruise's on-set comments to his character in the 2008 comedy Tropic Thunder.
"Tom Cruise screaming because he's scared crew members will lose their homes or not be able to pay for college is INCREDIBLE," tweeted Brian Duffield.
Twitter user Adam Scherer embedded a GIF of Tom Cruise's Oscar-nominated performance from Magnolia in his tweet which read "Tom Cruise seeing you break COVID protocol."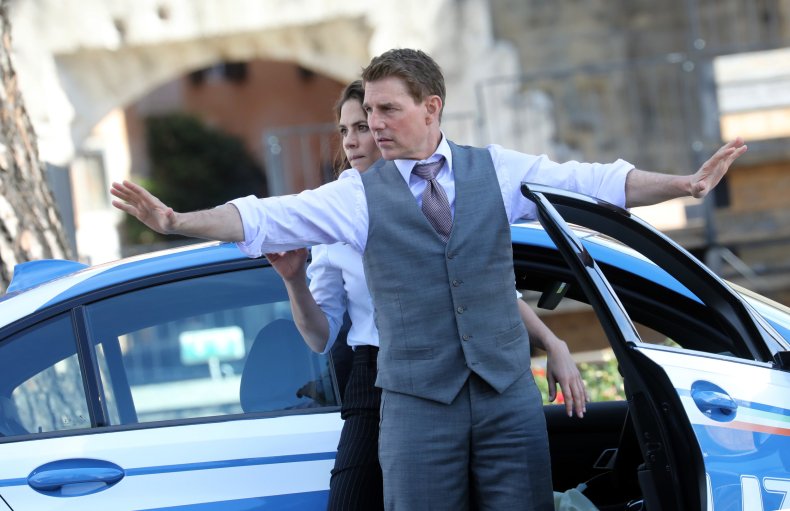 "me, on the mission: impossible set, waiting for tom cruise to stop yelling at me," tweeted @cavillanelle.
Self-described "Comic Book Connoisseur" The Immortal Rob posted a quick scene from Cruise's performance as a hitman in the film Collateral. "Tom Cruise after you break Covid protocol," Rob tweeted.
Comedian Brent Terhune overlaid audio of Cruise's remarks onto a clip of himself holding a boom microphone.
Twitter user @JaredPushner overdubbed a pivotal scene from the 1992 film A Few Good Men with Cruise's rant, retitling it "A Few Good Men Who Wear Masks - Starring Tom Cruise."
Newsweek reached out to Cruise's publicist for comment.
Cruise's attempts to keep the next chapter of the Mission: Impossible franchise COVID free included housing both the cast and crew aboard privately chartered cruise ships in hopes of keeping individuals safe from the spread of the virus while filming in Norway.