Tom Daley: How Diver Met Gold Medal Partner Matty Lee
Tom Daley became a poster boy for the London 2012 Olympics, with his image on banners and billboards all over the U.K. He won a bronze medal then as an 18-year-old, which he achieved again in synchronized diving in 2016.
It has been his partnership with Matty Lee which has got him the gold after many years of competition, while for Lee, Tokyo 2020 is his first Olympics.
They met long before these Olympics, becoming partners in synchronized diving in October 2018.
How Did Tom Daley and Matty Lee Meet?
Matty Lee told Team GB how he first met Tom Daley long before they ever worked together, when he was a fan of his diving colleague.
Lee, 23, said: "I don't remember the exact day we met but I was a massive fan of Tom's.
"I remember running up to him and asking for photos and a signature.
"There's a photo of me and Tom around the year of Beijing and it's funny because I'm just a kid with a big head."
He added how they are now "best mates and Olympic gold medallists" after years of looking up to Daley, 27, as a young diver.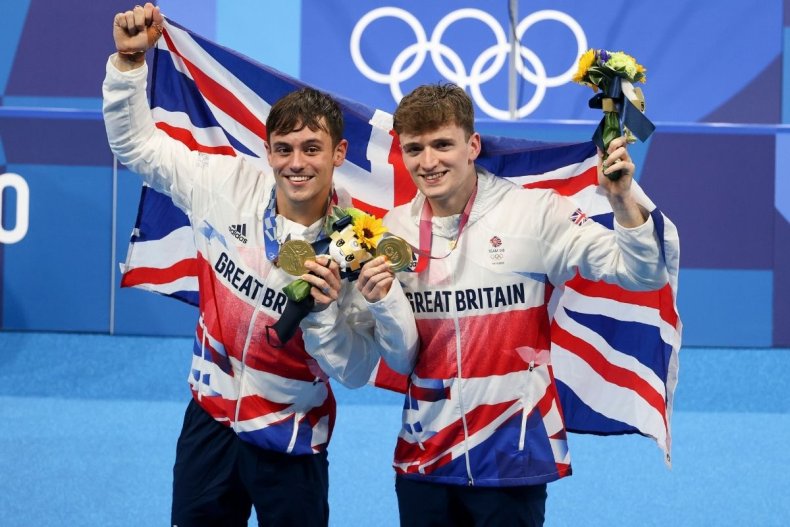 Lee moved from his hometown of Leeds to London in 2018, and said he owed his best friend Daley a great deal in making him feel welcome on his arrival.
He said Daley "took him under his wing" after he moved, telling Attitude magazine in 2019: "Tom knew I was moving my whole life to London and stuff, so he very much took me under his wing.
"I didn't know anyone in London at the time, so he introduced me to his friends.
"He had Monday night dinner clubs, and he would invite me to them, because I was quite shy, and not very good at talking to people I don't know.
"Courtney Act as Shane would be there, as well as other lovely people."
They competed together in multiple events, winning bronze at the 2019 World Aquatics Championships.
The pair then won gold at the FINA Diving World Cup and the European Championships, both in 2021.
Who Is Tom Daley's Husband?
Despite their working relationship, with Lee even calling Daley his "work husband," the pair are not married.
Daley has been married to screenwriter Dustin Lance Black since 2017.
The writer won an Academy Award for Best Original Screenplay for the Sean Penn-led film Milk, which follows the life of politician Harvey Milk.
He and Daley began their relationship in 2013, and married in 2017, after which they had their first child, Robbie, on June 27, 2018 via surrogacy.
Daley said of his son after winning gold, via The Independent: "I can say my son watched me become an Olympic champion, albeit on TV as they couldn't be here. It's such a great feeling."