Everything Tom Ford Has Said About 'House of Gucci'
In 1994, a young Tom Ford became the creative director of Gucci, turning the brand around with his eye-catching women's ready-to-wear designs. Ford joined the company in 1990 and has been credited with ultimately saving the fashion brand from bankruptcy. In Ridley Scott's House of Gucci, Reeve Carney portrays Ford in the early 1990s as he joins the Gucci brand and debuts his first collection.
House of Gucci follows the rise and fall of the Italian power couple, Patrizia Reggiani (played by Lady Gaga) and Maurizio Gucci (Adam Driver), and the events leading to Mauritzo's assassination at the hands of his ex-wife Patrizia on March 27, 1995. So far, the film has received mixed reviews from critics and Tom Ford has recently spoken out about the film in an essay he penned for Air Mail.
In his essay, he praised the performances of Lady Gaga as Patrizia, Adam Driver as Maurizio, Jeremy Irons for playing Maurizio's father Rodolfo, and Salma Hayek as psychic Pina Auriemma. But he did raise concerns about the film's accuracy and delivery, writing he found it hard to see "the humor and camp in something that was so bloody."
Newsweek has a full recap of everything Ford has said about House of Gucci below.
On House of Gucci As A Whole
Writing in Air Mail, Ford described his experience of watching the two-hour and 37-minute film in the theater as feeling as though he had "lived through a hurricane."
He reflected: "Was it a farce or a gripping tale of greed? I often laughed out loud, but was I supposed to?"
At the end of his essay, Ford reflected how "deeply sad" he felt for several days after watching House of Gucci.
He wrote: "It was hard for me to see the humor and camp in something that was so bloody. In real life, none of it was camp. It was at times absurd, but ultimately it was tragic."
On His Portrayal
Penny Dreadful's Reeve Carney portrayed a young Tom Ford in House of Gucci, bright-eyed and bushy-tailed, ready to make his mark on the fashion world. Ford began working at Gucci in 1990 and served as the creative director of the house from 1994 to 2004.
In House of Gucci, Ford is seen working with Maurizio and celebrating with him after his first collection had its debut on the runway.
Ford took issue with the show's accuracy, particularly regarding his own story.
He wrote: "Maurizio had been bought out of the company by the time I assumed the position of creative director of Gucci and had my first hit collection. He certainly never toasted me after that show as he does in the film. Movies have a way of becoming truth in people's minds, an alternate reality that in time obliterates the reality of what was."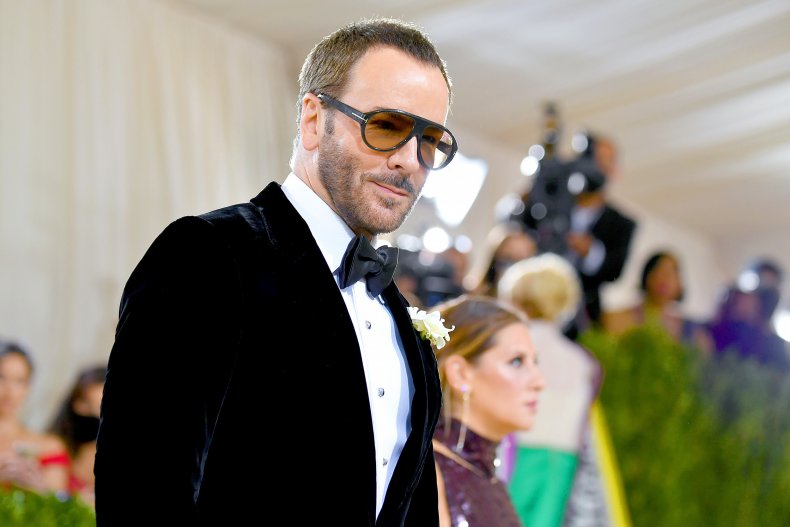 The Acting in House of Gucci
Ford described Al Pacino as Aldo Gucci and Jared Leto as Aldo's son Paolo Gucci performances at times as similar to a "Saturday Night Live version of the tale." Ouch.
In particular, he pointed to the unfortunate fact Leto's acting talents were "literally buried under latex prosthetics."
For the role, Leto worked with prosthetics designer Göran Lundström, who designed eight prosthetic pieces and a balding wig to complete the look.
In an interview with i-D, Leto said he was "snorting lines of arrabbiata sauce" and "olive oil for blood" to prepare for the role of designer Paolo Gucci.
He shared: "This was a deep dive I did. If you took a biopsy of my skin, it would come back as parmesan cheese! This is my love letter to Italy. There was a lot of work and preparation, and yes, I had an Italian accent and I enjoyed and embraced that, and lived in that space as much as I could, and for as long as I possibly could. I climbed into that creative cave and came out through the bowels and intestines into the esophagus of the one and only Paolo Gucci."
Overall, Ford praised the performances of the cast of House of Gucci but did not shy from pointing out the limits a stellar cast may have had on the film itself.
In Ford's eyes, audiences were "subject to pointless and sometimes confusing scenes," which he argues were included solely to allow the leading actors to shine.
He wrote: "Under different circumstances, there is no doubt that some of those scenes would have ended up on the cutting-room floor. But because they stayed in, there is no time for the character development of the key players and thus we have little attachment to—or empathy for—any of them. The result, sadly, is a story in which we identify with no one."
The Gucci Scarf
In House of Gucci, there is a moment where an angry Paolo Gucci (Leto) urinates over the famous Gucci Flora scarf created for Princess Grace, formerly known as Grace Kelly.
Ford confesses he was jealous of the scene, writing: "It was something that I always wanted to do myself, as I was constantly being asked to try to revive that damned scarf."
House of Gucci is in theaters now.