Tom Hanks Photobombs Bride on Her Wedding Day
Tom Hanks made a bride's special day even more memorable when he photobombed her pictures before her wedding.
Grace Gwaltney was having her picture taken with her bridesmaids in downtown Pittsburgh when the Oscar-winning actor asked if he could get a photo with her. Photos shared with Newsweek by photographer Rachel Rowland show Hanks' wife Rita Wilson also jumped in to join the wedding party.
Recalling the moment Hanks approached them, Rowland told Newsweek: "When it first happened we were all confused and it didn't click for a second. Most of us stared quietly for a second. Then we all erupted in screams."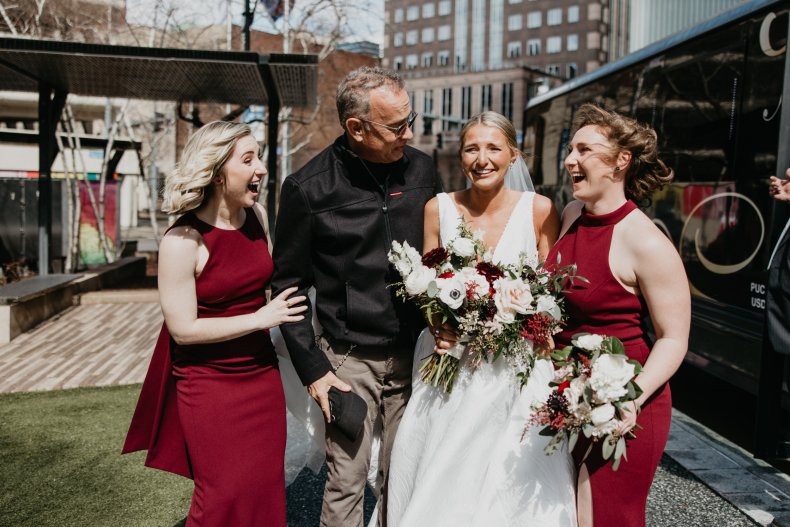 It seems everyone was briefly caught unawares by Hanks when he started interacting with them. "You always have all of these plans and ideas for when you meet a celebrity and then when you do—especially national treasure Tom Hanks—you really become mush," Rowland said.
Hanks wasn't just posing for photos with the bridal party, Rowland said he actually helped out to make sure everyone got in the pictures too. "He found me and asked me to take a photo with the bride and then yelled for all of the bridesmaids to get off the limo for the photo. He was exactly as you would assume him to be, joyful, funny, loud and kind.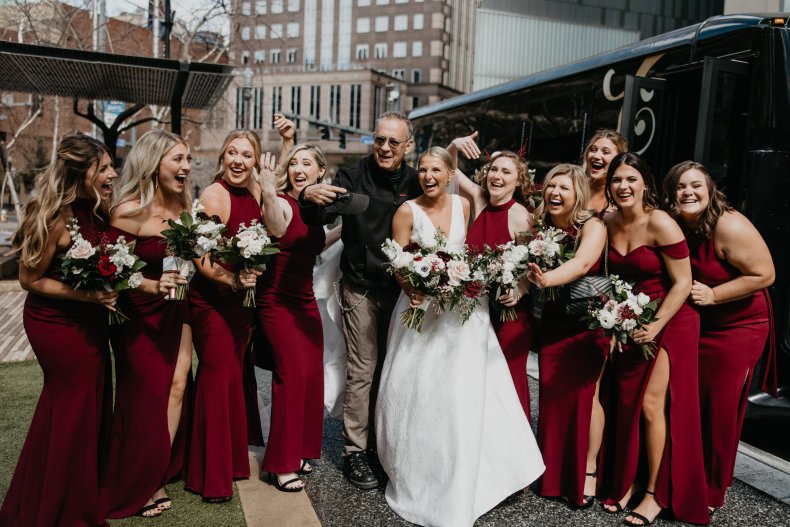 "Rita [Wilson] stayed on the sidelines but we all forced her to hop in a few. Then as quickly as it happened he was gone and our day was completely made," Rowland recalled.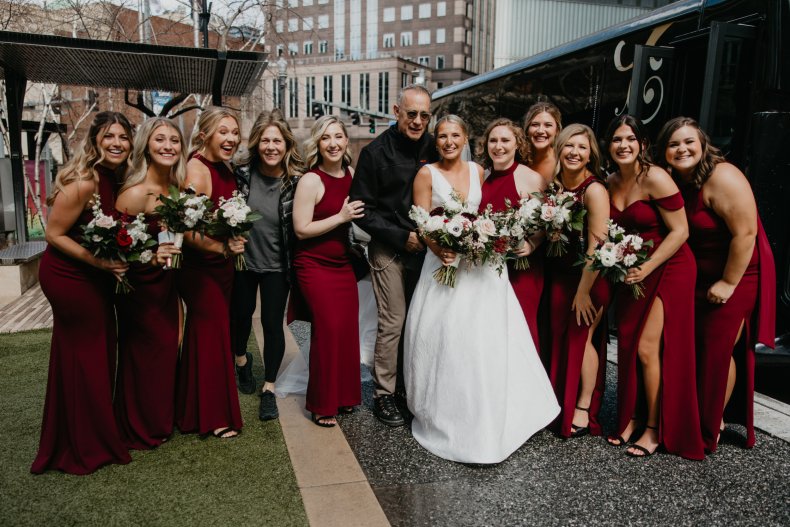 Speaking to WTAE-TV Pittsburgh, the bride called the whole experience "crazy," but admitted she couldn't help but think of Toy Story when she heard his famous voice. Gwaltney described what Hanks said to her and the bridal party when he approached them.
"He said, 'Hey I'm Tom Hanks, I'd love to get a photo with you'," she recalled. "I immediately froze and I was just looking around and didn't know what to do.
"It's his voice. You see him and then he starts speaking and he's like, 'You look so beautiful. I'm so happy for you'." She continued: "He was talking in my ear and I was thinking of Toy Story."
Hanks is in Pittsburgh filming a movie adaptation of the novel A Man Called Ove. Touted for release in late 2022, the American version titled A Man Called Otto is about a grumpy old widower who forms an unlikely friendship with his new neighbors.
Gwaltney admitted it was a surreal moment because she was just having a conversation with her sister about how Hanks was perfectly cast in the role of Otto. She also said, "I'm sure a lot of other Pittsburgh brides would love for him to photobomb their shots."
Surprisingly, this isn't the first time Hanks has interrupted a wedding day to jump into some photos with strangers. In 2016 he crashed a wedding in Central Park and posed with a bride and groom. Then on September 24 that year, he tweeted one of the photos taken and congratulated the happy couple.
He was at it again last year when he posed with brides Diciembre and Tashia Farries on their wedding day by Santa Monica Pier on October 22, 2021. Back in 2008 he also escorted a bride-to-be to her wedding while shooting Angels and Demons in Rome.
Hanks must be building himself a reputation as a sought-after wedding guest as he was invited to the wedding of Kristen Jerkins and Joe Dobrin in 2018. While he didn't attend the wedding, he did send a personalized letter back to the couple explaining why he couldn't make it. He wrote to the "kooky kids", "Dang it, but I am in rehearsals for a play here in Los Angeles starting in May. Rats. Gotta send regrets." He also included a Polaroid image of himself holding their wedding invitation.
Hanks' upcoming movies are the Elvis Presley biopic Elvis, due out on June 24, and the live-action version of Pinocchio, in September.