Tom Hanks was praised online after footage of the actor lashing out at fans who nearly knocked down his wife, Rita Wilson, was released.
According to TMZ, Hanks and Wilson were walking to their car in New York City on Wednesday night when a large group of fans began to crowd around them. One fan reportedly bumped into Wilson, nearly knocking her over.
In a video of the incident posted on Twitter by The Weekly Cut, Wilson can be seen turning to the group of people following them and shouting, "Stop it!"
Hanks then put himself between Wilson and the crowd and shouted, "This is my wife, back the f*** off!"
Several fans appeared to apologize as the actor was then escorted to the car waiting on the street.
Users on Twitter began praising Hanks for his reaction to the incident. One user wrote, "Seeing that clip of Tom Hanks telling people to 'back the f*** off' is giving me so much life right now."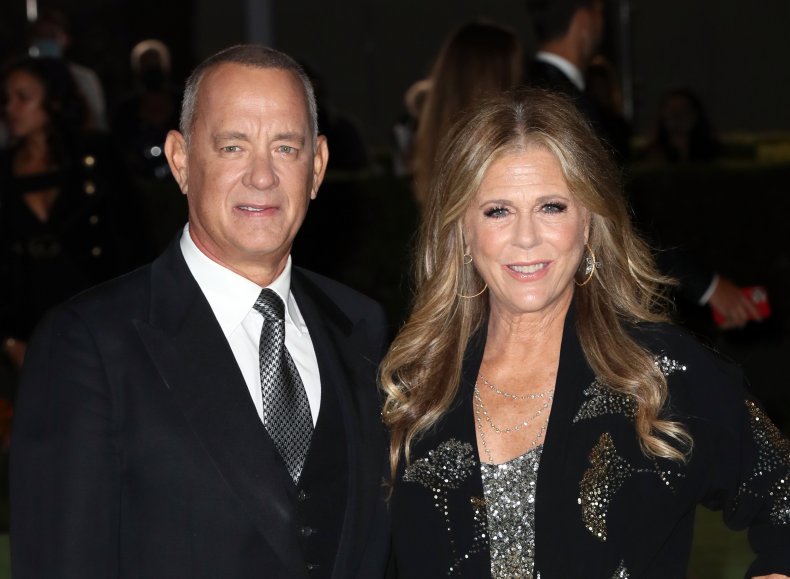 Another tweeted that Hanks was right for yelling at the fans. "You could see @tomhanks looked concerned when his wife stormed ahead of him," the user tweeted. "I think he was right to put the attention on himself so his wife could move safely away. You never know what people will do these days. Glad she's ok."
"My wife gets knocked down, I am doing the same thing," another wrote on Twitter. "There are times where its ok to snap. Defend [your] wife is one."
"COMPLETELY JUSTIFIED," another user wrote. "Y'all, if your actions are inspiring *Tom Hanks* to scream at you, you have made grave missteps in your life choices."
Radio personality Brian Fink tweeted about the incident as well, writing, "DON'T YOU DARE MAKE TOM HANKS ANGRY! HE'S A NATIONAL TREASURE!!"
User Big Cheese tweeted, "I don't blame Tom Hanks for defending his Wife and all in my personal space. Back TF up. Dude in the blue was a straight up grass pole."
Other fans online began discussing the way celebrities are treated by fans out in public, one saying, "Honestly, go tom hanks. people don't respect celebrities at alllllll. they're people too."
Others have pointed out that Hanks is the second celebrity in a short period of time to defend his wife, comparing Wednesday's incident to Will Smith and the infamous Chris Rock slap at the Oscars in March.
"Rare to see Tom Hanks getting angry, he who squats the roles of nice and clean hero on him. He was on the verge of giving us a 'Will Smith,'" one user wrote on Twitter, which was translated from French by Google.
Hanks has been married to Wilson since 1988, and they have two children together.
Hanks has also been praised recently for his role in the highly anticipated film, Elvis, a biopic of Elvis Presley starring Austin Butler that will premiere in theaters on Friday, June 24.
Newsweek reached out to a representative for Tom Hanks for additional comment.