Tom Hanks Stars as Mr. Rogers in Movie Based on Tom Junod's Profile: Read What He Had to Say
Two decades after journalist Tom Junod wrote a profile for Esquire on television personality Fred Rogers, a new film called A Beautiful Day in the Neighborhood starring actors Tom Hanks and Matthew Rhys will bring the story to the big screen.
The first trailer for the film was released on Monday and showed Hanks with the iconic red sweater that Rogers often wore and using the same soft-spoken tone as the person he portrayed. During the trailer, the journalist meets Rogers and explains that he's working on a piece about heroes, asking if the television personality considers himself one.
The film is based on a true story, though Rhys plays fictional journalist Lloyd Vogel, who was created to help tell Rogers' story.
In 1998, Junod wrote a piece profiling Rogers for Esquire, which was published in the November issue. Over the course of about 8,000 words, Junod described Rogers' morning routine, including taking a dip in the pool for a swim, his iconic wardrobe and his career, family and faith.
"He was barely more than a boy himself when he learned what he would be fighting for, and fighting against, for the rest of his life ... Yes, at seventy years old and 143 pounds, Mister Rogers still fights, and indeed, early this year, when television handed him its highest honor, he responded by telling television—gently, of course—to just shut up for once, and television listened," Junod wrote.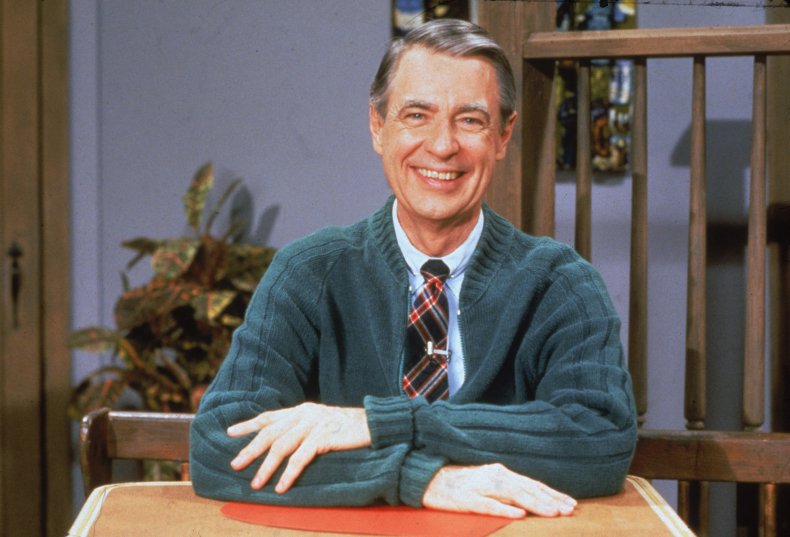 While accepting Emmy's Lifetime Achievement Award, Rogers asked the audience to be silent for 10 seconds and think of the people who helped them become who they became. At first, people thought he was joking, but Junod wrote they realized he was being serious and was not some "convenient eunuch but rather a man, an authority figure who actually expected them to do what he asked...and so they did."
Junod noted that after years on television, being Mr. Rogers was about more than being "nice" for half an hour each day. He rose at 5:30 in the morning, prayed, read, wrote, sent birthday cards, called people who "depend on him for comfort" and met with people whose lives he changed.
"There was an energy to him, however, a fearlessness, an unashamed insistence on intimacy, and though I tried to ask him questions about himself, he always turned the questions back on me...," Junod wrote in the piece.
The film is set to be released in November and while many have characterized it as a biopic, the director, Marielle Heller, said it wasn't a biopic. Heller told Entertainment Weekly it was a movie largely focused on a reporter and Rogers' relationship to his life and how the reporter's world changed after meeting Rogers.
"It's a story for our times, a story about kindness and family connection and trying to tap into our better self," Heller said. "God knows we need that right now!"
To coincide with the film's release, Penguin Random House will release a book featuring Junod's 1998 essay alongside a collection of words of wisdom from Rogers.