Tom Hiddleston Narrates New Doc 'Earth at Night in Color' Revealing the Nocturnal Lives of Animals
While you might have had to cancel your safari trip this year, you can still escape into the wild with Apple TV+'s new docuseries Earth at Night in Color. Filmed on six continents, as far afield as the Arctic circle to the African grasslands, this docuseries, for which Newsweek had a first look video, follows the moonlight journeys of animals, revealing never-before-seen behaviors of animal activity when the sun goes down.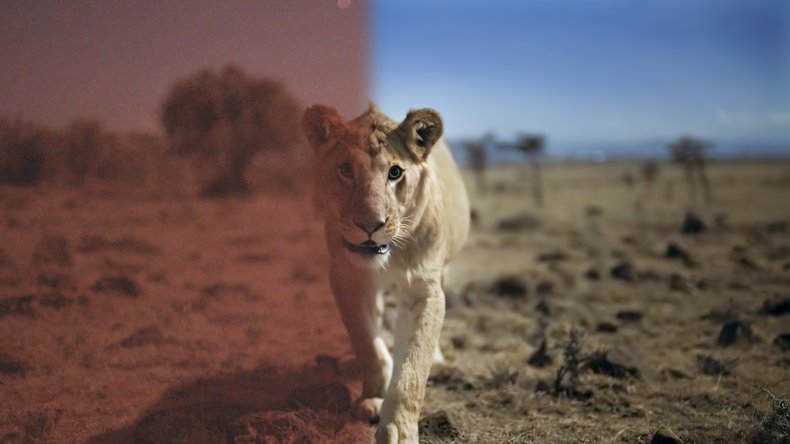 With groundbreaking technology, this pioneering nature series is able to capture the earth's last true wilderness—the night. Revealing the secret life of animals at night in color, the storytelling is dynamic and the drama is high as it's all filmed in total darkness. Golden Globe winner Tom Hiddleston narrates, and while the British actor might be known for his breakout role as Loki in Avengers and Thor, this isn't the first time he's narrated a nature series. In his earlier career, he was the voice of Charles Darwin in a BBC documentary Galapagos.
It's not just Hiddleson's British accent that adds to the drama, to capture this secret nocturnal world the crew's limits are tested as they are only able to film with the light of the moon. That means the crew could only film for about three nights on either side of the full moon when it's at its brightest. So for each full moon, the crew had to deploy multiple shooting teams to different parts of the world at exactly the same time. In the jungles of Borneo, a cameraman climbed 130 feet (the equivalent of a 10-story building) into the canopy to film, and in the wetlands of South America, the crew attached a gyro-stabilized camera to a small boat to document jaguars stalking the rivers.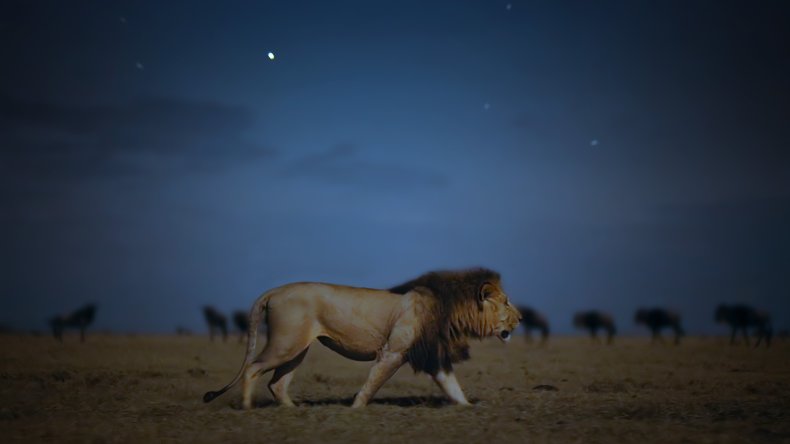 Earth at Night in Color shows strange things happen at night in the wild. At what once was a shadowy world is now in full-color with next-generation cameras showing the life of animals at night clear as day in a way we have never seen before. The docuseries shows the nightlife of lions, cheetahs and bears, as well as lesser-known nocturnal animals such as eagle owls and peregrine falcons.
Did you know Africa's lions, who are mostly nocturnal, have night vision that is six times better than a human? Or that hippos are more active at night? And due to hunters, bears have had to become nocturnal and they interact with each other silently to avoid predators.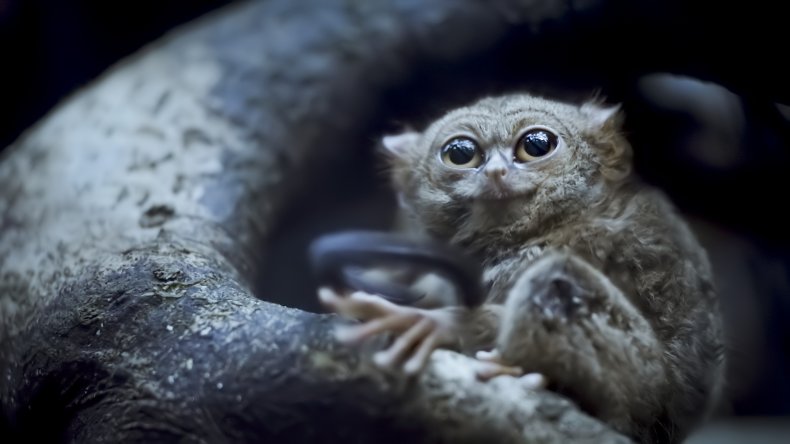 But perhaps the breakout star of Earth at Night in Color is the spectral tarsier, the most harmless-looking nocturnal creature, who is barely larger than a tennis ball and pulls at its ears in order to prime itself for hunting. Captured in the jungles of Southeast Asia, this little creature's eye is bigger than its brain giving it night vision that's 100 times better than humans.
So while we might be locked down this winter, we can still escape into the wonder of the natural world to see what goes bump in the night.
---
Earth at Night in Color is produced by Offspring Films and will premiere globally with six episodes on Friday, December 4, exclusively on Apple TV+. The second half will follow in 2021. This series is part of a trio of documentary Apple TV+ series that celebrates humanity and the wonder of the natural world. The other two documentary series are Tiny World (narrated by Paul Rudd) and Becoming You (narrated by Olivia Colman).