Tom Holland Rescues Young Fan Crushed by Autograph Hunters: 'I Got You'
Spider-Man star Tom Holland became a real-life superhero on Monday, when the 23-year-old came to the rescue of a fan being crushed by autograph hunters desperate to get the English actor's signature.
Holland is currently in New York City promoting the new Spider-Man film, Far From Home. Before his appearance on The Late Show with Stephen Colbert, a large number of admirers gathered to see the movie star. When Holland appeared, a crowd of autograph hunters rushed forwards, causing one fan to become crushed against the barricade.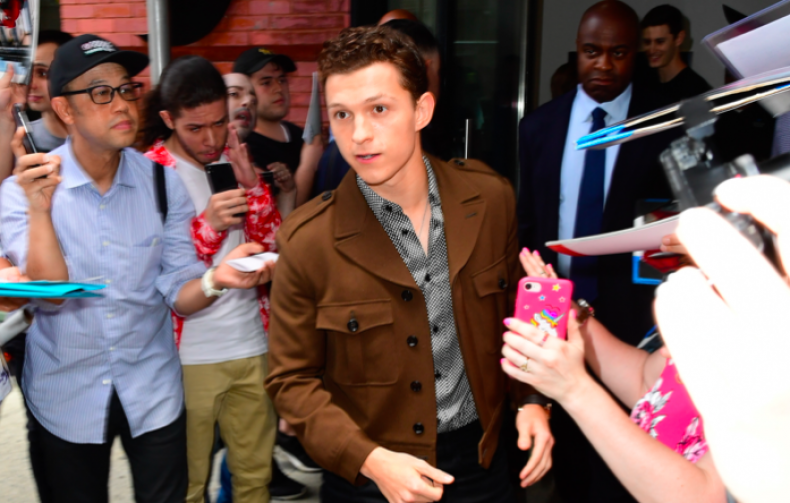 In a video that Twitter user NamelessCass posted, Holland confronts the autograph hunters pushing her against the barricade, saying "I'm going to throw your s*** on the floor if you keep pushing that girl."
She can then be heard breathing heavily and saying "Guys, I'm literally going to have a panic attack," to which Holland goes over and responds "It's okay, I've got you, I've got you" before once again telling the crowd "can you back up."
The video formed part of a Twitter thread where NamelessCass explained what happened.
"TOM HOLLAND JUST THREATENED GROWN ASS MEN THEN THREW THEIR POSTERS BECAUSE I WAS CRUSHED AGAINST THE BARRICADE HE SAID 'IM GONNA THROW YOUR S*** ON THR GROUND IF YOU KEEP PUSHING HER' then came to me and calmed me down and the video HES LITERALLY SO MAD AT GRAPHERS VKSBDKSN WHAT?" she posted
"I'll post the video when I get service but my dumbass didn't even get a pic but like he calmed me down cause I was legitimately shaking and risked it all for me so I'm happy asf
"By risked it all I meant he literally reached through the crowd as the barricade was like tipping and snatched the posters cksbdk like he risked HIS safety to help me
"This was absolutely INSANE and should NEVER happen....my neck was literally against the barricade with 30 grown men behind me pushing.... ridiculous how people act like you're not only endangering fans safety but Toms as well
"How about people just be respectful and act normal in a barricade woah who would've thought of that!!! This wasn't a concert or a show with a mf mosh pit this was a literal weak ass barricade in the middle of a nyc street...." NamelessCass added.
She wasn't the only person to complain about the behavior of some of the fans.
One person tweeted: "I was there too I was crying because I was happy yet because I was scared. I never would have thought that people way older than me and bigger would be squashing me to the ground. I wasn't able to get an autograph or a picture."
"I spent over an hour crying because someone dropped something on my shoulder and head so now I have a bruise and a bump and while I was pushed to the ground and being stepped on, zero people tried to help so I couldn't even pretend to try for my autograph," another added.
Numerous people on social media showered Holland with praise for stepping in to protect the fan from being crushed. One person wrote, "THIS IS GREAT!!!! I'm glad you're ok but this is why I freakin love Tom Holland"
"He is so caring im gonna cry," another person tweeted.
'Graphers' is another name for autograph hunters; people who attend numerous red carpet events in order to try and get signatures from the rich and famous, either to collect or sell online for profit. NamelessCass said that she has experienced unruly behavior from them before, but never to this extent.
"They all ran towards the barricade ultimately ending up causing all the fans to get pushed and shoved every direction possible," she said.
"I have experienced this before but not to this extent.... over 100 people with boards (what they put the posters on) flying over our heads, hitting us it was insane. If they're being respectful and know how to act in a situation then it's no problem. But as soon as they start acting like this it becomes ridiculous and unsafe to everyone involved," she added.
NamlessCass also added on Twitter the following day that she was very grateful to Holland for stepping in. "if anyone can just go ahead and tell Tom thank you and I hope to actually meet him and thank him someday it would be much appreciated lmfao," she wrote.
Spider-Man: Far From Home is a sequel to 2017 movie Spider-Man: Homecoming and sees Peter Parker go on a school trip to Europe where he is recruited by Nick Fury (Samuel L. Jackson) to team up with new character Mysterio (Jake Gyllenhaal) to face a threat from another dimension.