Tom Holland Wants to See 'Spider-Man: Into the Spider-Verse' Miles Morales in the MCU
Spider-Man star Tom Holland has said that he would love to one day see Miles Morales from Spider-Man: Into the Spider-Verse in the Marvel Cinematic Universe (MCU).
The 23-year-old was speaking to JOE ahead of the release of new superhero movie Spider-Man: Far From Home, a sequel to 2017 film Spider-Man: Homecoming and the twenty-third film in the MCU.
The movie is the second Spider-Man flick to hit the big screen in the last 12 months, after Sony's animated movie Into the Spider-Verse came out in December. The critically acclaimed film saw multiple versions of Spider-Man from different dimensions team up to stop crime boss Kingpin.
Holland said he adored the animated adventure and is excited by the idea that Miles Morales (played by Shamiek Moore), the main Spider-Man in that film, could one day appear alongside his version of the webslinger.
"It was so good. It was so funny. And I was so stressed when it came out! It was really awesome," he said. "He's [Moore] really really good in it. But I'm just excited to introduce Miles into our own universe one day. I think that's going to be really good," Holland said.
The Miles Morales version of Spider-Man was created in 2011 and has since gone to become a fan favorite for comic book readers. While the character has yet to appear in a live action Spider-Man film, his uncle Aaron Davis did make a small appearance in Homecoming as played by Donald Glover.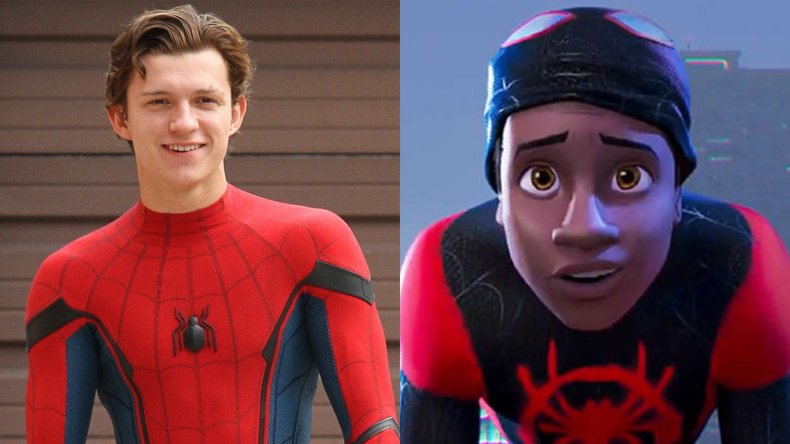 Holland also said in the interview that he was meant to have a cameo in Into the Spider-Verse but that unfortunately it never happened.
"At one point I was supposed to be in it. There was going to be another Peter Parker... There was like a scene in a train station or something, and it was going to be like an Easter egg. I was going to walk through the background and say like 'Hey, kid' or something," he said. "Never happened. Heartbroken," Holland added.
The English actor made headlines earlier this week after he came to the rescue of a fan who was being crushed by autograph hunters in New York desperate to get his signature. In a video that Twitter user NamelessCass posted on Monday, Holland confronts the autograph hunters pushing her against the barricade, saying "I'm going to throw your s*** on the floor if you keep pushing that girl."
She can then be heard breathing heavily and saying "Guys, I'm literally going to have a panic attack," to which Holland goes over and responds, "It's okay, I've got you, I've got you" before once again telling the crowd "can you back up."
Spider-Man: Far From Home is a sequel to 2017 movie Spider-Man: Homecoming and sees Peter Parker go on a school trip to Europe where he is recruited by Nick Fury (Samuel L. Jackson) to team up with new character Mysterio (Jake Gyllenhaal) to face a threat from another dimension.