The Best Tom Holland and Zendaya Red Carpet Looks From the Spider-Man Press Tour
Spider-Man: No Way Home co-stars Tom Holland and Zendaya almost broke the internet in September 2021 when Tom seemingly confirmed their romance by posting a sweet birthday tribute to his co-star, calling her "My MJ."
Ever since then fans of the 25-year-old actors have become seriously interested in everything they do. Recently, Tom and Zendaya have been working numerous red carpets as part of the press tour for Spider-Man: No Way Home and once again has sent the internet into meltdown over their classy and at times, coordinated outfits.
Newsweek has taken a look at the power couples red carpet looks so far from the Spider-Man press tour.
The Spider-Man Tribute
At the Los Angeles premiere of Spider-Man: No Way Home, Zendaya, who plays MJ, made heads turn on the Red Carpet wearing a long sheer, Valentino Haute Couture floor-length dress, complete with embellished black spider-webs and a leg split.
For accessories, she even wore a black needed couture Spider-man-themed mask, also by Valentino.
She was joined by Tom Holland AKA Peter Parker/Spider-Man who wore a matching chocolate brown suit designed by Prada, wearing Christian Louboutin boots.
They posed for pictures for press with their arms wrapped around each other, before heading into the screening.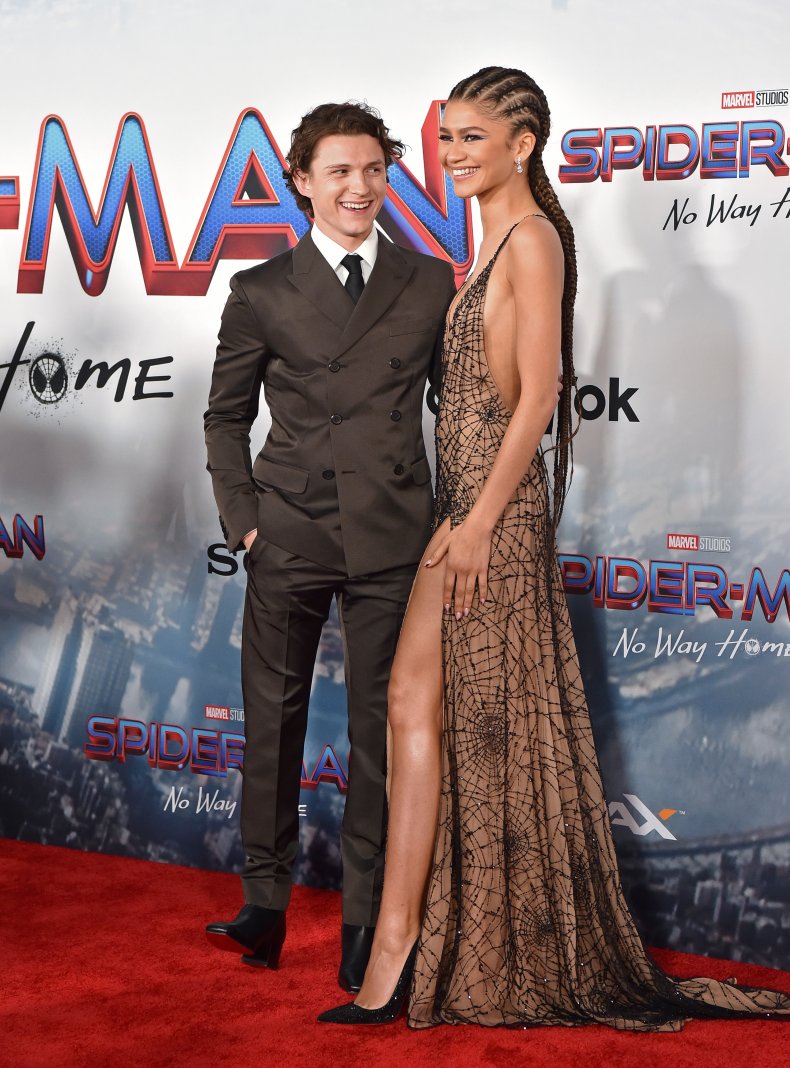 Fans have been sharing their reactions to the images from The Los Angeles premiere online and they cannot get enough.
One fan wrote: "tom and zendaya are gonna arrive together walk down that red carpet hand in hand and I'm gonna die."
Another added: "I apologize for the person I'll become when tom holland and zendaya come up on the red carpet."
The London Red Carpet
On Sunday, December 5, 2021, Zendaya and Tom Holland attended the Spider-Man: No Way Home red carpet in London.
For the occasion, Zendaya wore a crystallized Alexander McQueen grey blazer with matching crystal-infused tights and sparkly spider-webbed earrings.
By her side was Tom Holland, dressed in a Celine ensemble which included a black leather jacket and pants, with a crisp white shirt.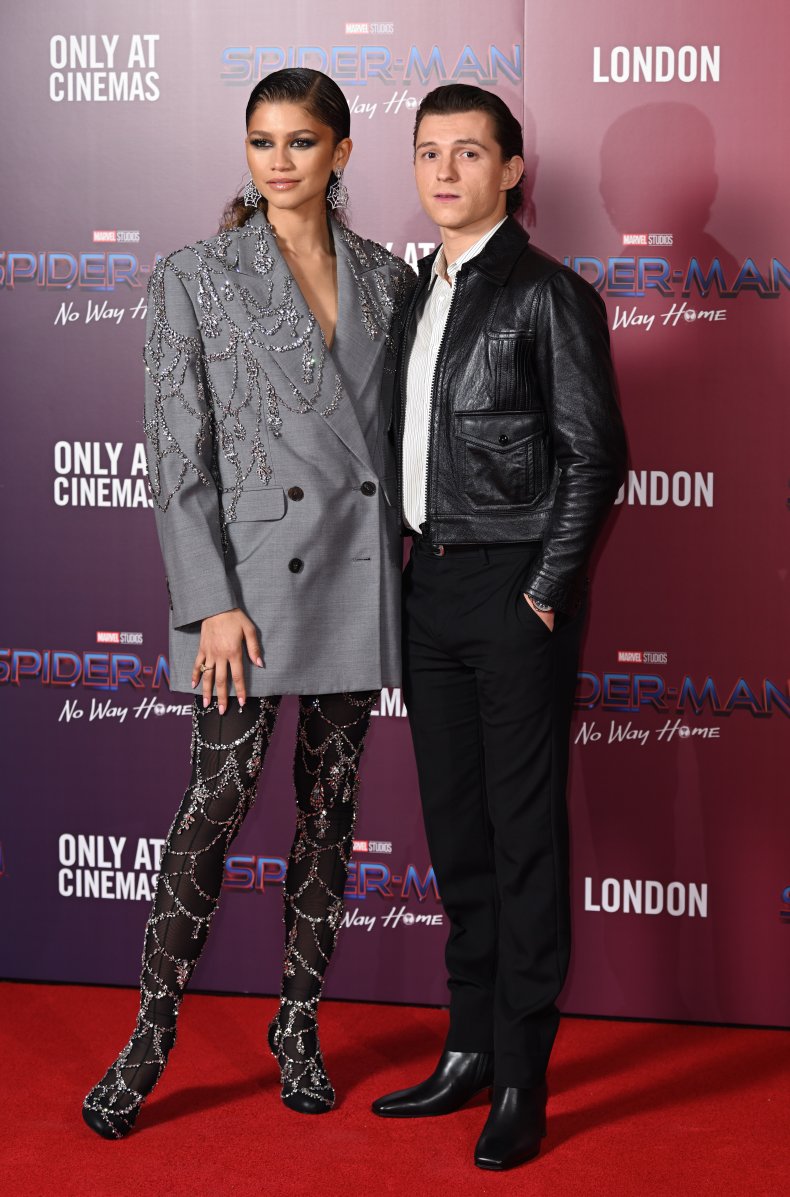 On that red carpet, the pair were spotted holding hands and laughing the entire time together.
In a sweet interview on the red carpet, Zendaya said "One of the most special parts of this is that I got to meet Tom Holland so I'm incredibly, forever grateful to Spider-Man for that and he's obviously very talented and a lovely person and I couldn't imagine anyone else being on Spider-Man because he deserves it."
SiriusXM's Town Hall
On December 10, Tom Holland and Zendaya attended SiriusXM's Town Hall with the cast of Spider-Man: No Way Home in New York City.
For the occasion, Zendaya wore a hot pink suit by Alexander McQueen and big hoops as accessories
Holland opted for a more casual look, wearing a black and white polka dot shirt with black jeans.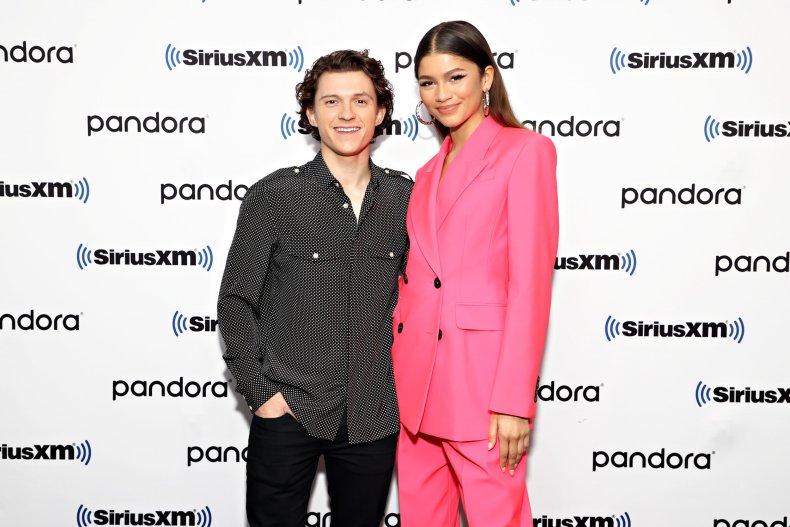 During the interview, the co-stars addressed their not-so-big-a-deal height difference.
Zendaya said: "My mom is taller than my dad. My mom is taller than everyone. "I honestly never thought of it as a thing. Because my parents were always that way. So I didn't know that people cared until life, you know, but before that I had, no, I have no construct of it."
Tom added: "I remember when we were doing the Spider-Man screen tests...every girl that we tested for both roles was taller than me. To be fair, I am quite short. But yeah, so maybe that was a decision [director] Jon Watts made and something he was aware of and wanted to break the stereotype. I think it's great."
Fans have also been sharing their love online for the looks both Tom and Zendaya have been wearing during their numerous press interviews.
One fan summed up the mood by tweeting: "tom holland and zendaya just keep serving looks on the no way home press tour."
Fans also went wild for Zendaya's purple and green Valentino suit which she wore on The Graham Norton Show on Friday, December 3.
Spider-Man: No Way Home is out in theaters from Wednesday, December 15.