Michigan State Coach Tom Izzo Lays Into 'Perplexed' Freshman Aaron Henry at March Madness Game Against Bradley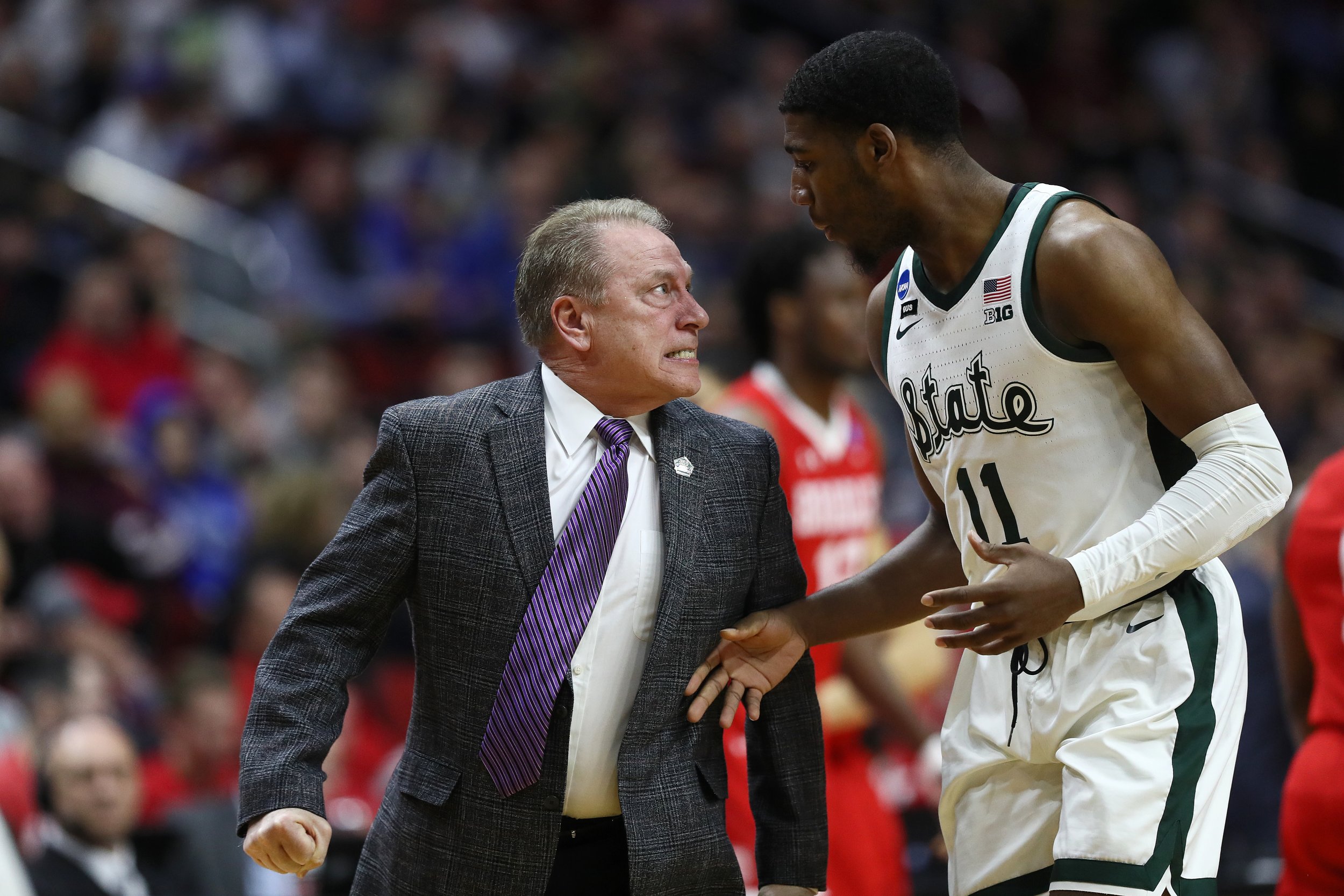 Things got heated on the March Madness court Thursday after Michigan State head coach Tom Izzo laid into freshman forward Aaron Henry.
Michigan State, the number-two seed in the East, was struggling to stay ahead of 15 seed Bradley University during the first day of play in the NCAA Men's Basketball tournament. Oddly enough, Izzo lost his temper after his team went on a 10-0 run.
As Michigan State gathered for a timeout, the head coach focused his anger on 19-year-old Henry and began yelling and pointing fingers. It's not clear what Izzo said to the young athlete, but the 64-year-old had to be held back by his other players.
No. 5 Cassius Winston was the first Spartan player to get between the red-faced Izzo and the "perplexed" freshman. As the timeout continued, No. 20 Matt McQuaid had to physically hold his coach by the shoulders to stop him from lunging at Henry.
Throughout his 24-year career as the head coach of the Spartans, Izzo has been known as a leader with a quick temper — he also seems to have a history of being angered by Henry.
Newsweek subscription offers >
An article by The Athletic Thursday noted: "Aaron​ Henry, the athlete, the​ sum​ of his​ physical​ parts, sat in​ Tom​ Izzo's​ office not too​ long​​ ago and bared his soul. He didn't know why he forgot how to make shots, why his game abandoned him. He didn't know what was wrong, why he kept screwing up."
"What he really didn't know, though, was why Izzo refused to let up — refused to stop criticizing him. It felt personal," the article continued. "Henry, raw and unflinching, asked: 'When you say these things, what should my reaction be? What are you really saying when you say this?' A conversation followed. Real talk. Real answers. The Hall of Fame coach and the freshman had it out."
Despite trailing in the first half, The Spartans surged ahead in the second half, ultimately beating Bradley 76-65. Next up for Michigan State is a second-round match against Minnesota; the Golden Gophers eliminated Louisville earlier Thursday.
Henry completed the victory with eight points and three rebounds. Michigan State was led in scoring by Winston, who knocked down 26 points for the Spartans.
Michigan State Coach Tom Izzo Lays Into 'Perplexed' Freshman Aaron Henry at March Madness Game Against Bradley | Sports