Republican Tom MacArthur Faces Furious Town Hall After Amendment to Repeal Obamacare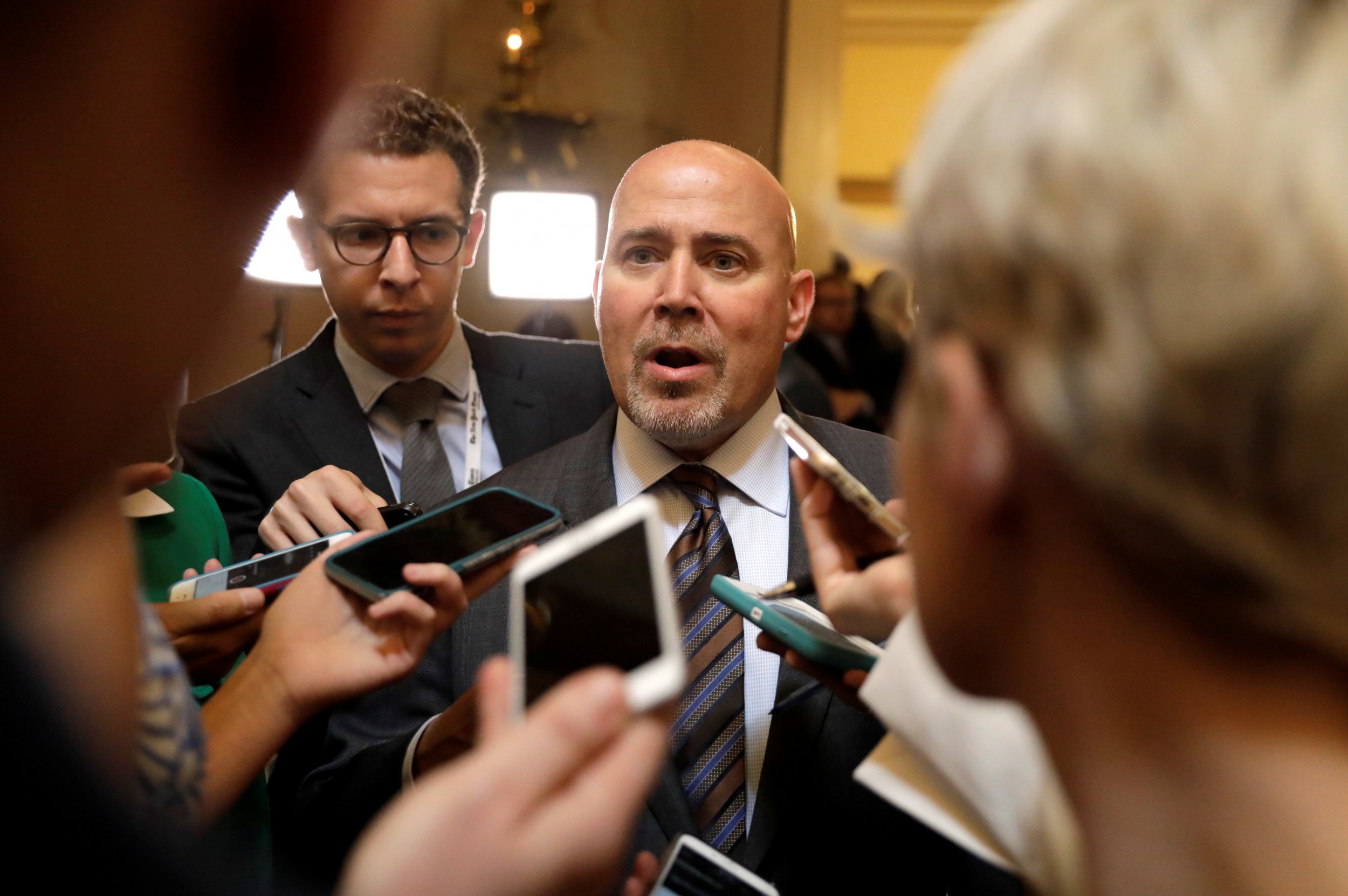 The Republican lawmaker Tom MacArthur has not had the easiest week. The New Jersey representative was in the town of Willingboro Wednesday night for a public meeting that lasted almost five hours, as his constituents voiced their anger about his amendment to the Trump administration's health care bill, telling him he had "blood on [his] hands."
The MacArthur Amendment revived the American Health Care Act (AHCA)—the GOP's suggested replacement to Obama's Affordable Care Act (ACA). The AHCA originally collapsed on March 24 when Republicans pulled the legislation from a planned vote after failing to secure broad party support for it. One of its main opponents was the conservative Freedom Caucus, which felt that the bill didn't go far enough towards repealing Obamacare.
MacArthur's amendment, which he drafted alongside Mark Meadows, the chairman of the Freedom Caucus, goes much further in scrapping the ACA. If passed, it would allow states to apply for waivers denying health insurance coverage for some pre-existing conditions. It would also permit states to opt out of providing essential health benefits such as pregnancy and mental health services.
At the town hall in Willingboro, the amendment dominated discussion. "This is your health care bill," one man, who was referring to the AHCA, told MacArthur. "It was dead in the water and could have stayed dead in the water. It was done."
The meeting was packed with around 200 of MacArthur's constituents, with scores more gathered outside. There was a heavy police presence at the event with audience members prevented from bringing bags inside.
Members of the audienc etold MacArthur that his amendment would strip them of their health insurance coverage and that he had "blood on [his] hands," the Hill reported.
In Willingboro, MacArthur received just 12 percent of the vote.
The New Jersey representative said he would answer questions for as long as they lasted. He began the meeting by talking about his disabled daughter, who died aged 11, but received little sympathy from the hostile crowd. "Were you able to afford her health bills?" one attendee asked.
Another man, who said his wife had suffered from cancer and whose two children had pre-existing health conditions, told MacArthur: "You are the greatest threat to my life. You are what keeps me awake at night," Slate reported.
Though health care was the main discussion topic, other constituents asked about President Trump's surprise firing of FBI Director James Comey, who was heading up an investigation into alleged links between the Trump campaign and Russia. In response, MacArthur appeared to evade the question and said he hoped that congressional intelligence committees would conclude their investigations into the Russian allegations soon.