Tom Papa is Hopeful as Ever in His New Netflix Comedy Special 'You're Doing Great'
Tom Papa wants you to know that whether you're worried about climate change, weight loss or social media—whatever the anxiety—he's here to tell you that you're doing great.
That's also the title of his new Netflix comedy special that's streaming now.
Many comedians rant about how terrible life is, but Papa is not one of them. Instead, he encourages the audience to embrace some of the aspects of their characters that they may not appreciate. "You gotta be nicer to yourself," he said in the special. "It's hard being a person."
That positivity thread carries You're Doing Great to show the audience that "a small life is actually valuable," as he told Newsweek.
Papa spoke to Newsweek about You're Doing Great, hopeful comedy, cruises and zip-lining.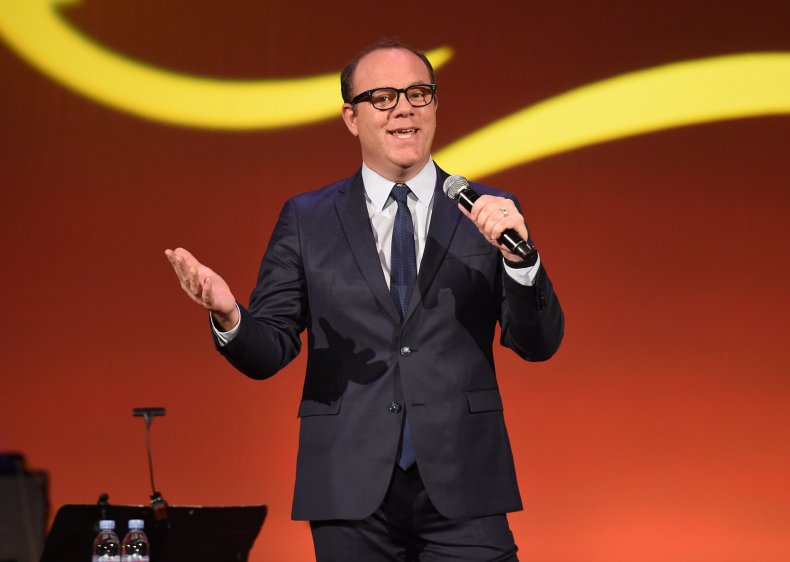 What would you say the theme of the special is? Do you see common lines through the whole thing?
The theme of the special was that we should be hopeful and we should be grateful. My comedy always tends to go through a family lens, and when I say that, I mean the family I was born into, the family I've created, my local community, my country—I see all of those things through the lens of family. At some points, the theme carried through to global warming or the culture or social media, but then it's also more personal, to my life and my kids and my wife and my parents and back to all of us together again. It's just the way I see the world.
This special feels a little nihilistic, but not pessimistically so. Was that the goal of the special, to make people realize that maybe things aren't as bad as they seem, because they don't really matter?
No, I would say my intent was not to be nihilistic but to be optimistic. I think what we're battling with is this expectation that everything has to be great all the time. We're digesting images so often that we have this unrealistic idea of what a life should be, and if you realize that a simple life with friends, family, love, food and all those small things—if you master that—that's actually the key to having a life filled with meaning. When I was touring, that message was the thing that I really started to convey in my act, and I was like "y'know I'm gonna try to be less cynical with my comedy and more hopeful."
I feel like in 2020 with an election coming up, comedy is such an escape for people. How important is comedy as a reprieve from life's insanities and difficulties for an audience—or even yourself?
I think it's the most valuable thing there is, and I use it in my everyday life and my relationships and my family. If I'm ever in an argument with my wife about something petty about the kitchen or anything, I'm always conscious to turn it into a joke and try to get a laugh out of it. It's kind of a way to reset your mindset of what you're supposed to be doing here in this world. I have friends that are going down this rabbit hole of cable news and stuff on their phones 24 hours a day, and it's such a waste of time. As you're doing that, the years are just clipping by, and as an adult, you only have a certain amount of really great years. So why would you spend that time doing anything but trying to enjoy yourself and trying to have a laugh and not take things so seriously? And, it's not just a distraction. It's not being naïve and dumb about the world, but if you can put a smile on anything that you're doing, I just find that, personally, that's a better way to live.
My favorite jokes in the special were the ones about cruises. Can you tell me about how you came up with them and your writing process?
I travel a lot. I travel for my living primarily. I find myself in these resort-vacation situations a lot where people—they're all doing that, and I'm the comedian there for the night. So, I have my magnifying glass on it. When you're in it and you've got your flip-flops on and a mai-tai in your hand, you're just all a part of it, but when you're standing on the outside and look at it, it really looks pretty ridiculous. We're all desperately chasing an escape from our regular life just to have it, and I get it and I do it too, but there are some bad choices you can make and cruise ships is one of them.
What can fans expect from you next?
The next book [You're Doing Great: and Other Reasons to Stay Alive] is coming out. I'm out on tour with this. I find myself deeply in radio right now. Netflix has a SiriusXM channel, and I host a show called What a Joke With Papa and Fortune. It's me and Fortune Feimster. We do that four days a week. Then, I do Live from Here, which is the NPR show, which used to be Prairie Home Companion hosted by Chris Steeley. I do a monologue on there out in America every week. Then, I appear on Wait Wait Don't Tell Me, the most popular show on all of NPR, and I got to guest host that this year, which was pretty cool.
I have this crazy thing about sourdough bread. I'm a bread-baker. I had a show on the Food Network—I'm not sure if it's continuing or not—called Baked. People keep asking for recipes and "How do you do it?" So I'm releasing a whole series of videos on YouTube to get everybody off my back.
Have you ever been zip-lining?
Yes, I have—so stupid.
Didn't like it?
It was fun, but I find that it's kind of similar to miniature golf or bowling. It's this thing that everyone thinks they should do. It's gonna be so fun, and then, after five minutes you're like, "How much more of this do we have to do?" Whenever I play miniature golf, it's like "Oh, this is fun! We get a little pencil and a little putter and look at this, we can hit it in the first hole!" Then, you're waiting for all the people in front of you and you're like "Oh man, we have 17 more holes of this?" It doesn't live up to the hype. Like I say in my act, I'd much rather have a book and sit at the ocean's edge and enjoy myself.
This interview has been edited for length and clarity.