Trump Nominees Shouldn't Be Stock-Pickers, Experts Say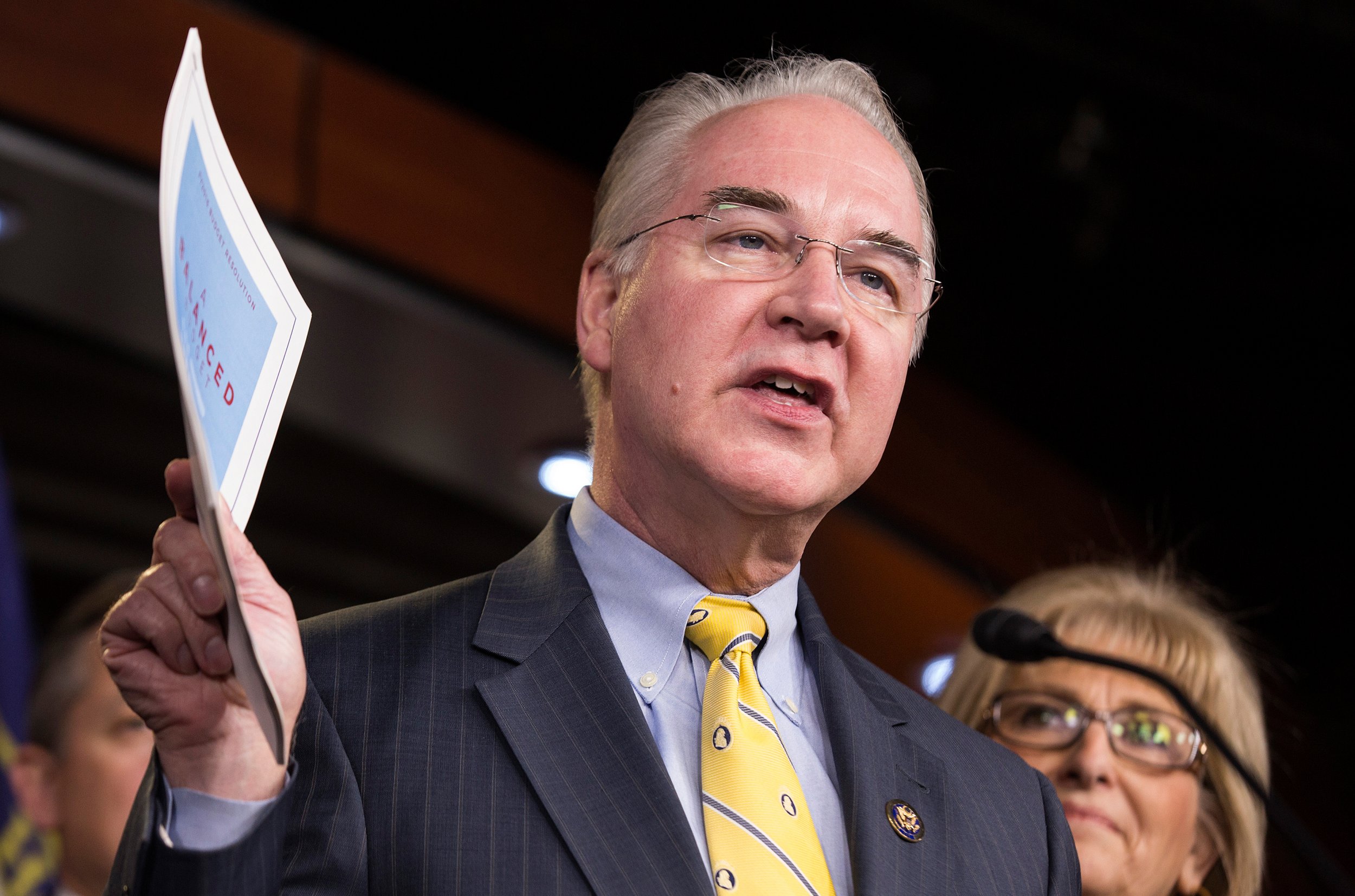 President-elect Donald Trump's pick to head the U.S. Health and Human Services Department, Tom Price, a former orthopedic surgeon and Republican U.S. representative from Georgia, just did America a big favor, experts say. He highlighted the enduring issue of members of Congress investing in stocks that rise or fall based on their decisions—a problem these experts say urgently needs to stop.
"Given that you are privy to information that the average person isn't privy to, no one in Congress or in any part of our government should be picking out and investing in individual stocks," says Campbell Harvey, professor of finance at Duke University who specializes in portfolio management. "This is not just about Trump's nominees. This is a much broader issue in our country that needs to be addressed."
Price painted a conflicted picture Wednesday during his Senate confirmation hearing when asked about the extent of his trading activities. Government policies can affect the value of publicly traded stocks—and this appears to have happened in Price's case, according to a report in December showing he traded more than $300,000 in shares of health-related companies over the past four years while deeply involved in passing laws that potentially affected those stocks.
The Trump transition team circulated a fact sheet Tuesday stating that it was Price's broker at Morgan Stanley, not himself who selected the stocks in his portfolio. But under further questioning during Wednesday's testimony, Price admitted that he does, on occasion, personally direct the buying and selling of his own investments.
In one of the more controversial instances, he directed the purchase of shares, more than once, of Innate Immunotherapeutics, an Australian biotech, after receiving information about the company from another lawmaker. Price stated in his testimony Wednesday that he did not consider the information he received to be a "stock tip." The information had been passed on to him by Chris Collins, a Republican U.S. representative from New York and a board member of Innate Immunotherapeutics.
A separate report also showed that Price bought stock in medical device maker Zimmer Biomet before introducing legislation that would have benefited the company.
"Your perplexing decision to actively trade in health stocks while writing policy that could affect them raises serious questions about potential conflicts of interest and about your judgment," said Elizabeth Warren, a Democratic senator from Massachusetts, reading from a letter she sent Price during the confirmation hearing.
Related: Tom Price's hearing previews Obamacare replacement fight
Price's net worth while trading stocks as a lawmaker during just the past decade has fluctuated wildly, from around $10 million to as much as $30 million, according to the Center for Responsive Politics. His defense to Democratic lawmakers who accused him of making investments in health stocks that appeared to enrich him was that "everything that we have done has been aboveboard, transparent, ethical and legal."
James Angel, associate professor of finance at Georgetown University, says that is not enough. "Whether he broke the law is irrelevant. I expect our nation's lawmakers to have a higher level of integrity than that. Lawmakers should not also be stock-pickers. And speculating in stocks while also passing legislation that might be affecting those stocks? It does not smell good."
Larry Harris, a professor of finance who specializes in trading practices at the University of Southern California, says Price's issues are twofold. "One, if you buy a stock and then you vote on legislation that changes the value of that stock, that's a serious ethical issue, because a lawmaker is expected to make unbiased decisions on behalf of citizens of the United States, not to enrich himself," he says. "Second, it can create the appearance of insider trading, which, even if it isn't insider trading, many people consider to be very unfair."
Other stocks Price traded included drug giants Pfizer and Eli Lilly and Co., as well as insurer Aetna and biopharmaceutical companies Amgen and Bristol-Myers Squibb. He did this in the same two-year period he also co-sponsored 35 health bills in the House.
In 2012, lawmakers passed the STOCK Act (an acronym for Stop Trading on Congressional Knowledge), which was specifically designed to "prohibit members of Congress and staff from using non-public information gained from their official positions for personal benefit"—in particular, financial benefit. Since then, however, Congress has voted to remove accountability measures in the original legislation, including the filing of financial forms by tens of thousands of government employees, and has blocked recent investigations of alleged improprieties following its passage.
"I would think that any legislator should be very, very concerned about the optics, if nothing else, of speculating in individual stocks and how that might reflect on perceptions about their judgment," Angel says. "Just a decade ago, this issue certainly existed, but it didn't come up very often. This is a good opportunity for us, as a country, to make sure it doesn't continue."
In the meantime, Harvey has a suggestion: All lawmakers and other high-ranking government officials should "stick to mutual funds or other packaged investments" that don't involve betting on individual stocks.
"Speculating in the stock market is really not that easy," he says. "Considering how busy lawmakers are, who's got the time?"