Tom Price's Hearing Previews Obamacare Replacement Fight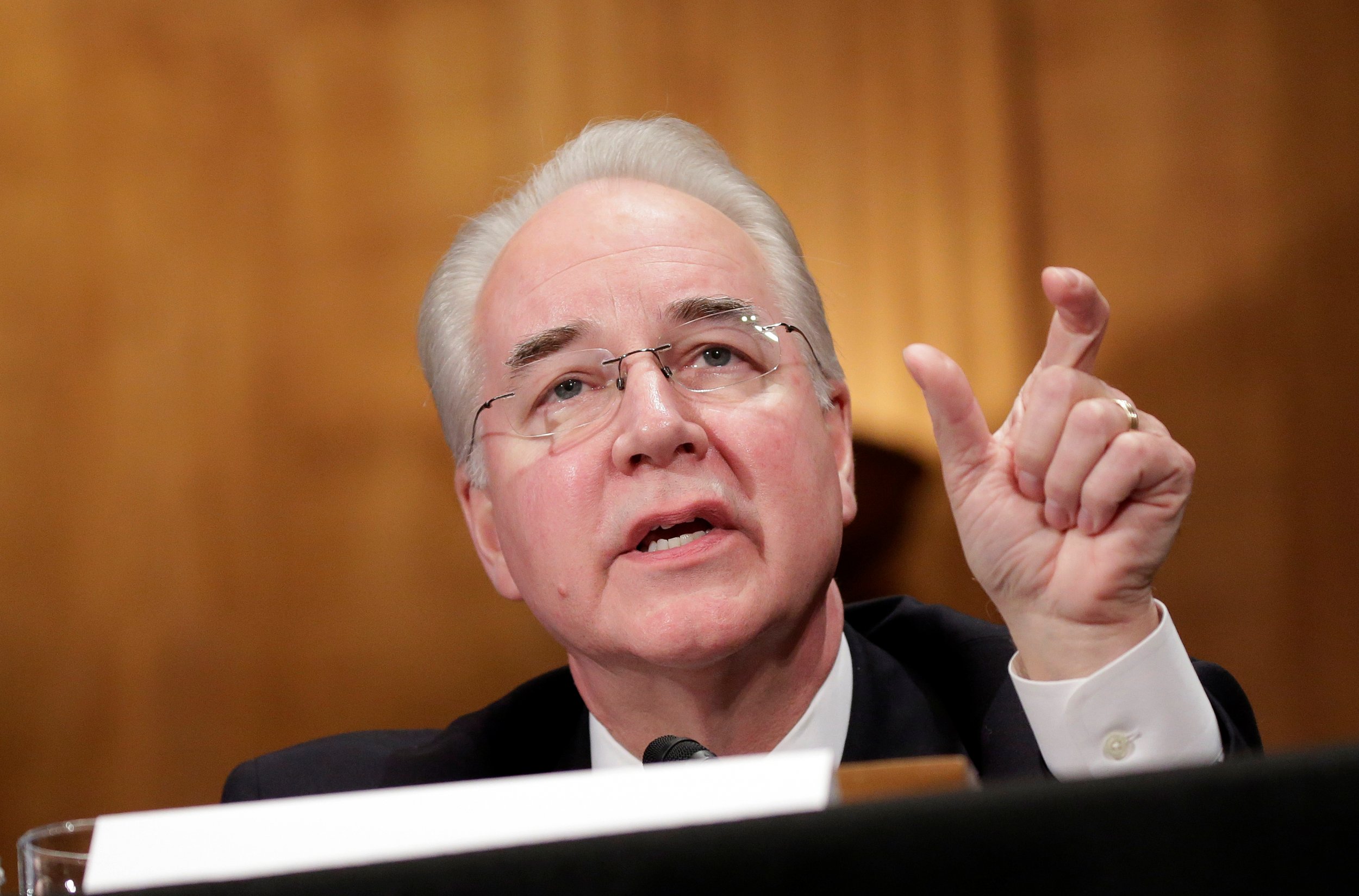 Health secretary nominee Tom Price's showdown with Senate Democrats on Wednesday offered a preview of the fierce philosophical battle about to be waged over the future of Obamacare and the role government should play in the nation's health care system.
Related: Donald Trump, Tom Price and the destruction of Obamacare
The core of the debate concerns how many Americans can and should be covered—one of the thorniest questions Republicans are wrestling with as they try to craft a replacement plan for the Affordable Care Act (ACA). Democrats made clear at Price's first (of two) confirmation hearing that they will measure any plan by its ability to provide insurance coverage to all Americans. Price and the Republicans on the Senate Health, Education, Labor and Pensions Committee described their coverage goals almost exactly the same, with the addition of one key word—providing access to coverage for everyone. It doesn't sound like much of a departure from the Democrats' language, but in fact, the phrasing implies a dramatically different approach.
While President-elect Donald Trump has maintained that he wants to provide "health care for everybody," Republicans in Congress have been careful not to promise that they will be able to cover as many people as Obamacare does. The ACA approach comes with costs—a mandate requiring everyone to get insurance, more regulations on insurance plans and providers, and higher taxes for some wealthier people. Republicans want to get rid of all those things, but eliminating those provisions would also mean losing significant cash flows that have helped cover the costs of coverage for the sick and poor, millions of whom did not have insurance before Obamacare was passed in 2010.
The GOP has promised not to "pull the rug out from under people," a line Price repeated Wednesday. At another point, he promised to "make sure nobody falls through the cracks."
But the Republicans been cagey about how they would help the people poised to lose insurance if they go forward with their Obamacare repeal. Meanwhile, the health care proposals they've focused on in recent years are focused on taking the federal government out of the role of determining who does and doesn't get coverage and instead would create a system of tools (tax credits, health savings accounts) people can use to obtain individual coverage, if they so choose. In other words, they'd have access to insurance. But will people, particularly the poor and sick, actually be able to buy the coverage they want and may need?
Price and Democrats dueled over that question repeatedly throughout four hours of testimony Wednesday. Early on, the committee's leading Democrat, Patty Murray of Washington state, pushed Price to say whether he shared Trump's desire that everybody have health insurance. The Georgia congressman replied, "I think it's absolutely imperative that we have a system in place that...allows the opportunity for every single American to gain access to the kind of coverage that they want."
But as independent Vermont Senator Bernie Sanders noted later, "'Has access to' does not mean that they are guaranteed health care. I have access to buying a $10 million home. I don't have the money to do that." Price emphasized that Republicans planned to help Americans pay for care via tax credits and other financial assistance.
The details on this—which Price said the administration hoped to release in February—will matter. Particularly important, according to ACA expert Larry Levitt, are things like how big is the tax credit to help people afford insurance and how will it be adjusted for inflation going forward, and how much money will Republicans set aside to fund Medicaid and high-risk pools for people with pre-existing conditions or other serious illnesses. Levitt, a senior vice president at the Kaiser Family Foundation, a nonprofit research organization, says those figures will determine just how many people are able to get insurance under the Republican replacement plan, and who gets left out.
Other factors will determine just how extensive Americans' coverage is, Democrats pointed out in the hearing. Noting how her state has been ravaged by the opioid epidemic, New Hampshire Senator Maggie Hassan asked Price if he supported ending the Obamacare provision that requires private insurers to cover substance abuse treatment, among other so-called essential benefits the law requires. Price previously introduced bills in the House that would eliminate those benefits requirements. "Do you think that's still a good thing?" Hassan asked.
Price didn't reply directly, instead saying, "I think that what's a good thing is to…make certain that we're providing the kinds of options and choices for patients so that they can address their clinical and medical needs." Hassan, however, noted that before the 2010 law, insurers didn't provide such coverage. "If insurance companies never offer it, they don't have the option" of something like treatment for opioid addiction, she said. Price said he looked forward to working with her "to make certain that those things are covered."
It was just one example of the many minefields Republicans face as they seek to live up to their promises: creating a more cost-effective, less-regulated alternative to Obamacare without letting people fall through the proverbial cracks.