Billionaire Democratic donor Tom Steyer, who is spearheading a nationwide campaign to impeach President Donald Trump, on Monday rebuked House Speaker Nancy Pelosi for stating that Trump is "just not worth" impeaching.
"Speaker Pelosi thinks 'he's just not worth it?'" Steyer said in a statement issued by his Need to Impeach campaign.
"Well, is defending our legal system 'worth it?' Is holding the President accountable for his crimes and cover-ups 'worth it?' Is doing what's right 'worth it?'" Steyer continued. "Or shall America just stop fighting for our principles and do what's politically convenient?"
The Need to Impeach campaign tweeted a similar criticism of Pelosi.
"If we have a president who by admission is not ethically, intellectually, or politically fit for his job, it is your DUTY to impeach him. Full stop," the campaign posted on Twitter. "If he's not worth it, who ever would be?"
Steyer criticized Pelosi's stance from a question-and-answer interview she did with Washington Post reporter Joe Heim last week, published on Monday.
"I'm not for impeachment. This is news. I'm going to give you some news right now because I haven't said this to any press person before," Pelosi said. "But since you asked, and I've been thinking about this: Impeachment is so divisive to the country that unless there's something so compelling and overwhelming and bipartisan, I don't think we should go down that path, because it divides the country."
Pelosi concluded: "And he's just not worth it."
The House speaker went on to say that she believes Trump is "unfit" to be president of the United States in various ways—ethically, intellectually and politically.
"No. No. I don't think he is," Pelosi said. "I mean, ethically unfit. Intellectually unfit. Curiosity-wise unfit. No, I don't think he's fit to be president of the United States."
While Pelosi's comments upset Steyer, they are not surprising. Pelosi and other Democratic leaders have long stated the want to wait for the results of Russia probe special counsel Robert Mueller's report on Trump before doing anything around impeachment.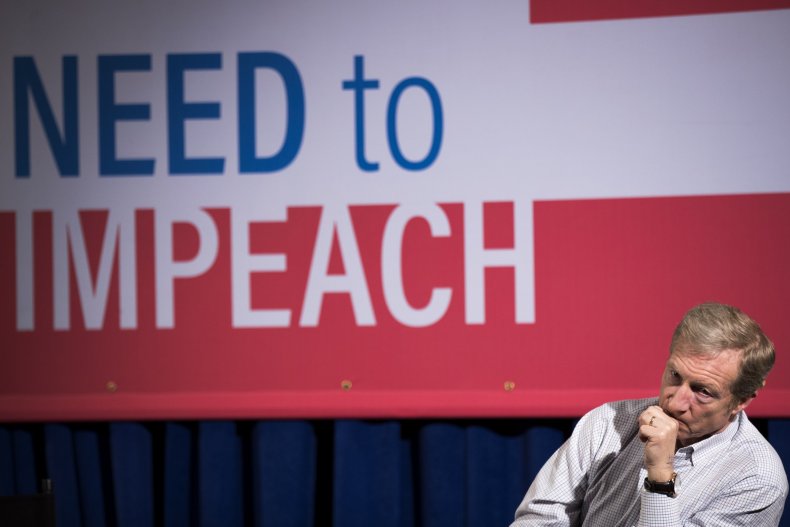 Steyer founded the Need to Impeach campaign in October 2017 and it has since gathered more than 7.5 million signatures on an online petition urging Congress members to being proceedings to remove Trump. Steyer, who decided not to make a presidential bid in 2020, has been touring the country and visiting districts represented by Congress members in charge of separate investigations on Trump.
But only a handful of Democrats, including Representatives Al Green, Rashida Tlaib and Ilhan Omar, have rallied behind the impeachment move.