San Francisco billionaire and Democratic presidential candidate Tom Steyer's campaign has purchased the web domain "Keep America Great," the slogan of President Donald Trump's reelection campaign. In exchange for the donation of $1, Steyer's campaign will send a bumper sticker that reads, "Trump is a fraud and a failure."
"Donald Trump failed as a businessman," the website reads. "He borrowed billions, and left a trail of bankruptcy and broken promises. He hasn't changed."
"Tom Steyer is running for president because unlike other candidates, he can go toe-to-toe with Donald Trump on the economy and expose him for what he is—a fraud and a failure," the website continues.
"Trump's campaign prides itself on hoarding websites of political opponents, but they forgot to pick up the URL for their signature election slogan," Steyer's campaign said in a press release emailed to Newsweek. "Now, the website offers the opportunity to purchase a bumper sticker that highlights what a majority of Americans already know about Donald Trump: that he's a fraud and a failure who borrowed billions of dollars to bankrupt businesses."
"As a real outsider, Tom knows our system isn't working for real people, and voters respect his experience of building an international business from scratch, without massive handouts from his family," the press release continued. "He is the Democrat best positioned to go head-to-head with Donald Trump on the economy and expose him for what he is—a fraud and a failure."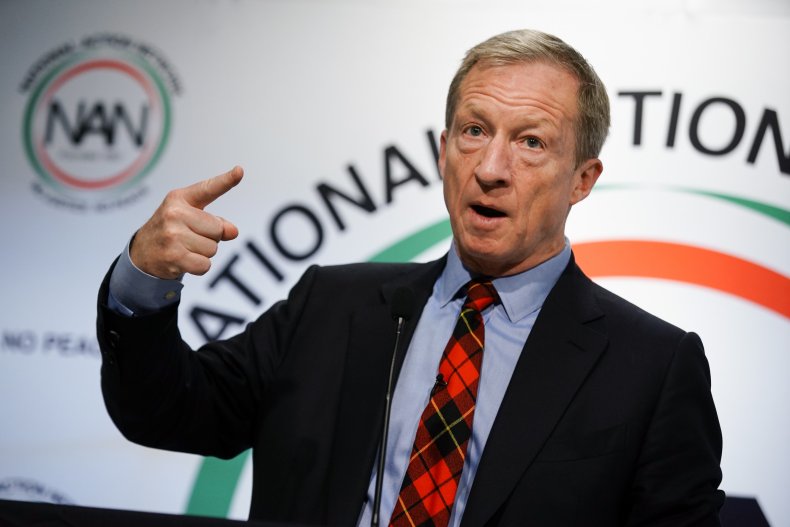 As of October, Steyer had spent close to $30 million on political advertisements. President Trump had only spent $4 million while candidate Bernie Sanders had only spent $1.7 million, according to NBC News.
However, Steyer needs 200,000 individual donors in order to qualify for the December Democratic debate on December 19 in Los Angeles, California.
Steyer's circumvention of Trump by purchasing the "Keep America Great" domain is similar to the Trump camp's purchase of "TodosConBiden," a slogan former vice president Joe Biden had used to appeal to the Latino voter base.
That website reads, "Oops, Joe forgot all about Latinos," in both English and Spanish. Visitors to the site have the option of clicking through to the Latinos for Trump site.
Steyer has placed an emphasis on fixing what he considers to be a "broken" governmental system, stating in a press release that he wants to "loosen the stranglehold that corporations have over our politicians and return political power to the American people."
As of this writing, Steyer is at the bottom of the polls, with The New York Times reporting his national support at less than 1 percent.