Tom Steyer's Mega-Million 2020 Investment May Be Paying Off Heading Into South Carolina, Super Tuesday
The hundreds of millions of dollars billionaire Tom Steyer invested in the Democratic primary for president may be finally starting to pay off.
The 62-year-old Californian, who is estimated to be worth $1.6 billion, has vowed to spend as much as it takes to defeat President Donald Trump in the 2020 election. So far, he's followed through on that promise by pouring more than $200 million of his own fortune into his campaign since it launched last July.
Bill Hillsman, a political strategist who consulted on Ross Perot's self-funded presidential campaign in 1992, said that Steyer's investment seems to have "paid off so far." After all, he's one of eight Democrats remaining in what was once a 28-candidate field.
"Any self-funding candidate will be able to stay in the race for as long as he wishes—until the money runs out (it won't) or until that candidate decides to throw in the towel," Hillsman told Newsweek.
Steyer doesn't appear to be throwing in the towel anytime soon. He spent more than $50 million in January and is entering February with a larger war chest than most candidates. He also just hired Jeff Berman, an instrumental force in engineering Barack Obama's 2008 victory, to join his campaign.
Last weekend, Steyer had his strongest showing yet in Nevada after outspending all of his 2020 rivals. The first-time candidate finished in fifth place ahead of Senator Amy Klobuchar, who had entered the state with some serious momentum after coming in third in New Hampshire.
Steyer ended his time in Nevada on an optimistic note, telling his supporters after the results were released that "this is the start of us moving up" and "as we get into diverse America, we do better and better and better."
He echoed that sentiment during an interview with Fox News on Sunday, telling host Chris Wallace that his message is different than those of other 2020 campaigns because he's "very willing to talk about race."
"I think I have done best with black people. I have done best with Latinos. I think that when we get to the diverse Democratic electorate, when we get to the diversity that is America and the Democratic Party, I do a lot better," Steyer told the news outlet.
In fact, Steyer has cast the South Carolina primary as a break-out opportunity for him in the 2020 race. The Palmetto State, which will vote on February 29, is often the first indicator of how a candidate is doing among black voters because the Democratic electorate is two-thirds African American.
Antjuan Seawright, a South Carolina–based Democratic strategist, told Newsweek that Steyer is fighting against Bernie Sanders for second or third place because Biden is still considered the front runner in the state.
"I definitely think not only has he prioritized the state, but they've made the investment to back that up and that means something," Seawright said of the Steyer campaign. "He understands the dynamics of this party and the group of people who will ultimately get you to the nomination."
Steyer's investment in the state, both through advertising and ground campaigning, has resulted in him rising in the polls. The latest CBS News/YouGov survey showed him in third place with 18 percent support among likely primary voters, which is a big jump from the 2 percent support he had in the state back in November. His support among black primary voters also increased significantly from 2 percent in November to 24 percent today.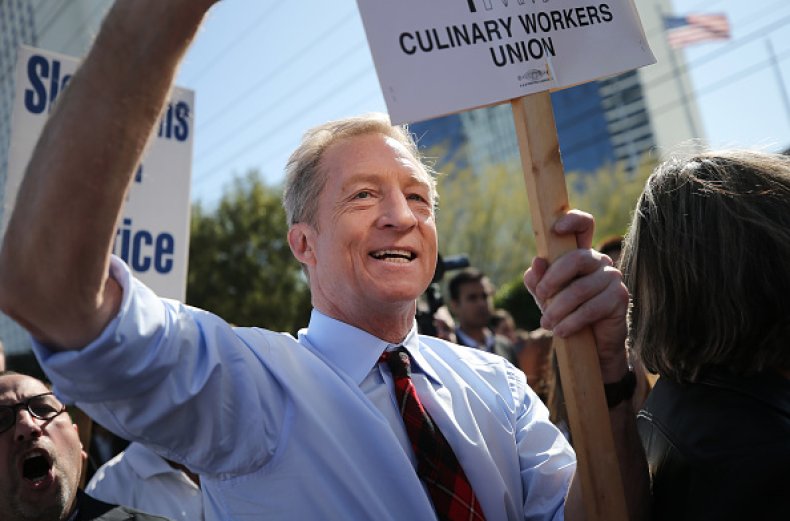 Despite his recent success and virtually unlimited resources, Steyer is still a long-shot to win the nomination or the presidency. He has yet to pick up a single delegate and is polling at just 2 percent nationally, according to RealClearPolitics. Earlier this month there was even online chatter that he'd dropped out of the race—rumors he deemed "ridiculous."
But if he doesn't meet expectations in South Carolina, strategists say it will be difficult to prove his viability to voters moving forward.
"If [Steyer] does not do well in South Carolina, I don't see how he sets himself up with success on Super Tuesday. Of course he's already started spending resources on Super Tuesday to try to be competitive but I think that it could be coming to the end if he does not do well here," Seawright said. "Ultimately, it's a delegate game."
Hillsman agreed, adding that Super Tuesday will "be the proof of whether unlimited spending can really deliver on a number of fronts or not."
Right now, none of the candidates has a clear advantage on the road to capturing the 1,990 delegates needed to secure the Democratic Party's nomination. Sanders is currently in the lead with 35 delegates but is closely followed by Buttigieg, who has 24 delegates. But that could change after March 3, when 14 states award more than a third of all pledged delegates.
"There's still room for us to grow here in the last final weeks," a Steyer campaign aide told Newsweek. "We feel good about putting delegates on the board and having a strong finish in South Carolina. We believe that gives off the momentum we need to compete in Super Tuesday."