Tom Steyer, Democrat Billionaire Who Trump Continued to Attack After Pipe Bomb, Receives Second Suspicious Package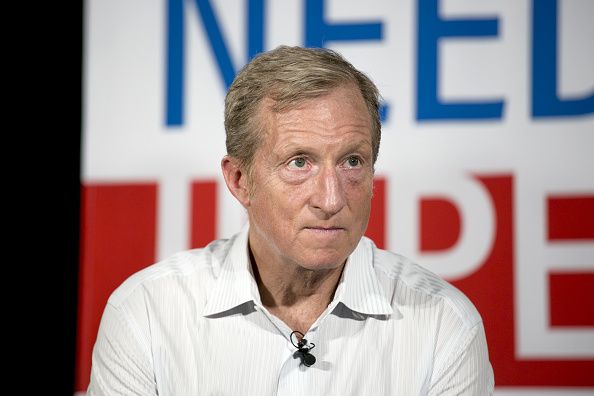 A suspicious package that was sent to billionaire Tom Steyer was intercepted by FBI agents, making it the second pipe bomb threat mailed to the Democratic donor.
The Federal Bureau of Investigation confirmed the news on Twitter on Thursday evening, writing that a package was recovered in California that was "similar in appearance to the others" sent to high-profile Democrats across the country in late-October.
"These threats are not isolated but a part of a larger assault on the norms that uphold our democracy," Steyer's office said in a statement about this latest package. "We will not relent as we push for the broadest possible democracy and a life of dignity and respect for every American.
Like many of the other suspicious packages intercepted by the FBI the past few weeks, the explosive was intercepted at a mailing facility before it was able to reach the intended address.
The first package intended for Steyer was found by authorities on October 26, the same day that Cesar Sayoc was arrested by police in relation to the terror-by-mail campaign.
The 56-year-old Florida man, a fervent Donald Trump supporter, has since been charged with mailing 15 pipe bombs. On Friday, Sayoc agreed to be transferred to New York to face five charges and a maximum penalty of 48 years in prison.
The list of Democrats targeted in the attack are some of the most outspoken critics of President Trump and his administration. Targets include former President Barack Obama, former Secretary of State Hillary Clinton, donor George Soros, former Vice President Joe Biden and several other current lawmakers like Maxine Waters and Kamala Harris.
Steyer has been heavily involved in boosting Democrats during the heated 2018 midterm elections. The billionaire runs the political advocacy group NextGen America, which focuses on issues like climate change, healthcare and equality. He has also been one of the leading activists on a Trump impeachment campaign.
Steyer has poured in over $100 million to Democratic candidates this election cycle. He has donated heavily to tight races in battleground districts around the country. Recently, Steyer pitched in another $2 million to Andrew Gillum's campaign for Florida's governor race. In total, he has donated $5 million to ensure that Gillum defeats Republican favorite Ron DeSantis in Florida's race for governor.
In response to the pipe bombs, Steyer suggested that Trump and the Republican Party are responsible for creating a culture of "political violence." And though many Americans had called for the President to change his rage-filled rhetoric after Sayoc's bombs, he did not do so.
"Just watched Wacky Tom Steyer, who I have not seen in action before, be interviewed by @jaketapper," Trump wrote on Twitter after the bombs had been discovered. "He comes off as a crazed & stumbling lunatic who should be running out of money pretty soon. As bad as their field is, if he is running for President, the Dems will eat him alive!"
Steyer then doubled down on his assertions against the president, telling CNN that Trump has created an "atmosphere of hate" and implored the president to "do your job, man.