Tom Steyer-Founded Group Spends $2 Million on Pro-Biden Ads
Progressive political group NextGen America is expected to launch a $2 million ad campaign Thursday in support of presumptive Democratic presidential candidate Joe Biden.
NextGen America, founded in 2013 by billionaire and former presidential candidate Tom Steyer, attempts to draw young people into voting for candidates who espouse progressive policies. Biden's presidential campaign was officially endorsed by the organization in May, calling Biden's platform "arguably the most progressive general election platform in generations."
"Young people are the linchpin for victory this year," the endorsement read, "and it's time to continue building our collective power. That starts with a vote for Joe Biden."
In a statement sent to Newsweek on Thursday, NextGen America Executive Director Ben Wessel said, "Now is the time to communicate the substantial policy differences between Biden and Trump and make the case to young people that their votes can dramatically alter the course of our country."
"We're seeing thousands of young people out in the streets demanding change," Wessel continued, "and it's our job to make sure they know that voting is a powerful tool in their toolbox for building a better world."
The pro-Biden ads are expected to run through August on streaming video sites and social media platforms, such as Hulu, YouTube and Instagram.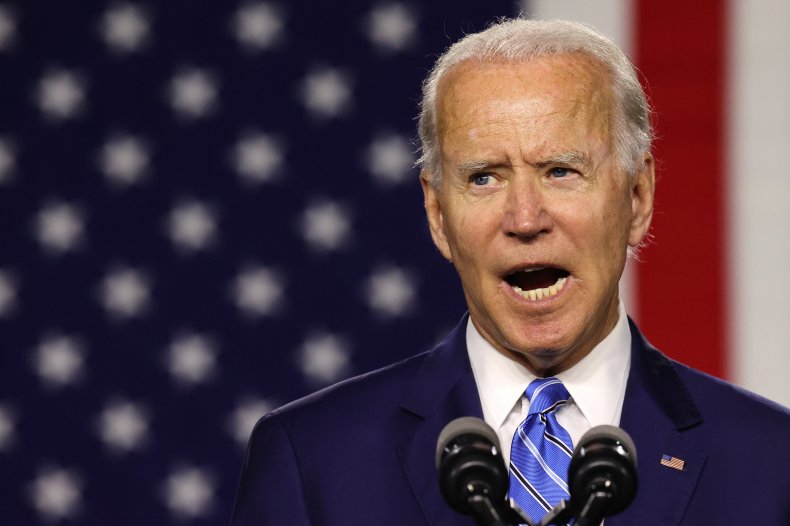 In the advertisements, Biden is aligned with lawmakers like Vermont Senator Bernie Sanders, New York Representative Alexandria Ocasio-Cortez and former President Barack Obama. Biden served as vice president during the Obama administration.
In one advertisement entitled A Bridge to the Next Generation, snippets from Biden's public addresses can be heard over scenes of protests against racism and police brutality.
"I will never forget, I promise you, this job is not about me," Biden's voiceover says. "It's about you. It's about us."
Although Biden has traditionally skewed more strongly with older voters, some observers believe he may be able to draw younger voters who supported Sanders if they deem Biden's proposed policies to be progressive enough.
President Donald Trump has criticized Biden's platform as being too progressive. At a press conference on Tuesday, Trump referred to Biden's agenda as "the most extreme platform of any major party nominee, by far, in American history."
Trump also alleged during an interview with Fox News host Sean Hannity in July that Biden had been "brainwashed" by members of the "radical left."
"[Biden] doesn't know where he is, he doesn't know what he's doing and our country will suffer," Trump said. "Our stock markets will crash. Bad things will happen."
Some recent polls indicate that registered voters would prefer to see Biden in the Oval Office rather than Trump. Data released Wednesday from a Quinnipiac University poll said 52 percent of voters surveyed would cast their ballots for Biden. Only 37 percent of those surveyed indicated they would vote for President Trump.