Tom Steyer Will Spend $40 Million Trying to Impeach Donald Trump Instead of Running Against Him in 2020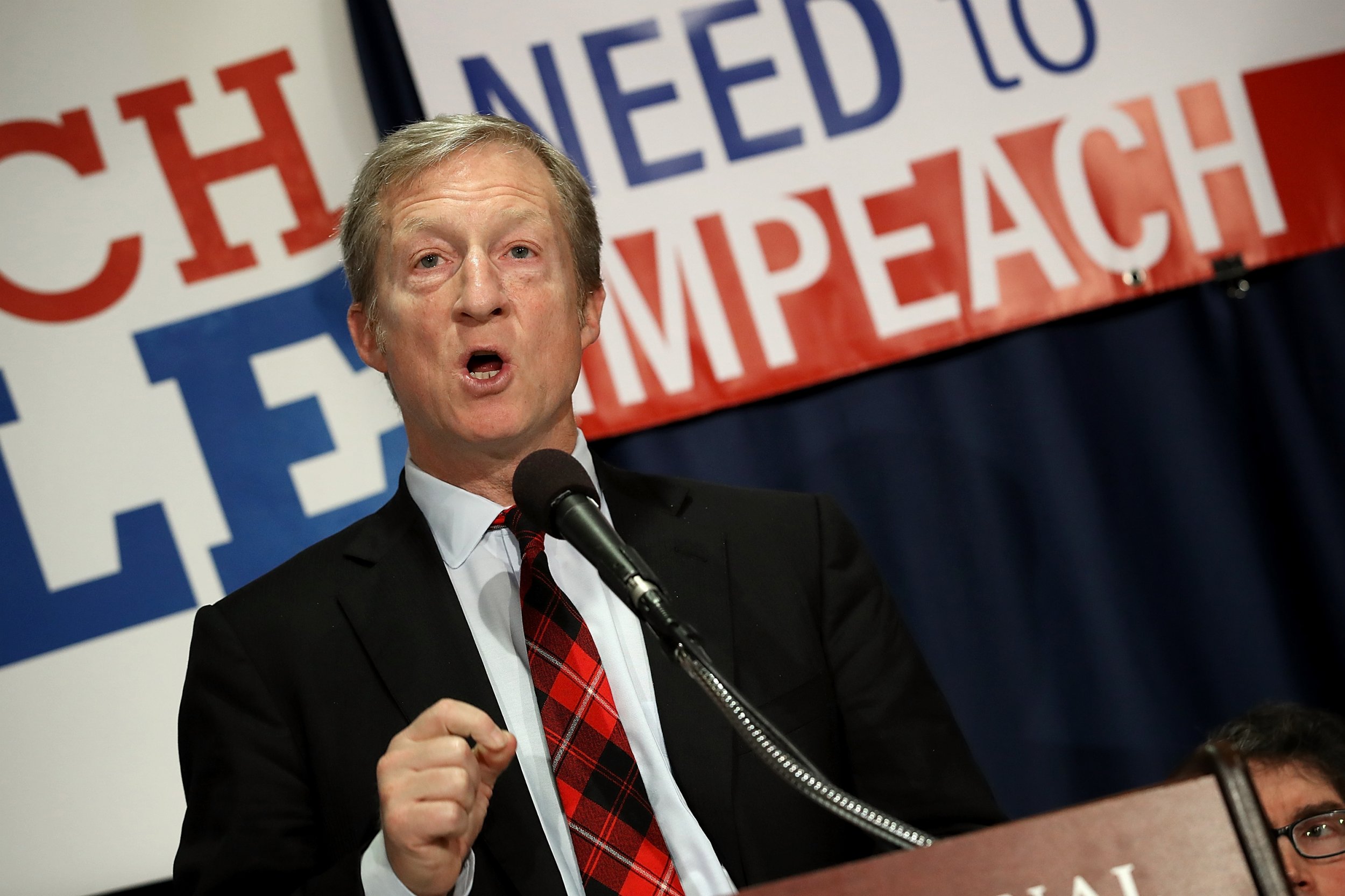 Billionaire Democratic donor Tom Steyer on Wednesday afternoon announced he will not run for president in 2020, and instead spend his money on a campaign he founded aimed at impeaching President Donald Trump.
"Most people come to Iowa around this time to announce a campaign for president," Steyer's prepared remarks for his press conference in Des Moines stated. "But I am proud to be here to announce that I will do whatever it takes, for as long as it takes, to remove a president."
Steyer stated that "the impeachment question has reached an inflection point," and that was the reason he will be devoting all his time to his Need to Impeach campaign to urge Congress to begin proceedings to remove Trump.
Speculation that Steyer was considering a 2020 bid mounted shortly after the midterm elections in November when he unveiled a "Five Rights" platform and tour to key primary states.
But Steyer started telling his aides earlier this week that he would not pursue office, Need to Impeach spokesman Erik Olvera told Newsweek on Wednesday. The mega-donor intends to spend $40 million or more this year on his initiative to impeach Trump, rather than funnel it toward an effort to gain the Democratic nomination.
There is still a small chance that Steyer may make a bid. He remarked that he decided not to run—for the time being.
"I am not running for president at this time," Steyer stated. "Instead, I am strengthening my commitment to Need to Impeach in 2019, until the House starts impeachment proceedings or Mr. Trump resigns. That is how we will define success."
Steyer in November bought a full-page advertisement in USA Today announcing his platform and tour, with a big image of himself. His five rights are the right to an equal vote, the right to clean air and clean water, the right to learn, the right to earn a living wage and the right to health.
His Need to Impeach campaign has obtained more than 6.6 million signatures on its online petition. Steyer announced that his next steps will include a new national television ad campaign, a multi-million dollar digital initiative, more townhalls across the United States and an impeachment summit in late January.
Steyer ran the Farallon Capital hedge fund for more than a quarter century and sold his stake in 2012. He founded NextGen America in 2013 to fight climate change and push for a clean energy economy.
Despite his wealth, Steyer faced the hurdle of not having major facial recognition. Trump in October tweeted he had not seen Steyer in action previously and seemed to write him off as possible competition.
"He comes off as a crazed & stumbling lunatic who should be running out of money pretty soon," Trump tweeted. "As bad as their field is, if he is running for President, the Dems will eat him alive!"