Tom Steyer Net Worth: How Trump Impeachment Campaigner Could Make a Big Impact in 2020 Race
Tom Steyer, a billionaire Democratic donor and founder of a campaign to impeach President Donald Trump, announced his 2020 bid for president Tuesday morning, six months after saying he would not run.
Steyer joins the crowded Democratic field rather late, at No. 26, after well-known contenders including former Vice President Joe Biden and Senators Bernie Sanders, Elizabeth Warren and Kamala Harris, but he has a couple of things going for him—money and growing name recognition.
The founder of hedge fund Farallon Capital, Steyer's net worth as of Tuesday was $1.6 billion and was ranked at number 1,425 in Forbes' Billionaires 2019 list. A voice over in Steyer's more than four-minute-long announcement video notes his net worth.
"Steyer and his wife are worth an estimated billion-and-a-half dollars, pledged half of their fortune to charity," the voice over states.
Then Steyer elaborates: "We signed a Giving Pledge which is a promise to give away half of your wealth when you're alive to good causes."
The candidate continues that the American society is "very unequal" and "it's really important for people to understand that this society is connected."
"If this is the banana republic with a few very, very rich people," Steyer says in the video over footage of the president's eldest son Donald Trump Jr., "And everybody else living in misery, that's a failure."
Steyer has dedicated himself to politics and the environment since 2012, when he sold his stake in his company.
In the 2016 presidential election cycle, Steyer spent about $65 million on a number of Democratic candidates and environmental efforts.
Steyer spent a small part of his wealth in founding NextGen America in 2013 to fight climate change and advocate for a clean energy economy. He also launched the Need to Impeach campaign in October 2017 to urge Congress to begin impeachment proceedings against President Donald Trump.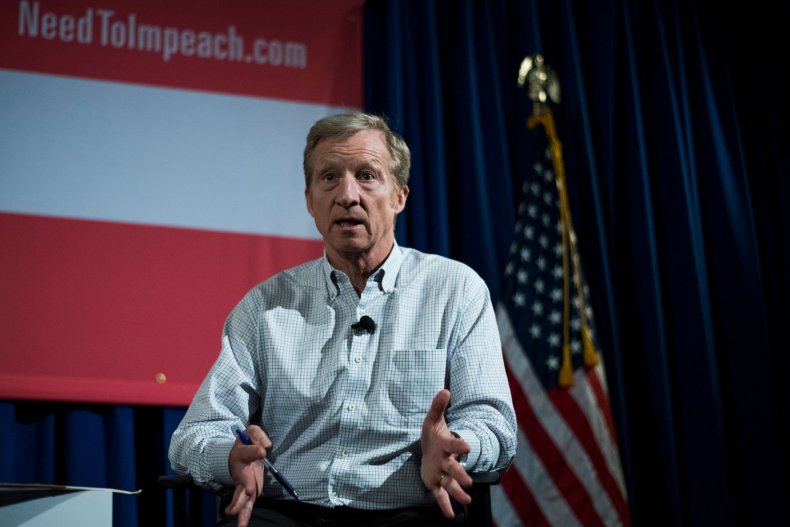 He has been touring the nation holding Need to Impeach townhalls, leading to speculation that he would announce a 2020 bid. Steyer in January announced he would not run—for the time being.
"I am not running for president at this time," Steyer stated in a press conference in Des Moines. "Instead, I am strengthening my commitment to Need to Impeach in 2019, until the House starts impeachment proceedings or Mr. Trump resigns. That is how we will define success."
Steyer also tweeted that "the impeachment question has reached an inflection point" and "I will be dedicating 100% of my time and effort in 2019 towards Mr. Trump's impeachment and removal from office."
Then-Need to Impeach spokesman Erik Olvera told Newsweek at the time that Steyer intended to spend $40 million or more in 2019 to impeach Trump, instead of putting the money toward gaining the Democratic nomination.
In a private conference call last week with staff with Need to Impeach, NextGen America and his Sacramento office, Steyer reportedly said he planned to announce his presidential bid on Tuesday.
Steyer's Need to Impeach campaign, which has collected more than 8.2 million signatures in an online petition, likely gives him at least that base to start his campaign with.
On Monday, Steyer remained hushed about his bid but continued to slam Trump on Twitter and share his views on issues including the environment.
"Everything is connected. Climate change impacts low-income citizens first, and has already displaced thousands and created climate refugees," Steyer tweeted. "Climate justice is economic justice is migrant justice."
Last Wednesday, Steyer tweeted he was "glad to hear" Democrats are "reconsidering their stance" on holding a climate change debate.
Steyer's presidential campaign will focus on reforming the "broken" political system and saving the planet from climate change.
"If we can reduce the influence of corporate money in our democracy, and start to address the devastating impacts of climate change, we can unlock the full potential of the American people and finally solve the many challenges facing our country," Steyer stated in his announcement.
Trump in October, as rumors grew that Steyer might run, wrote him off as "Wacky Tom Steyer" and a "crazed & stumbling lunatic who should be running out of money pretty soon."
"As bad as their field is," Trump tweeted, "If he is running for President, the Dems will eat him alive!"
There are 24 Democratic candidates running, after Eric Swalwell and Richard Ojeda dropped out.