Tom Steyer Says Sanders and Buttigieg Can Beat Trump But 'I Can Take Him Down On the Economy'
Democratic presidential candidate Tom Steyer said that he believed current frontrunners former Mayor Pete Buttigieg and Senator Bernie Sanders could both beat President Donald Trump in the general election, but argued that he personally has the best shot to win on the economy.
Steyer, a billionaire former hedge fund manager, has been a staunch Trump critic since the president's election and launched the Need to Impeach campaign. So far, the wealthy Democratic contender has failed to gain traction in Iowa and New Hampshire, but appears to be polling well in South Carolina.
Asked if Buttigieg and Sanders could win against Trump during a Wednesday interview with CNN, Steyer said firmly "sure they can." He then pivoted to explain how he would be the best candidate to beat Trump by challenging his economic record.
"We need somebody who can win on the economy," Steyer said. "It's very obvious that Trump is running on the economy. I mean, he talks about it every single day."
"I can take him down on the economy because I'm somebody who's started a business and ran it for 30 years," the billionaire continued. "And I can show that he's lying about his own record across the board," he said.
Later in the interview, Steyer pointed out that while the stock market may be performing well, that doesn't have a real impact on most Americans.
"Trump loves to talk about the stock market. That's a big deal in the lounge at the Mar-A-Lago country club," he quipped, referencing Trump's resort in Florida. "That's where people own stocks. But this is not something that's working for working Americans."
Sanders and Buttigieg have taken an early lead in the Democratic race. Although the results of Iowa have not been finalized, Buttigieg appears to have won two state delegate equivalents more than Sanders, putting him about 0.1 percent ahead. But Sanders won the state's popular vote by more than 2,600 votes, leading both candidates to declare victory. The results were more clear in New Hampshire, where Sanders was declared the winner. He was followed closely by Buttigieg in second place.
Although the last polls conducted in South Carolina were at the end of January, Steyer appeared to be much more competitive in the state, which will hold the second primary of the election on February 29. In one poll by East Carolina University, Steyer placed second with 19 percent support. But he trailed former Vice President Joe Biden, who had 37 percent support.
With Biden's poor performance in Iowa and New Hampshire, support for the former vice president—who was polling as the frontrunner ahead of the Iowa caucuses – has dropped dramatically in national polls. Meanwhile, support for Sanders has risen, with most national surveys now showing the senator from Vermont as the leader in the race.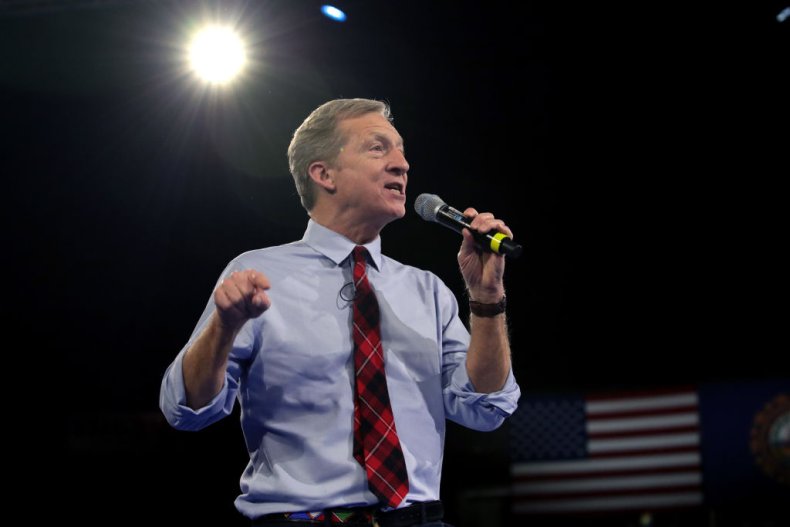 As Steyer noted, Trump and his campaign are touting the president's economic record as a key selling point to voters. While unemployment remains at historic lows and gross domestic product (GDP) has continued to grow, economists and analysts have argued that the situation is not improving equally for everyone.
Trump's signature 2017 Tax Cuts and Jobs Act (TCJA), which largely benefited the wealthiest Americans and corporations, has contributed to creating a nearly $1 trillion dollar yearly deficit. Meanwhile, wage growth remains low and business investment has stalled, economists said.
"Last week's GDP data showed that for the first time since the Great Recession [of 2008], investment has declined for three straight quarters," Hunter Blair, a budget analyst for the Economic Policy Institute, wrote in a February 4 blog post. "Given that boosting business investment was the primary stated goal of the TCJA, this seems like an unambiguous policy failure for working people, benefiting only the rich and corporations."