Tom Steyer Trends After Awkwardly Trying to Shake Bernie Sanders' Hand Amid Tense Exchange With Elizabeth Warren
Tom Steyer has trended on social media after finding himself caught in the middle of a frosty exchange between Bernie Sanders and Elizabeth Warren following Tuesday night's debate.
The billionaire Democratic primary candidate was filmed watching on after Massachusetts Sen. Warren refused to shake the hand of her Congressional colleague Sanders after the televised debate in Iowa came to a close.
After what appeared to be an argument between the two candidates came to an end, Steyer jumped in for a handshake with Sanders.
Tensions between Warren and Sanders picked up after Politico obtained a script sent to the Vermont senator's campaign volunteers arguing that the Massachusetts senator was "bringing no new bases into the Democratic party."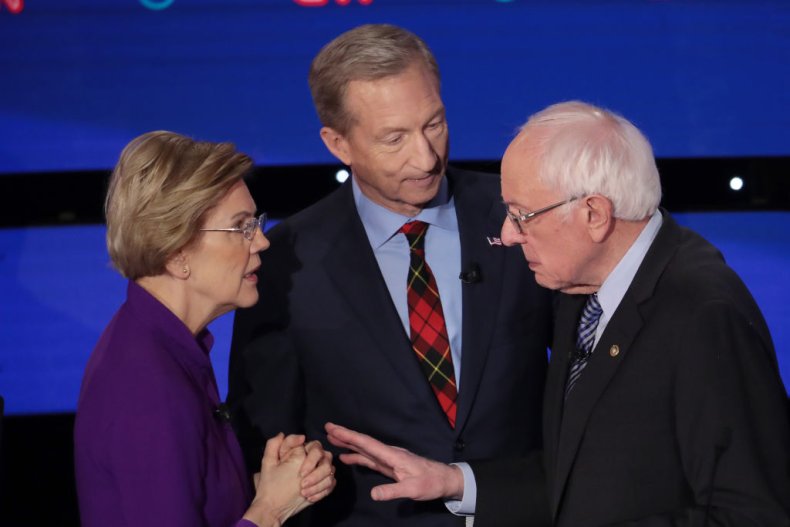 Warren responded by saying she was "disappointed to hear that Bernie is sending his volunteers out to trash me," and later accused Sanders of telling her a woman could not beat President Donald Trump in the 2020 election.
The Vermont senator categorically denied making the comment, telling CNN the accusation was "ludicrous" and said "staff who weren't in the room are lying about what happened." He added that he did call the commander-in-chief a "sexist" who would "weaponize whatever he could," clarifying that he believes a woman could win the 2020 race.
"Anybody who knows me knows that it's incomprehensible that I would think that a woman could not be president of the United States," Sanders said at the debate hosted by CNN and the Des Moines Register last night.
"Not the most important thing here, but Tom Steyer is really quite poor at reading whether a conversation is in need of a third participant," New York Magazine writer Eric Levitz tweeted, sharing footage of the post-debate exchange between Warren and Sanders.
NBC News reporter Ben Collins also joked about his awkward the billionaire's awkward intervention, saying: "Tom Steyer is the waiter walking over with mozzarella sticks 30 seconds after the couple starts the breakup convo."
Sharing a screenshot of Tom Steyer watching the exchange between the progressive senators, CBS News White House reporter Kathryn Watson said: "The winner of this debate is clearly Tom Steyer's face."
Former Politico video journalist Michael Schwab shared an edited clip of the mix-up, adding the theme tune of sitcom Curb Your Enthusiasm.
MSNBC host Joy Reid also weighed in on the clip, calling on Steyer to do a bit of "field reporting on what he heard" Sanders and Warren say to each other. She added: "He seemed to be trying to mediate."
Newsweek has contacted the Steyer campaign team for comment and will update this article with any response.
Speaking to reporters after the debate in a video shared by CBS News campaign reporter Adam Brewster, Steyer said: "I was just saying goodnight to the two of them. I didn't hear anything."
At the time of writing, the term "Steyer" was seventh on the U.S. Twitter trending charts, with 91.5 thousand tweets including the phrase.