Pennsylvania Gov Says Democrats Need More Than Steel Mill Photo Ops To Win State In 2020
The 2020 presidential elections are still in their salad days as two dozen Democratic candidates duke it out across early primary states like Iowa, South Carolina, Nevada and New Hampshire. But President Donald Trump and those who lead the field on the left (I'm looking at you, Joe Biden) are already thinking about November 3rd, 2020. That means they're eyeing swing states, and one in particular: Pennsylvania.
When analysts discuss what went wrong for Hillary Clinton in 2016 they often boil everything down to what went wrong in Wisconsin. But it's important to remember what a pivotal role Pennsylvania played in those elections. President Donald Trump won the Keystone state by just 40,000 votes, or less than one percent, and became the first Republican presidential nominee to gain its 20 electoral votes since 1988. And despite a pretty drastic drop in his approval rating since his win three years ago, he's been fighting very hard to hold on to his Pennsylvania electorate.
"I'll be here a lot. I've got to win this state," the president told a crowd of supporters during a May rally in Montoursville, Pa. Earlier that day, he told reporters he felt confident. "I think we're doing very well in Pennsylvania. We won it last time. The polls had us losing Pennsylvania last time and we won," Trump said on the South Lawn of the White House. "And I expect we'll win it this time because the coal industry, the steel industry, the car industry, they're all doing incredibly well."
Maybe.
Recent polling data that puts the president up against former Vice President Joe Biden in a general election has Trump losing by more than 10 points, and the 2018 midterm elections saw Pennsylvania Democrats pick up several U.S. House seats while holding onto a Senate seat and the governorship. Democratic governor Tom Wolf won his reelection bid last November by a whopping 17 points and managed to pick up wins in districts long considered Republican strongholds. Part of his big win is because Wolf rejected a gerrymandered map drawn by the GOP-held state legislature and instead asked the courts to redistrict the state fairly.
I caught up with Wolf on a sweltering summer day just before he departed on a family vacation to Vermont (he would not be meeting with Senator Bernie Sanders there, he assured me) to discuss what it will take to make Pennsylvania blue again in 2020.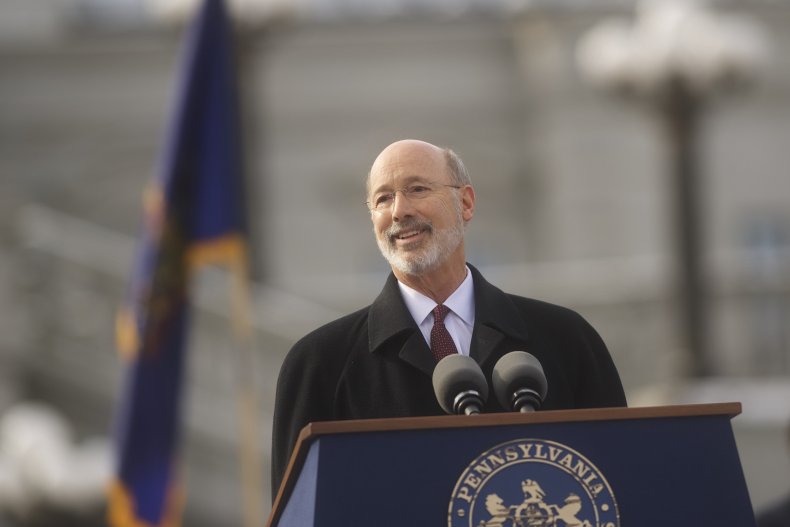 Newsweek: The "send her back" chants about Representative Ilahn Omar at President Donald Trump's rally this week in North Carolina were very disturbing. What will you do if those chants and his encouraging rhetoric occur during a future rally in Pennsylvania?
Governor Tom Wolf: I would be very embarrassed. In Pennsylvania that's unacceptable. It's not acceptable behavior to talk like that. It's also not smart. I know polarization is a big issue right now all around the world, but inclusiveness is going to work anywhere. It works in the United States. I mean our history is full of the Know Nothings [a mid-1800s xenophobic political party], and other immigration movements, but we have often been successful in bringing people together. As much as people might want to indulge in those outbursts, it's not who we need to be and it's not who we can afford to be.
But as governor of Pennsylvania, what do you do when the president comes to your state and indulges in racist rhetoric?
I haven't heard those chants in Pennsylvania but if they did happen, you can't pass a law to prevent people from saying things. What I can do is stand up and talk about how morally reprehensible that kind of talk is and also how stupid it is, it's not going to take us to the place we need to go.
You're currently the state-wide elected official in Pennsylvania with an approval rating over 50 percent. As someone who's managed to appeal to voters in the deep-red parts of your state, what advice do you have to 2020 presidential candidates hoping to do the same?
People are looking for three things, and in this order. They're looking for competence, honesty and then they say 'okay what do you believe, what's your ideology?' If they trust you on the first two things, they can give you a pretty wide latitude on the last. That's the lesson to learn about Pennsylvania.
They're not looking for someone to be a friend, they're looking for someone to actually manage the situation. They're making a hiring decision and they don't know what challenges are actually going to confront that person they're hiring over the next four years. If they're a person without any integrity I'm not sure I can trust them. You're looking for somebody who can inspire confidence.
Who is that person?
Every single Democrat in the race right now, I mean all of them, would be an improvement over the person in the White House right now.
How does that person appeal to people in Erie and the Republican strongholds of Pennsylvania? Especially the more progressive candidates.
Universal health care is a practical thing, we have too many people who are trapped in jobs simply because they're afraid of losing health insurance by going somewhere else. That's bad for our economy. It's a progressive issue but it's very pragmatic.
Think about free higher education. We need to make sure our people get the schooling they need to have to do the things we need them to do for us. If we don't make it easy and don't make college or post-secondary education accessible and affordable, that's bad for us. So I think the progressive ideal, people get distracted by the way it's delivered. Some people seem like they're looking down their noses at somebody, and people don't like that, but in the long run you can't keep on doing what you're doing. Income inequality is a really bad thing for a market economy.
But as a candidate, how do you sell these views to people in Pennsylvania who are hearing from the president that progressive policy is un-American?
You just have to make an effort to actually look people in the eye and talk to them and with them, not down to them. There are a number of candidates who are doing that and doing an increasingly better job at it and they're going up in the polls.
Like who?
Elizabeth Warren has moved up in the polls precisely because when she started she was coming across as elitist. But she's done a good job at letting people know she's fought for them and has facts supporting her policy. Her message is 'Donald Trump may have convinced you it's a good idea to go back to the 1950s but that ain't going to happen, so here's how we get you a better life with some practical policies' and that's how the progressive movement wins.
How do Democrats appeal to suburban voters?
Suburban voters, especially women, care about issues like reproductive choice and fiscal competence. They care about integrity. There is inherently a predisposition in that area to vote against Trump, but they also might not turn out. If they're not excited by the candidate they might stay home.
You don't like the term "Rust Belt" to describe Pennsylvania, and have said you don't like the way the media depicts Pennsylvania. What do we need to know about the politics of your state?
Bernie Sanders was in the state and had his picture taken in front of an old, abandoned steel mill. That same steel mill, most of it has been refurbished and is flourishing, there's just one part that looks old and abandoned and that's where he chose to have his photo op. He's doing what he needs to do and all that kind of stuff but that's not accurate. I'd hate to have all of these candidates traipse through Pennsylvania, take that photo in front of the steel mill and then leave.
Wouldn't that hurt their chances in the state?
I don't think it plays well here, no.