Tom Wolfe, 1931 to 2018: 'The Bonfire of the Vanities' Author's 1986 Essay on the Statue of Liberty
Tom Wolfe, the best-selling novelist and pioneer of New Journalism, has died at 88. He wrote for Newsweek numerous times throughout his career, including in 1986, on the occasion of the Statue of Liberty's 100th birthday celebration. This piece—in which Wolfe reflects on the statue's centennial and reports on the 1985 unveiling of the Portlandia sculpture in Portland, Oregon—ran in Newsweek on July 14, 1986.
I looked, I blinked, I looked again, I blinked some more, I rubbed my eyes.... Great Godalmighty.... A gigantic woman, made of hammered copper, glorious, goddess-like, gleaming in the sun, her hair pulled back, a Greek toga draped from her shoulder, her immense right arm reaching down, down, down toward the multitudes. Up the river she had come, on a barge toward the harbor, gateway to the ocean, across which came half the people and races of the world to this fabled shore. As the word spread—She is here!—people sailed out by the hundreds— the hundreds!—to meet her in tugboats, patrol boats, fire boats, yachts, sloops, schooners, skiffs, dinghies, ketches, yawls, dories, gigs, kayaks and canoes, horns and whistles blowing, flags waving and voices screaming every cry of homage known to man, including "Whoop-whoop!"
Yes, "Whoop-whoop!" The mayor of the city, his King of Diamonds beard unmistakable even from the shore, had taken to the river in a canoe. He was wearing lederhosen. As he closed in on the great copper goddess in midriver, he cried out, "Whoop-whoop!" Then he cried again, for good measure, "Whoop-whoop!"
The mayor was famous for this whoop-whoop. It was a cry he used even during the most ordinary civic oratory. "And now, ladies and gentlemen, I would like to introduce our deputy—whoop-whoop!—fire commissioner...." The day would soon come when there would be clucking and fuming over the mayor and his ways, but on this day he and his whoop-whoop were as gloriously popular as the statue itself.
By the time the longshoremen had placed the statue on the flatbed truck for the trip into the city, citizens had gathered by the tens of thousands. There were no class distinctions in the presence of the copper goddess. Tax-straddle arbitrageurs stood shank-to-flank with sod farmers. The farmers parked their Datsuns and Isuzus and took off their John Deere and DeKalb caps and elevatored their Adam's apples up and down as the stupendous female figure rolled by.
The statue reached Fifth Avenue, where it would come to rest in front of a new building, designed by a famous American architect, Michael Graves. The goddess's huge outstretched copper right hand was now within reach! Parents rushed forward, holding their children aloft so they might touch the huge cuprous index finger before it was hoisted above forever. Two days later thousands gathered for the dedication ceremony, despite cold winds that swept in from the sea. The mayor, Bud Clark, cried "Whoop-whoop!" The statue's sculptor, Raymond Kaskey, was lifted up in a cherry picker to the brow of the goddess, whose name was Portlandia, for the christening. A roar of emotion went through the crowd.
I was part of that crowd nine months ago on Fifth Avenue in Portland, Oregon. I was freezing in the wind. Nobody else was. The citizens of Portland were cooking with enthusiasm for their leviathan in copper, Portlandia.
That spectacle flashed back to me many times during Liberty Weekend. Both Portlandia and Liberty are gigantic classical figures placed prominently in great port cities. Both were dreamed up casually to honor the broadest sort of civic ideals. The Statue of Liberty wafted up out of cigar and brandy fumes after dinner one night in 1865 at the country estate of Edouard-Rene Lefebvre de Laboulaye, a French enthusiast of American democracy. The sculptor, Frederic Auguste Bartholdi, was one of the dinner guests. Their blissfully boiled idea was to celebrate the common struggle of France and the United States to become free republics.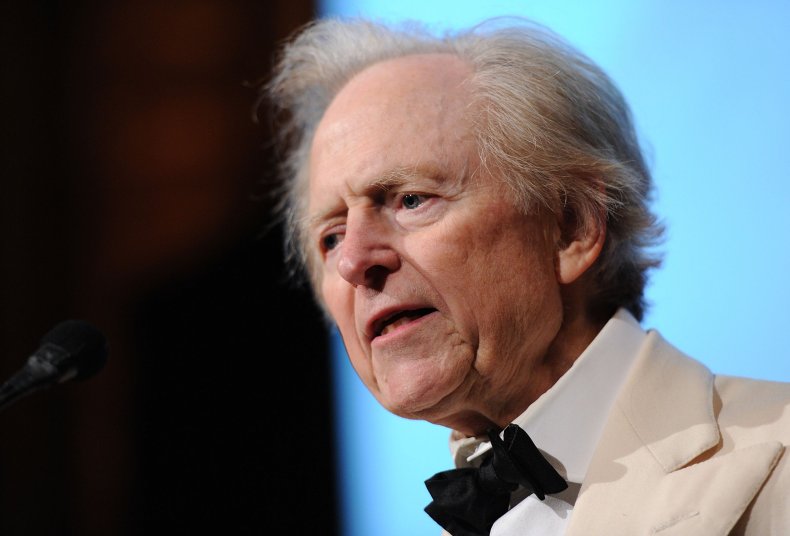 Portlandia popped up from the bewilderment over a piece of campy icing that Graves put on his model for Portland's new government office center. He had plastered some garlands and a whimsically molded female figure against the side of the building. The city fathers said, "What's that?" There had never existed a Portlandia, not in Greek and Roman mythology and not in Oregon mythology. Nevertheless, they liked the idea.
But they wanted a serious statue. So they did something quite odd by contemporary standards. They let the citizens choose, through an exercise in limited democracy. First the city arts commission held a competition that attracted 200 artists. Five were invited to submit models. The models were placed in the lobby of the building, the citizens invited to vote for their preference. Then a public meeting was held for the final selection by a panel made up of both citizens and art experts. Kaskey's Portlandia, the public favorite, won.
What did the goddess represent? Nothing but the broadest pursuits depicted on the city seal—commerce, agriculture and the sea. But that was enough to unite a large, modern city in a show of hometown enthusiasm.
Over the past month, I've seen the image of Miss Liberty in dry goods ads and newspaper photographs, on television screens and book jackets, on crocheted sweaters, mugs, key chains, spoons, coins, napkin holders, necklaces, neckties, neck braces, softballs, purses and pencil sharpeners. I have seen her depicted in tiles, flowers, pebbles and printouts. I have seen her crown, made of green Streptofoam on the brows of roller skaters, joggers, eel dancers and ice-cream scoopers. I saw her so constantly that I began to wonder what would be out in New York Harbor if the Statue of Liberty had been commissioned by the same people who would choose such a monument today.
For a start, we can be sure Liberty wouldn't be left up to any Frenchmen or any such maverick whoop-whoop group as does such things in Portland, Oregon. No, outside of Portland, we live in the Age of Experts. The government would create a commission and the commission would appoint a panel of art experts. An art expert is a museum curator, critic, dealer or, occasionally, an artist from "the art world," which consists of some 3,000 souls nationwide, at least 2,500 of them in Manhattan. Today all art experts share a set of assumptions about sculpture:
(1) No more pedestals; pedestals are a grandiose (bourgeois) device to remove the work of art from the people. So at the very outset, Miss Liberty loses half of her height. She now stands barefoot on Liberty Island, but she is still 151 feet high and visible from a distance.
(2) No more "pictures in the air." Statues of generals riding horses, young men holding slingshots, old men holding tablets and torches are merely illusions done in three dimensions; they betray the true nature of sculpture. So Miss Liberty no longer has a torch, a tablet, a toga, a face or a human body. She is no longer a she. Liberty is now an abstract metal structure about 30 feet wide at a base and 151 feet high.
(3) A sculpture must "express its gravity." It must make a viewer sense its weight. Sculptures five times as high as they are wide look as if they are trying to "soar," which is a dishonest attitude for a sculpture. So Liberty now loses most of its height. But perhaps it will be recognizable, a hundred yards away, as a piece of abstract sculpture. Twenty years ago the panel might have chosen a bolus with a hole in it, by Henry Moore, or an extruded squiggle, by Isamu Noguchi. But more recently, the 3,000 members of the art world have begun to insist that:
(4) A sculpture must "express its object-ness." The viewer must realize first and foremost that this is a heavy physical object—and not an abstract form that is supposed to suggest something else. Boluses and squiggles encourage the viewer to see something else, if only a doughnut or a worm. In 1977, a Hartford, Connecticut, foundation appointed a panel of art experts who chose the sculptor Carl Andre to create a major piece of sculpture for the center of the city. In due course, Andre deposited 36 rocks on a strip of park land and presented a bill for $87,000. The citizens and many politicians were furious. The panel, however, stood fast. After all, what expresses its object-ness more completely than a rock?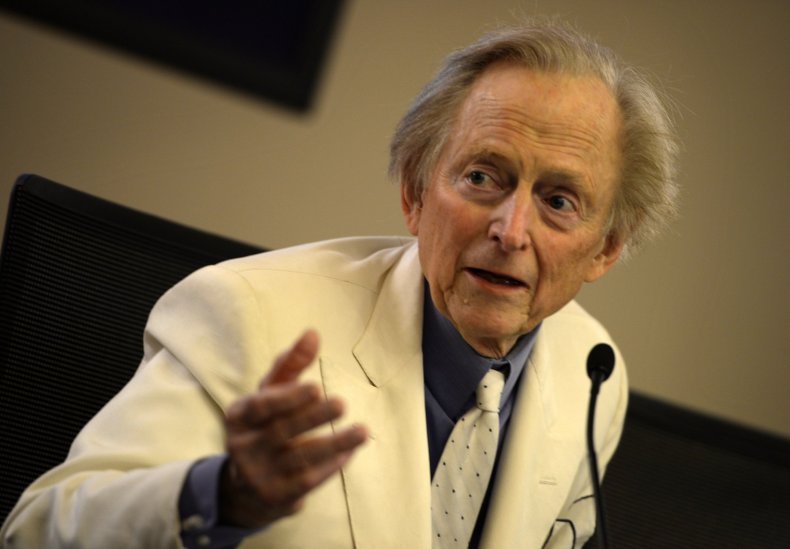 If the sculpture is made of metal and begins to rust or otherwise corrode, so much the better. That is living proof of its object-ness. Rust! This was but one of the key principles that 7,000 civil service employees in the Jacob K. Javits Federal Building in New York failed to comprehend in 1981 when they objected to "Titled Arc" by the sculptor Richard Serra. The General Services Administration went to the usual panel of art experts and chose Serra. He designed a wall of steel 12 feet high and 120 feet long that ran through the plaza in front of the building. The wall, weighing 73 tons, was tilted to give the impression it was about to fall over. The employees, including judges, drew up a petition denouncing it as an eyesore, a rusting piece of junk that ruined the plaza, blocked views at street level and seemed about to fall over and squash every GS-8 who walked near it. They demanded that the GSA remove it. Serra did not calm them down by explaining that, in effect, the whole point was to open up their eyes, making them and their plaza serve his sculpture rather than the other way around. The art world closed ranks behind Serra. What more do these people want? They had been given a menacing (expresses its gravity!), rusting (expresses its object-ness!) piece of junk (not a single suggestion of something else, not in 73 tons of it!)—it was sublime!
(5) The purpose of a piece of public sculpture is to introduce the public, the little people, to the foregoing art-world principles, no matter how much they resist enlightenment. (Swallow this, it's good for you.) One of Tilted Arc's defenders wrote that "its principal virtue" was that it was a "physical polemic" meant to "actively subvert" the "bland conventions of most of public art."
Related: Tom Wolfe, ace reporter
The creators of the new Liberty are in luck! It so happens that Tilted Arc itself is available. The GSA has announced it will remove Tilted Arc—if a suitable location can be found. So now the huddled masses reach New York Harbor. They crowd onto the deck for their first glimpse of their new land...and they spy it...the Statue of Liberty...a leaning, rusting, low-lying hulk of metal. They rush back down into the hold, huddling together for sure, shivering and saying in a hundred tongues: "How the hell do we get back?" But they've come too far. They stop, brace themselves for an art lecture and face the future. Either way, it beats re-upping in the czar's army. It presents problems for a Liberty Weekend television spectacular a hundred years later, however.
During the past weekend I heard many aged immigrants testify to the magical, mysterious power a physical object, a statue loaded with overt symbolism, possessed to lift their hearts 60, 70, 80 years ago. The rededication this weekend seemed to do something of the sort all over again. What is odd is that this clearly surefire and relatively inexpensive way of uplifting the public spirit has been attempted so seldom since the second world war. Over the past 40 years, Portlandia stands virtually alone.
It is true that the masses in Portland are not exactly huddled. But even people with second homes, wind-surfboards, dish TV antennae and fiberglass camper tops for the RV can use that mighty age-old uplift from time to time.
This story originally appeared in the July 14, 1986, issue of Newsweek.