Two Tomato Assaults Fail to Faze Angela Merkel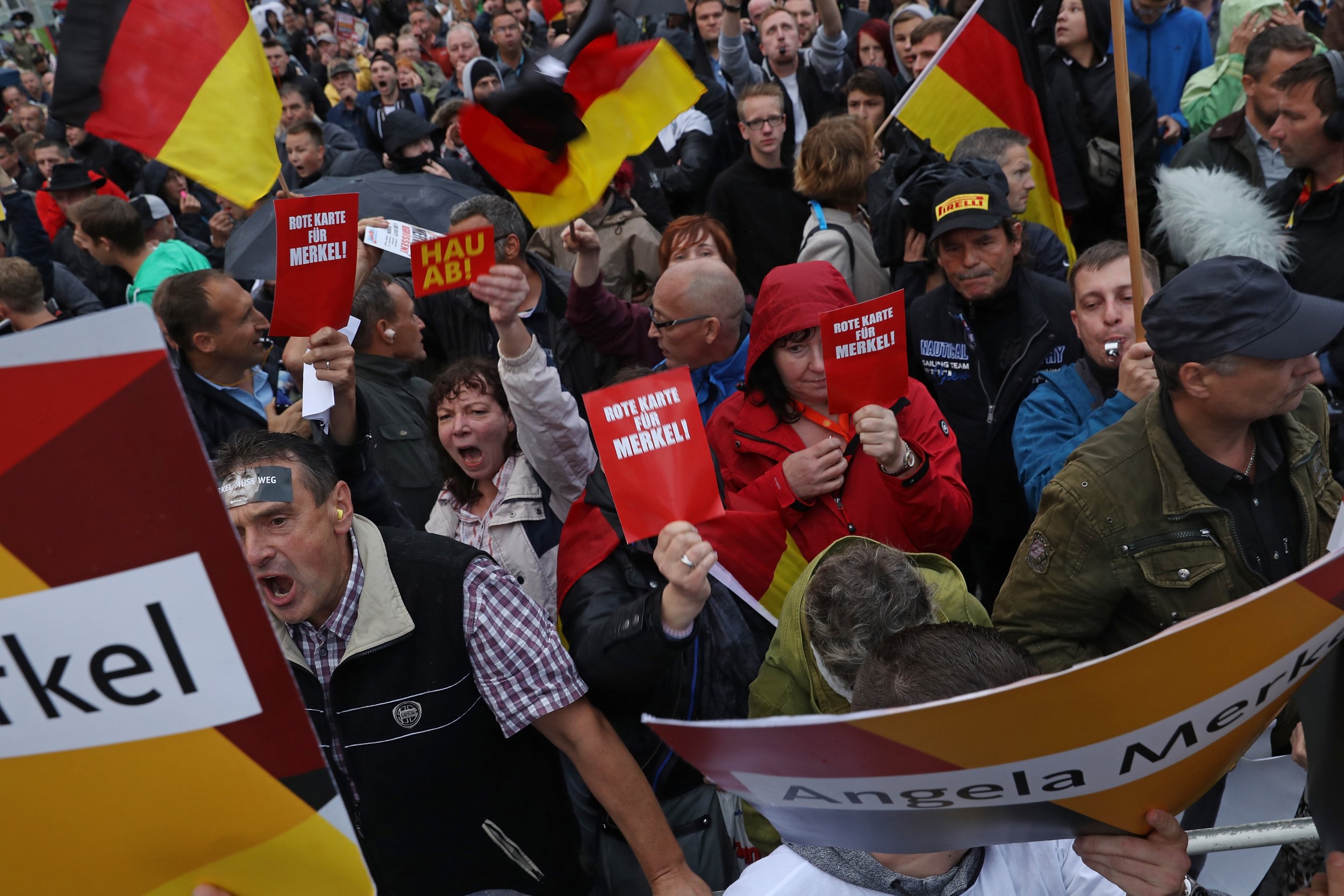 For the second time this week, German Chancellor Angela Merkel dodged tomatoes, as right-wing protesters escalated their demonstrations against her pro-refugee policies.
As the chancellor's car approached an event Friday evening in the northeastern town of Wolgast, members of a crowd of 150 protesters pelted her car with tomatoes and shouted, "Get lost!"
The chancellor was unharmed.
The incident comes three days after a similar assault in Heidelberg, where protesters hit the chancellor herself in the pocket of her coat as she stood onstage. Merkel brushed off the tomato, offered the moderator a tissue and continued with the event. She reaffirmed her policy choices in her speech and later donned the same tomato-stained coat for another campaign event, where she talked about staying calm in decisive moments.
German police had already started an investigation into the tomato tossers before the second incident, a spokesperson wrote in an email to Newsweek.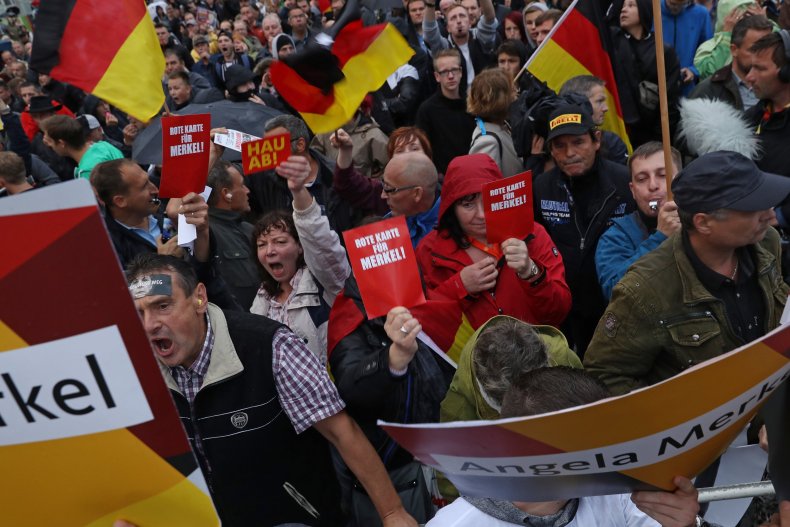 The attacks in an otherwise unobtrusive campaign climate by members of the far-right Alternative for Germany party are a reminder that Merkel is unpopular among some Germans for her open-door approach to immigration. But with the election set for September 24, polls show that the Iron Chancellor is still in the lead, with 37 percent to the Social Democratic Party's 21 percent. She will likely take a fourth term at the country's helm. The anti-immigration, Euroskeptic AfD, which has never held any seats in the 631-member German Bundestag, is polling at a surprising 11 percent, evidence that the party's nationalist, populist message is reaching more Germans.
Indeed, a Gallup poll published Wednesday showed that the European Union is now more divided on immigration than any other region in the world. Germany's "migrant acceptance index score" is higher than the EU average and the global average. But the struggle to find a policy that pleases the region remains a challenge for its de facto leader.
"Anti-immigrant policy has become a touchstone for this anti-elite sentiment," said Erik Jones, director of European and Eurasian studies at the Johns Hopkins School of Advanced International Studies. "As a political weapon, immigration is a wonderful instrument to use in keying identities that will get people out in the streets."
Merkel's welcoming of refugees, 900,000 of them in 2015, was one way she has stayed ahead of the more liberal Social Democratic Party. Instead of fiery opposition to their progressive stances, she opens her traditionally moderate Christian Democratic Union up to change in the hopes of creating a no-fuss voting experience for Germans.
"Why should I care for the election if they all want the same thing?" is how Carsten Koschmieder, a political scientist and expert on right-wing populism at the Free University of Berlin, put it. He said Merkel's avoiding fanfare is highly appealing to Germans.
"Everything the Social Democrats do, she says she can imagine having that," he said. "It's very clever of her."
Jones said he was unsurprised by the demonstrations, and especially by Merkel's response to them. "She's pretty unflappable."