Fox's Tomi Lahren Says California Dems Should Go Home, Take 'Inventory' of Homeless Instead of Attacking Trump
Fox host Tomi Lahren called out California Democrats on Wednesday morning for tweeting about the impeachment proceedings taking place in Washington, D.C., when, in Lahren's opinion, they should be doing more about the homelessness epidemic in their own state.
The impeachment inquiry began early last week and seeks to establish whether President Donald Trump used the power of his executive office inappropriately to recruit foreign leaders to help influence the 2020 presidential election.
Lahren, a Los Angeles native, says California leadership—including Reps. Adam Schiff, Maxine Waters, Ted Lieu and Karen Bass, as well as Senators Kamala Harris and Dianne Feinstein—is spending too much time on the investigation.
"We don't have a homeless problem in California. We have a homeless [sic] epidemic," Lahren said, pointing out that the state may soon declare a state of emergency due to the crisis. Governor Gavin Newsom has made no such declaration, but Los Angeles officials are pushing for the measure, according to reporting by the Los Angeles Times.
"I have been really taking inventory of our leaders and those representatives in these districts—of course Adam Schiff, Maxine Waters, Ted Lieu, Karen Bass, of course Kamala Harris, Dianne Feinstein. And I've been looking at their tweets. They tweet about 10 to 15 times a day, and overwhelmingly it's been about what? About Trump's impeachment," she continued. "What a disservice to our state."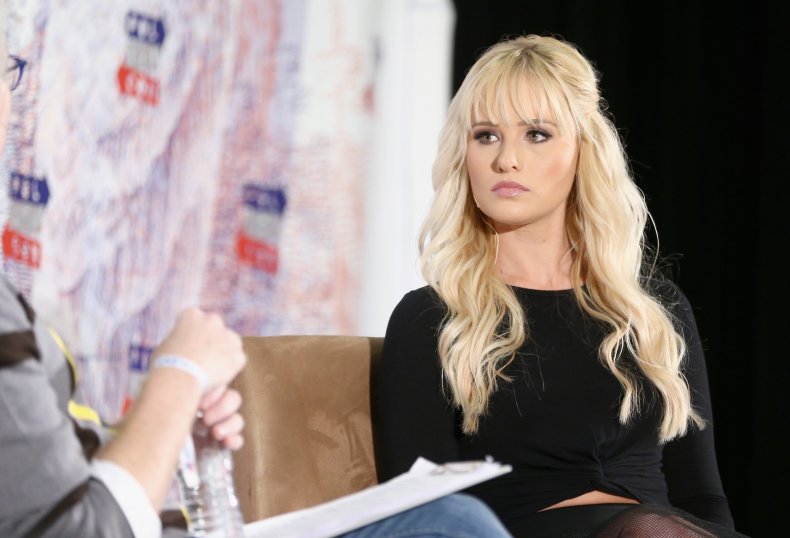 Earlier in the summer, Lahren signed a petition to recall Los Angeles Mayor Eric Garcetti for inaction on the issue of homelessness, according to her Twitter account. But just a few months later, Lahren seemed to complain about the amount of money spent on the issue in 2018, calling for a "take back" of the state.
"My city of LA, alone, spent $619 MILLION on homelessness last year and where has that money gotten us?" Lahren wrote on Twitter, pointing out that expensive shelter plans produced just two facilities.
Lahren has a history of calling out alleged contradictions between Democratic policies and growing crime, poverty, and homelessness rates. Still, as many are pointing out on Twitter, Lahren isn't exactly the poor man's advocate.
In 2017, Lahren bashed socialism in a viral video on Facebook, equating the proposals of Democratic Socialist candidates like Senator Bernie Sanders to dictatorships and the economic collapse of Venezuela.
Earlier in the year, she suggested the "free stuff" provided by social programs touted by the Democratic Party is out of sync with how the country really operates, especially under Trump.
"The best anti-poverty measure is still a job," Lahren said on her Fox Nation show Final Thoughts. "Welfare is meant to be a second chance, not a way of life."
In 2016, in a tweet to Sanders, she said the poor choose to act like victims. About a month later, she told impoverished people in the United States to "get a job" and "stop blaming everyone else for your problems."
"If your life isn't the way you want it to be, get off your a** and make a change," Lahren wrote in the tweet. "No one ever accomplished anything waiting for a handout."
In January 2018, California had an estimated 129,972 residents experiencing homelessness on any given day, according to the Interagency Council on Homelessness. California's homeless population accounted for 25 percent of total homelessness in the U.S. and is the largest state population of homeless individuals, according to the National Alliance to End Homelessness.
While it's true that California's Democratic legislators have been diligently tweeting about Trump, many of them have also taken measures to combat housing insecurity in the United States and in California specifically.
Waters recently introduced the Ending Homelessness Act of 2019. Harris introduced the Rent Relief Act last July, though critics say its tax credits aren't enough to curtail housing costs. In April, Lieu, Schiff, and Feinstein asked for $750 million to combat homelessness in the Fighting Homelessness Through Services and Housing Act, while Karen Bass co-sponsored the Fostering Stable Housing Opportunities Act just last month.
10/2/19, 1:52 p.m.: This story has been updated to clarify that Tomi Lahren is a host for Fox Nation rather than Fox News Channel.