Tomi Lahren: Sexual Assault Allegations Against Brett Kavanaugh Not a 'True Case of Victimhood'
Tomi Lahren said she's "disappointed as a woman" at Dr. Christine Blasey Ford's sexual assault accusations against Supreme Court nominee Brett Kavanaugh.
Lahren appeared on "Fox & Friends" Wednesday morning and ridiculed Ford's accusations against the judge, saying she doesn't think it's "a true case of victimhood." She and the Fox News hosts accused Democrats of a "double standard" because of their refusal to go after Deputy Democratic National Committee Chair Keith Ellison over domestic assault allegations made by his ex-girlfriend.
"The double standard is the only standard on the left," said Lahren. "I'm so sick and tired of sexual assault and abuse being used as a political football and being politicized. We've come to this point where we're trying to overcorrect with the 'Me Too' movement and we're taking accusations as truth, as Gospel."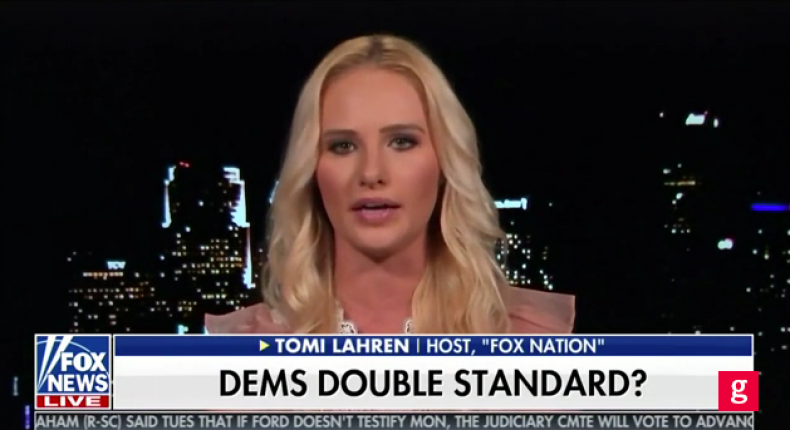 "And what infuriates me so much about what's happening with Judge Kavanaugh is this doesn't seem like a true case of victimhood," Lahren said Wednesday. "It seems more like a case of opportunity for political purposes that should never have a place in a political process... It's really disappointing to see it. As a woman, I'm disappointed to see other women using it in that way."
Lahren cautioned against lumping together every sexual misconduct allegation under the "Me Too" movement umbrella.
"When we're talking about abuse, when we're talking about sexual assault or harassment it needs to be taken seriously on both sides of the aisle," Lahren continued. "But we need to have some common sense when we're looking at these, case by case." Fox & Friends host Brian Kilmeade chimed in to dismiss the accusations against Kavanaugh because it happened decades ago.
"I think there is a huge difference between a couple of years ago and 36 years ago," Kilmeade opined, "between physical evidence and reports and someone speculating what time and what year and what summer something happened."
The hosts highlighted a Monday tweet from ex-girlfriend Karen Monahan in which she defended her claims against Ellison. Lahren said Democrats are ignoring sexual misconduct in their own party in order to attack Kavanaugh. "I've been smeared, threatened, isolated from my own party. I provided medial records from 2017, stating on two different Dr. Visits, I told them about abuse and who did it. My therapist released records stating I have been dealing and healing from the abuse," Monahan tweeted.