Tomi Lahren Defends Caitlyn Jenner After Transphobic Harassment at CPAC
Tomi Lahren has defended Caitlyn Jenner after the California gubernatorial hopeful was deadnamed and heckled with transphobic abuse at the Conservative Political Action Conference (CPAC) in Dallas at the weekend.
The conservative political commentator and Fox News contributor has labeled the attacks on the 71-year-old as "despicable" and said the incident left her "blood boiling."
"Hearing how some 'conservatives' treated @Caitlyn_Jenner at CPAC makes my blood boil," Lahren tweeted.
"There's no room for your hate in the America First movement. We believe in freedom and we believe in limited government. The way she chooses to live her personal life harms you in no way!"
A video from July 9 has been circulating on social media showing the Olympic gold medal decathlete, who announced her intention to run in California's 2022 governor election in April, being shouted at, deadnamed and called a "sick freak" at the Hilton Anatole Hotel.
Deadnaming is the act of referring to a trans person by the name they had before transitioning.
"Hey, [deadname], what do you think about the stuff that they're teaching in schools regarding the LGBTQ?" the heckler shouts at her.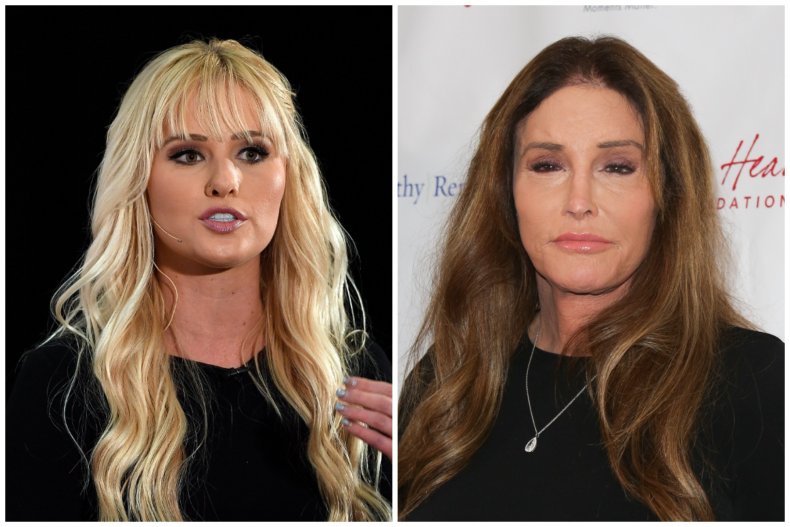 As Jenner walks away, the man follows and says: "About Jesus Christ, [deadname]. Don't forget about Jesus."
Jenner, along with other transgender athletes and celebrities, was the butt of other transphobic jokes at this year's CPAC.
In a further tweet, Lahren said she will continue to defend Jenner even it means her "conservative card" is revoked.
"The attacks on @Caitlyn_Jenner are despicable," the 28-year-old posted. "I'll go to bat for her every single time and if you want to take my 'conservative' card for it, take it and shove it. Your mob is no better than the Left's and in fact, it's uglier."
She also retweeted a similar sentiment from conservative political advisor Brad Parscale, who agreed that Jenner's treatment at the event was "disgusting."
"This is disgusting and nobody should be forced to tolerate it," he said. "I hope leadership stands up and condemns this behavior immediately. Incidents like this create a dark cloud over the party."
However, many Twitter users have reminded Lahren about some of her own past transphobic remarks, with one person pointing out a tweet from 2019 in which she criticized a commercial that featured a transgender teen.
"The new @Gillette ad features a transgender boy shaving for the first time. It's a little much to normalize and promote high-school-aged kids undergoing hormone therapy and gender reassignment. Don't ya think?"
In her first press conference since announcing her California gubernatorial candidacy, Jenner addressed being both a conservative and a transwoman.
"I am a private citizen of the state of California, I have every right in the world to be able to run for this office and I am on the Republican side. Obviously, I'm on the Republican side," she said.
"But don't put me in this box, like if you're in this box of 'you're a Republican, you have to think this way.'"
Newsweek has reached out to Jenner's representatives and CPAC for further comment.