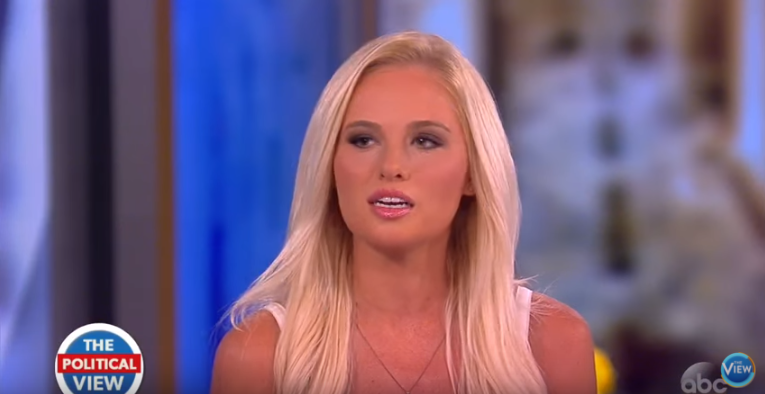 Tomi Lahren, the controversial conservative TV host, has reportedly been suspended from right-leaning news network The Blaze days after she made comments about being pro-abortion and insinuating that anti-abortion conservatives are "hyprocrites."
Lahren's show is suspended for a week, and while her contract with the company lasts until September, The Daily Caller reports that she could be booted before then. It's not immediately clear if Lahren's suspension is directly tied to her comments, which were made Friday on The View, but sources told The Daily Caller that her inflammatory style "has placed her increasingly at odds with co-workers."
Lahren, 24, appeared on The View to discuss a range of political topics, including the new travel ban executive order signed by President Donald Trump earlier this month, and ongoing investigations into allegations that Trump Tower was wiretapped by President Barack Obama. However, Lahren's comments on abortion gained the most attention.
"I'm pro-choice, and here's why. I am a someone who loves the Constitution, I am someone that's for limited government, so I can't sit here and be a hypocrite and say that I'm for limited government but I think that the government should decide what women do with their bodies," Lahren said. "I can sit here and say that as a Republican, and I can sit here and say, 'You know what, I'm for limited government, so stay out of my guns and stay out of my body as well.'"
Lahren said on The View that she gets "equal hate from all sides" of the political spectrum, including attacks from conservative women, over her views. A YouTube video of her appearance on the show has been watched more than half a million times since Friday. Criticism of Lahren was swift, and the TV host responded with a series of tweets. On Monday, she tweeted: "No one hunts small deer. This too shall pass," and she later tweeted a quote: "'When people praise you, don't let it go to your head. When people criticize you, don't let it go to your heart.'"
On Tuesday, Lahren tweeted: "This life can be lonely," and she thanked "those on all sides of the of the political spectrum for the support."
Lahren is not the first American woman journalist to be suspended due to opinions that clashed with those of her company. In 2015, CNN global affairs correspondent Elise Labott was suspended after she tweeted about a bill that could have limited the number of Syrian refugees allowed to enter the U.S. The "Statue of Liberty bows [her] head in anguish" over the bill, Labott's tweet said.
Helen Thomas, the veteran American journalist, went into retirement two months short of her 90th birthday in 2010 following comments she made about the Middle East. Thomas said Jews should "get the hell out of Palestine" and "go home" to Germany, Poland and America. Thomas's comments were caught on camera by a rabbi and have been viewed nearly two million times.
In December, Lahren called abortion "murder" and told her viewers: "The pro-choicers are supposed to be about rare and safe abortions. That's how they avoid sounding like straight-up baby killers." Lahren is known for her rants on highly charged political topics, including her opinion that the Black Lives Matter movement is the "new KKK." Her Facebook page, where her videos often go viral, has more than four million likes.
Lahren did not respond to a request for comment.