Tomi Lahren Suggests a New Version of "the Talk"—Teaching Respect for Law Enforcement— Ignites Twitter Debate
Fox Nation host and political firebrand Tomi Lahren tweeted throughout the entire presidential debate last night, but it was one comment in particular about "the talk" Black people have with their children about law enforcement that had Twitter talking.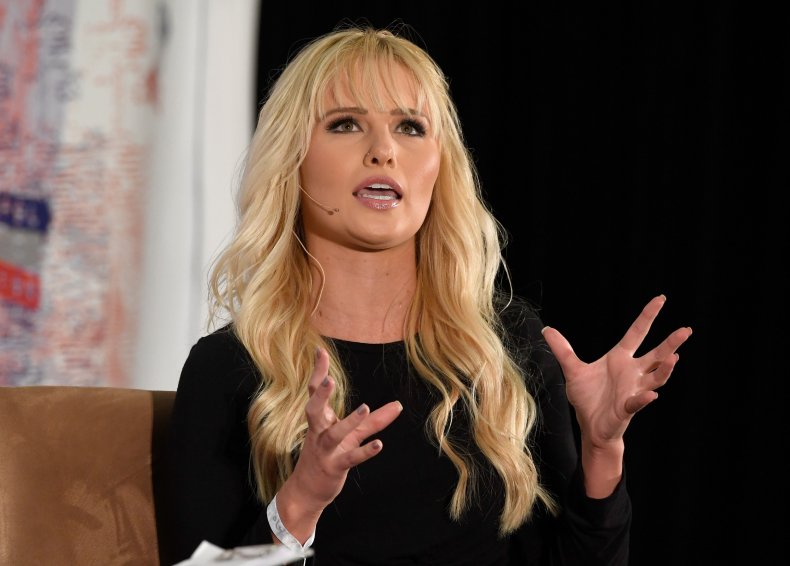 She wrote: "I'm white. My parents are white. They taught me to respect law enforcement. Maybe that should be the new 'talk.'"
The comment was in direct reference to debate moderator Kristen Welker asking both Pres. Donald Trump and challenger Joe Biden to speak about the "talk."
Biden answered by saying he never had to speak with his daughter about what to do when pulled over by police, but he knows that Black families often do. Trump replied by saying he has done more for Black Americans than any president except possibly Abraham Lincoln.
This led to the controversial and outspoken Lahren to post the above comment, which sparked many impassioned responses from Twitter users. Shea Couleé, a musician and former competitor on RuPaul's Drag Race, was one of the first and most vociferous to reply.
Although the tweet in question from Lahren above drew the most attention, it wasn't the first post she made about the "talk" last night. This was posted right before it:
Couleé was by far not the only person upset by Lahren's comments. Omar Baddar succinctly laid out the argument against Tomi's line of thinking.
Others pointed out that having "the talk" is completely different when Black people often receive different treatment by police officers.
This writer felt Lahren and her post wasn't even worth commenting on. (Yet, he did anyway.)
Lahren's own Twitter account featured back-and-forths in the comments. Including between these two, with a white man saying all people should be taught to put their hands on the wheel of a car when stopped. He went on to say it's a "not a race thing" but a "common sense thing," which drew a response from a Back woman calling him out.
Krystal Bee, on-air personality for 97.1 AMP Radio in Los Angeles, pointed out that Lahren likely missed the point.
Lahren had her fair share of defenders, too.
This commenter also agreed with Tomi.
There were even a few POC who agreed with Lahren's post.
This upset writer humorously tried to add a little more emphasis for Lahren.
Lahren wasn't done talking about race for the night. She continued by tweeting that Black Lives Matter is a terrorist organization, which stirred up more wrath on Twitter, as well as this user's imagination:
She weighed in on law enforcement again before moving on to addressing other debate topics.
This isn't the first time Lahren has caused controversy with remarks regarding race. The 28-year-old political commentator caused an uproar in 2016 with a tweet comparing the Black Lives Matter movement to the Ku Klux Klan, which resulting in thousands of people signing a petition for her to be fired from her then-employer, TheBlaze. A month later, she released a video criticizing Colin Kaepernick for protesting police brutality by kneeling during the national anthem before football games.
On Friday, she continued to make her point by attacking MSNBC national correspondent Joy Reid for comments the latter made after the debates last night that there is "absolutely zero, none, zero evidence that Black Lives Matter has ever pushed for anything violent, pushed for anything violent to happen to police." Lahren tweeted: