Tomi Lahren Says 'Lying Dirtbag' Tristan Thompson's Cheating Scandal Takes the 'Heat Off' Jussie Smollett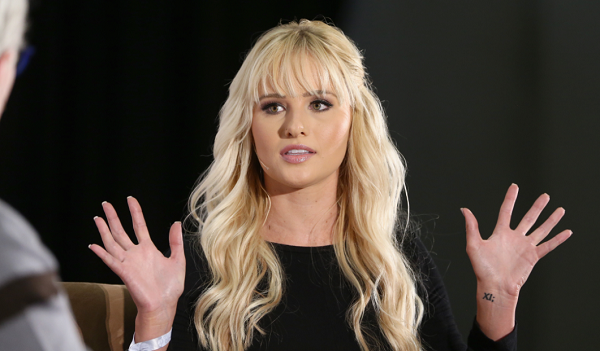 After spending a week rattling off against Jussie Smollet, Fox Nation host Tomi Lahren decided to keep up with Khloe Kardashian's latest drama by sharing her two cents about Kardashian's estranged boyfriend, who was recently accused of cheating on the reality star. Lahren wasn't quite able to fire off shots at NBA star Tristan Thompson without making some comparison to Smollet's situation.
"Lying Jussie must be so relieved Tristan Thompson is also a lying dirtbag. Takes some heat off him for the moment," she wrote on Twitter on Tuesday.
Thompson, who is the father of Kardashian's 10-month-old daughter True, was accused of cheating on Kardashian with Jordyn Woods, the best friend of Kardashian's youngest sister Kylie Jenner. Allegations of Thompson, 27, kissing the 21-year-old model at a house party on Sunday surfaced two days later. Kardashian, 34, reportedly ended her relationship with the Cleveland Cavaliers player.
Thompson previously made headlines after he was caught on video with two unidentified women at a hookah lounge in Washington D.C. in 2017 while Kardashian was pregnant. The video, along with a second video of him entering a hotel room with another woman in New York City, appeared online just days before Kardashian gave birth to their daughter.
Meanwhile, in a completely unrelated chain of events, Smollett is under fire for potentially having fabricated the vicious attack on him in late January.
Smollett was allegedly assaulted by two men yelling racists and homophobic slurs at him in Chicago on January 29. In a police report, Smollett told officers the men, who beat him with their fists, also tied a rope around his neck and poured an unknown chemical substance on him.
Initially, some people on social media suggested the attack was fake, which 36-year-old Smollett touched on during an interview with Good Morning America's Robin Roberts on February 14. "It's unbelievable to me that any of this has come to this. That every single thing that I have done, every single thing that I have cooperated with, somehow has gotten twisted into being some bull that it's not," he said.
Authorities arrested two Nigerian brothers, Olabinjo Osundairo and Abimbola Osundairo, in connection to the attack. However, they were released two days later. The Chicago Police Department noted the men were no longer considered suspects and said the investigation had changed directions. Rumors swirled that Smollett had staged the attack, of which Lahren relentlessly voiced her many opinions on Twitter.
Smollett's lawyers staunchly denied claims of Smollett orchestrating his own attack, despite police sources telling CBS Chicago the Empire actor paid the men to assault him. Then on Tuesday, The Hollywood Reporter released a report claiming Chicago police were investigating tips of Smollett being seen with his alleged attackers hours before the incident occurred.
Lahren has posted countless tweets on Smollett's alleged attack, from calling him the "Colin Kaepernick of TV" to questioning whether or not Roberts will hold a follow-up interview with the actor or if "mainstream media hacks [will] keep playing along with the FAKE sob story?"