Fox Nation host and conservative commentator Tomi Lahren has been accused of manufacturing her new patriotic athletic clothing line in China after she recently called for companies to make products in the United States.
Lahren, 27, announced her new clothing line, "Freedom," on Instagram last week. "Some have told me I'm too 'controversial' to have an athleisure line, that conservatives should just stick to politics and Trump cheerleading," the Fox personality wrote, alongside a poster advertising the new brand. "My response? Watch me. Introducing Freedom by Tomi Lahren by @alexoathletica full line available now."
Designed to represent patriotism, the line boasts clothing in red, white and blue as well as some items decorated with stars to loosely resemble the American flag. The line was created with active wear brand Alexo Athletica, a company known for producing clothing featuring gun holsters.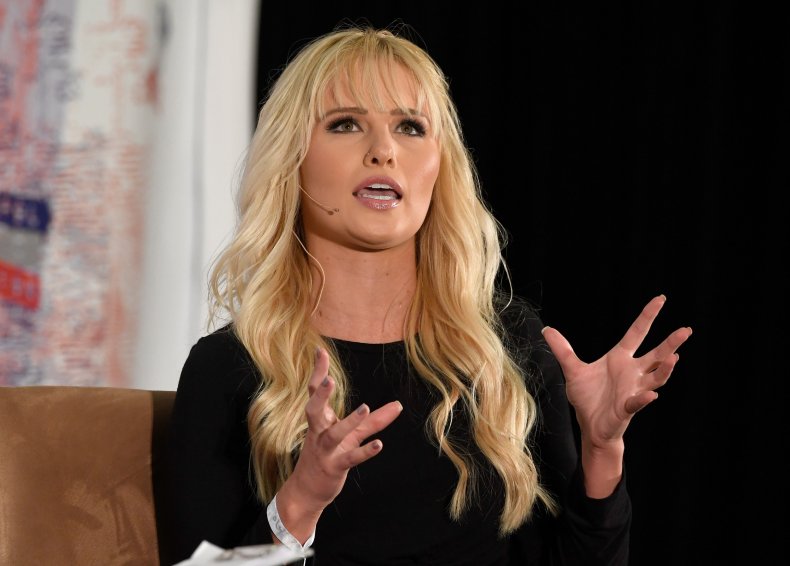 Shortly after Freedom's launch, social media users quickly moved to accuse Lahren of producing her line in China. Freelance writer Robyn Pennacchia tweeted a screenshot of a conversation between someone selling a Alexo Athletica piece online and a potential buyer. When asked to list the materials used, the vendor responded: "It's 95 percent polyester and 5 percent spandex. Made in China though."
"I am shocked, shocked to find out that Tomi Lahren's Athleisure line for women who don't hate America is... Made In China," Pennachhia wrote.
Twitter user @JordanUhl pointed out that Lahren's allegedly made in China clothing line comes just one month after the television personality called on companies to make their products in America during a Fox Nation "Final Thoughts" segment on July 17th.
"As it stands, products used for government projects can carry the 'Made in America' logo with parts made of 50 percent foreign components but not under this president," Lahren said in the segment. "Trump signed an executive order raising the percentage of American components to 75 percent. That's right baby, made in the U.S.A."
"He talks the talk and walks the walk. In America, it's Americans first. We should come first in our own dang country and in under this president, we do," the 27-year-old host added.
In another tweet, @JordanUhl added: "I cannot sufficiently express much it perfectly encapsulates Tomi Lahren's entire existence that her 'FREEDOM' line of American-flag themed concealed carry workout clothes are made in China."
Newsweek reached out to Tomi Lahren and Alexo Athletica for comment but did not hear back in time for publication.