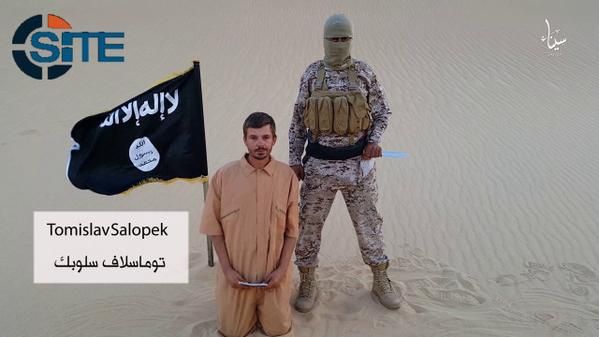 On Wednesday, the Sinai Province of the Islamic State released a new video threatening the life of Tomislav Salopek. In the video, the terrorist organization threatens to kill Salopek within 48 hours if their demands, a hostage exchange, are not met. ISIS demands the Egyptian government release female Muslims in exchange for Salopek.
On July 22nd, Salopek was kidnapped while traveling to Cairo, Egypt. Salopek was kidnapped "while driving a take-home vehicle to work at a French-owned company. He was stopped by a group of armed men, who forced him to get out of the car and drove away with him in an unknown direction," the Croatian Ministry of Foreign Affairs said in a statement. "The Ministry of Foreign and European Affairs is doing everything in its power and together with the Croatian Embassy in Cairo and other Croatian institutions is in close contact with the competent Egyptian institutions, the EU Delegation in Cairo, the French company in question and partner services in order to obtain information about the kidnapped Croat."
Salopek is a Croatian employee of CGG, a French geoscience company. He worked for the Ardiseis Egypt unit of the firm as a subcontractor. "Ardiseis Egypt acknowledges that he is the hostage appearing on the video released today by the Sinai Province of Islamic State," CGG said in a statement.
The 30-year-old's LinkedIn profile describes him as a topographer and former surveyor with experience creating projects in Syria, Egypt, Libya, and Iraq. He speaks English, Croatian and elementary Arabic. Salopek received a certificate from the Croatian Red Cross.
Salopek has been married for eight years and has two children, according to his Facebook page. The Ministry noted it is "keeping close contact with the victim's family."