Triple H Explains Tommaso Ciampa's Appearance at NXT Takeover: New York
On a night full of amazing wrestling, many fans are talking about the final moments of NXT Takeover: New York where former Champion Tommaso Ciampa appeared to congratulate Johnny Gargano after his victory over Adam Cole in the main event.
NXT fans know how long and storied Ciampa and Gargano's rivalry is, and considering the dastardly Tommaso looked to turn Johnny to the dark side or destroy him in the process, it was a bit confusing. However, Paul "Triple H" Levesque explained the surprise appearance in a post-show press conference.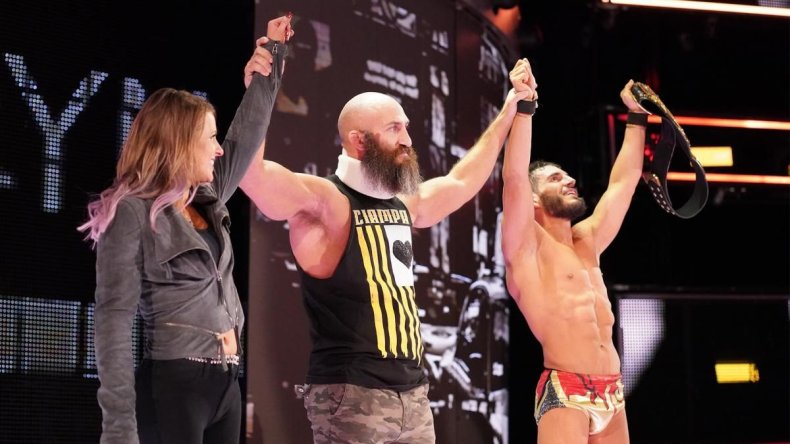 "You go back and forth on it and where you want to land on it. From a real standpoint, if you competitively look at this you want to succeed as much as humanly possible and you want to be in that spot," Levesque said. "And when it gets taken from you, you want the guy closest to you to take that spot. That's just sort of how it works."
Ciampa and Gargano real life friendship is well-know, but what about from a kayfabe perspective? Triple H has an explanation for that too.
"Even from a storyline standpoint, the evil Tommaso Ciampa would want [the title] himself but if he can't he'd probably want Johnny to have it. Even when they are entrenched in this war, he might as well have it if he can't," Levesque said. "It's an emotional ride, knowing where he's at knowing what he's going through...It was a real moment and sometimes those are the best moments. You can't script it and it's the most meaningful in my opinion."
Ciampa had to drop the NXT Championship in March after a neck injury Tommaso sustained became unmanageable.
"It went from something that was manageable to something we weren't willing to risk," Levesque said in a pre-NXT conference call. "We knew the length of time it would take to come back. Certain things are manageable. That situation changed, it progressively got worse and it wasn't manageable for Ciampa and us."
If you missed NXT Takeover: New York, it can be watched anytime on the WWE Network.
What did you think of Ciampa appearing to congratulate Gargano? What was your favorite match at Takeover: New York? Let us know in the comments section below.