'Love & Hip Hop Atlanta' Star Tommie Lee Arrested, Again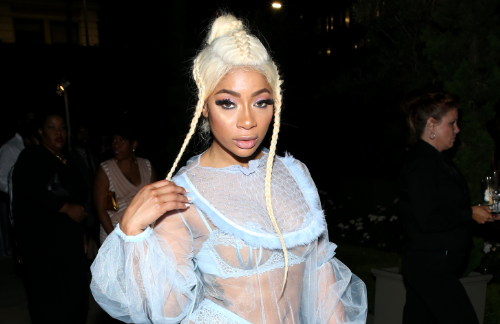 Love & Hip Hop Atlanta's resident bad girl, Tommie Lee, is in trouble with the law again. The reality star was arrested outside of Atlanta hotspot Royal Peacock after she was aggressive with police officers Monday, according to a TMZ report.
Officers were patrolling traffic outside of the club when Lee, whose birth name is Atasha Jefferson, was asked to move out of a roadway. Authorities said Lee ignored their requests and started behaving belligerently.
It wasn't until Lee allegedly struck a nearby valet operator in the head when officers decided to arrest the 34-year-old. The valet attendant worked for the nightclub and did not want to press charges against Lee, TMZ reported, but she was arrested anyway for disorderly conduct while under the influence.
A video of Lee's arrest captured by a fan appeared online on Monday night, in which Lee can be heard telling officers, "I never did nothing to ya'll. Why are ya'll taking me?" Lee's friends are also heard in the video pleading for officers not to arrest her.
The mother-of-two has a longstanding history of alcohol abuse, which she's often discussed on the VH1 reality show. A judge ordered Lee to wear a SCRAM Continuous Alcohol Monitoring device around her ankle back in May, TMZ reported. Lee has shared a number of photos on Instagram that show the device.
Lee's monitor, which detects alcohol consumption every 30 minutes through her sweat, was applied following a new probation condition stemming from two legal cases pending against Lee in Fulton County, Georgia.
When Lee joined the cast of LHHATL in 2016, she had already been arrested some 30 times. In her first interview with VH1, the aspiring rapper explained many of her arrests came after violating probation. "Half the time I've been on probation without going to prison. Half the time I was put on probation but I was still a badass. I still would violate probation. I wouldn't do community service, so [I] guess that you get booked again and [then] you got a whole new mugshot," she said.
Shortly after her debut season on LHHATL, Lee was arrested and charged with Drinking Under the Influence. She was also arrested earlier this year for allegedly attacking an employee at a mall in Georgia.