Tommy Dorfman Reveals She's Engaged to a Woman After Split From Ex-Husband
Netflix star Tommy Dorfman has announced that she is engaged months after her husband filed for divorce.
The 13 Reasons Why star, 30, revealed she had "met the person I'm going to spend the rest of my life with" and her new love was a "cis woman."
Dorfman was previously married to Peter Zurkuhlen but they split last year after five years of marriage.
The actress who also announced her gender affirming transition in 2021, talked about her fiancée on The O.C. star Rachel Bilson's podcast, Broad Ideas.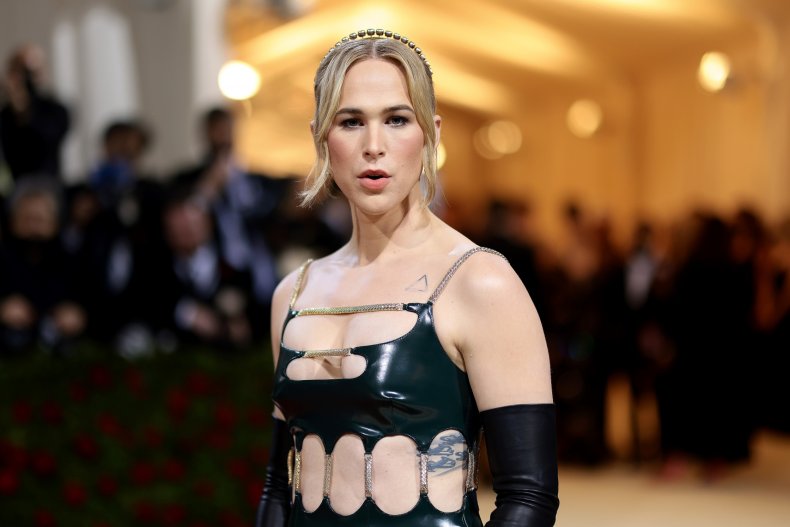 Dorfman stopped short of identifying her bride-to-be other than describing her as "just a gay girl," but did share a feature of their relationship that was new to her.
"When I met my person we would just send each other a lot of songs and I sent her a Blossom Dearie song," Dorfman told the podcast host.
Bilson said: "I love that when you're falling in love one of the first signs is when you want to share music or songs."
But Dorfman revealed that "I've never really done it before."
The actress opened up on how her fiancée was the first woman she had been with in a "very long time" after identifying as a gay man for many years, but admitted the relationship was "very affirming."
"It's safe. Also not safe, and like being in love is so scary. So uncomfortable, so painful. All the universal feelings of being in love that are probably the same," she said.
Dorfman also explained: "I knew I was interested in women in a way that I hadn't really been aware of since high school.
"I had this unresolved, unexplored thing. I was like, 'This is the year that I'm gonna go on some dates with girls and feel that out again, and not feel ashamed about it.'"
The Sharp Sticks actress admitted having some doubts about dating women after her transition, "because they thought of me as a gay man, they were like, 'Oh, like you're the safest person in the world,' and then suddenly, I transition and I become a little bit more threatening, in my head."
Prior to her engagement Dorfman was in a relationship with Zurkuhlen, 33, who she met through friends in 2005 and then married in 2016. He filed for divorce in January.
Dorfman reflected on her first marriage and how it was a safety net during her experiences of gender dysphoria and career rise in Hollywood.
"I think I got married for safety, because it felt safe in a world that was ever changing," she told Bilson. "I was just dealing with stuff that I didn't know about yet."
In April, Dorfman took to TikTok to explain the journey of her sexual and gender identity.
"I went from being a straight boy to a gay boy to a non-binary person to a trans straight woman—I thought—to I guess I am a trans lesbian," she said.
She announced her transition in an interview with Time in 2021 and shared an announcement on Instagram.
Dorfman also described how her physical transition was like going through a "second puberty" in an interview with InStyle.
"I…had never seen a body in transition before, and I think that's a scary thing as a trans person," she said. "It's kind of alien, and it's incredibly autonomous.
"It's puberty as an adult if you do it at my age—it's a second puberty, and I think you're supposed to go through puberty at an age when you don't remember it because it hurts. It's body-aching and emotionally wonky. But I had an opportunity to be of service. And for the most part, putting it into my work."
Dorfman decided to "withhold" her body and stopped working as an actress other than to star in Lena Dunham's Sharp Stick feature as a woman.
"I very intentionally haven't worked as an actor since Sharp Stick because I didn't want to immortalize my body in that way," she said on Bilson's podcast.
The Girls creator was aware of Dorfman's transition and invited her to play her first role as a woman.
"I think it might be good to have my first experience [acting since transition] with my best friend," she said.
"Everyone was great and I knew I would be protected by her."