PEGIDA U.K.: What Does Tommy Robinson's 'Anti-Islam' Group Want?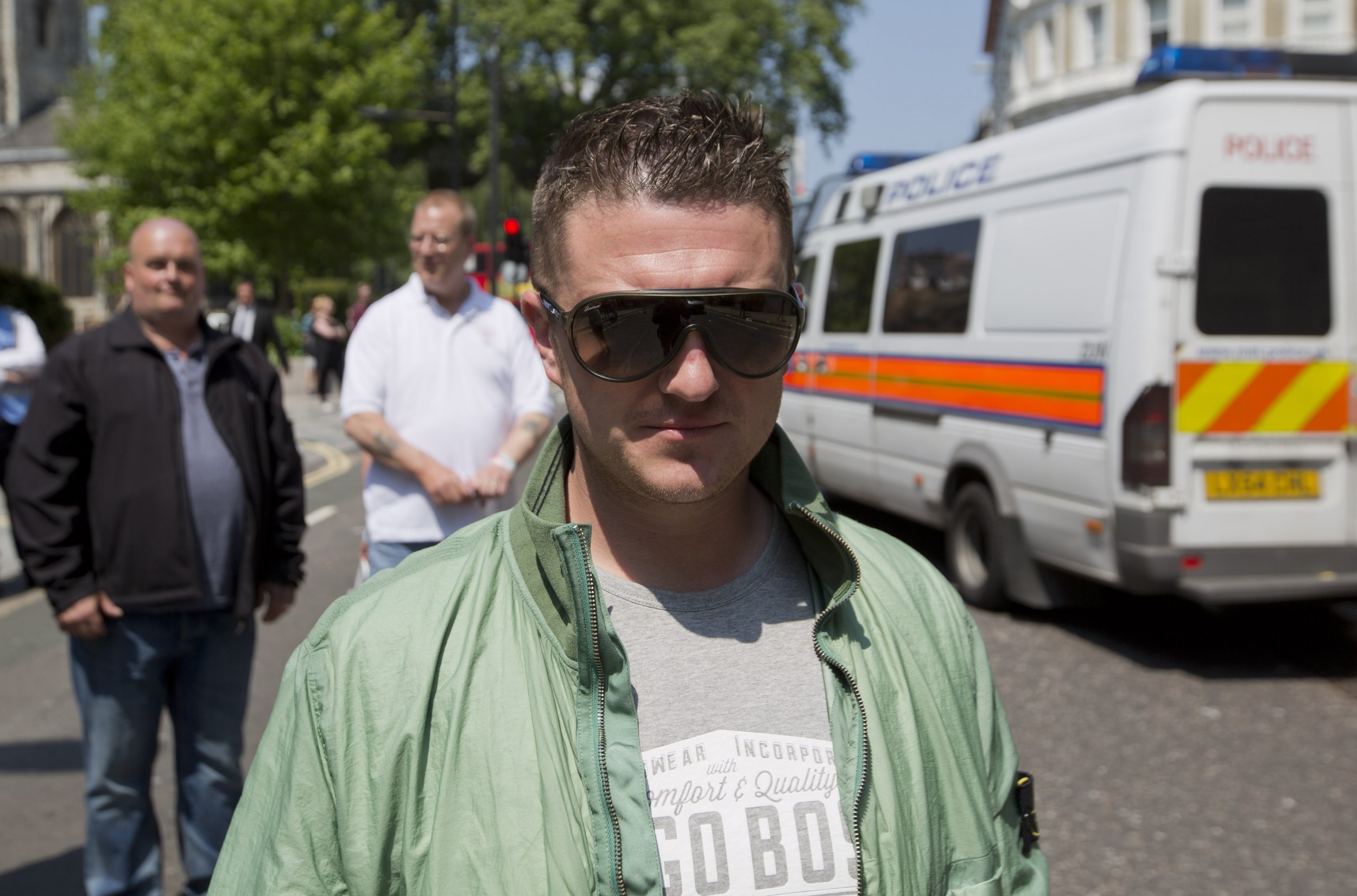 Tommy Robinson, founder and former leader of notorious British anti-Islam street group the English Defence League (EDL), is sitting in an innocuous gastropub on the outskirts of Luton, in England, trying to explain why he's been misunderstood. "I'm not far-right… I'm just opposed to Islam. I believe it's backward and it's fascist," he says, "The current refugee crisis is nothing to do with refugees. It's a Muslim invasion of Europe."
################## HTML editor Plugin ####################
It's fair to say he's fighting an uphill battle for public rehabilitation. From 2009 to 2013, Robinson and the EDL tore through Britain's towns and cities. The EDL leadership always said it was running a peaceful, democratic protest movement opposed only to Islamic ideology. But whatever their intentions the reality was different. Hordes of men, often drunk, would turn up and cause havoc. Films published by the Guardian newspaper in 2010 showed young men chanting "Allah is a paedo" and attacking police at an EDL rally in the town of Stoke-On-Trent, and supporters elsewhere using the racist term "Paki." Protests, which sometimes attracted as many as 2,000 supporters, were often marked by violent clashes with anti-fascist groups.
In the end, Robinson bowed out, acknowledging he had lost control of the organization. "While I want to lead the revolution against Islamist ideology, I don't want to lead the revolution against Muslims," he told the BBC in 2013.
This time, Robinson insists, things will be different. He is speaking to Newsweek in advance of the first outing for his new group, PEGIDA UK, an offshoot of the German group of the same name. PEGIDA, an acronym in German for Patriotic Europeans Against the Islamisation of the Occident, was founded in late 2014 in Dresden and draws crowds of thousands for its anti-Islam marches. While, like the EDL before it, PEGIDA doesn't enjoy much support in Germany from what it calls the "lying press," it has sought to cultivate a respectable image. It discourages attendees from drinking alcohol and calls its marches "evening strolls." Outings in the group's home city have attracted crowds of up to 25,000 people.
Copycat groups have sprung up elsewhere. Some, like PEGIDA Netherlands, have close links with the German organization. Others have fizzled out; there was an attempt at holding PEGIDA rallies in the U.K. in early 2015, which Robinson was not involved with. But at the first, in Newcastle, the 400 attendees were outnumbered by around 600 counter-protesters, and another in London drew just 100 people. But on February 6, the group plans to stage for the first time international, co-ordinated demonstrations by local branches or affiliated organisations in around 14 countries including the U.K., the Czech Republic, the Netherlands and France.
Far-right nationalist groups have gained momentum across Europe after sex attacks allegedly committed by groups of men of "North African and Arab appearance" on New Year's Eve in Cologne sparked outrage. As Europe's refugee crisis intensifies, Dutch right-winger Geert Wilders's anti-Islam Freedom Party has surged in the polls, with a survey on Sunday January 24 showing it would win 42 seats if the results were translated into votes—the largest bloc in the Netherlands' 150-seat parliament. In Sweden populist right wingers the Sweden Democrats, who are staunchly anti-immigration, are riding high.
At a conference in the Czech Republic in January co-hosted by the PEGIDA-affiliated group Bloc Against Islam, delegates from anti-Islam movements across Europe, dressed in suits, signed a memorandum swearing that "we are determined to protect Europe, the freedom of speech and other civic freedoms as well as our way of life together." PEGIDA UK weren't present at the conference, but Anne-Marie Waters, another of its leaders, expresses similar sentiments. "The differences among Europeans are minimal," she says, "it is what we share as Europeans, as westerners; democratic civilisation, that is what we're there to defend."
"I do see it as being potentially dangerous… because by following this type of line they immediately make themselves look more legitimate," says Daphne Halikiopoulou, an Associate Professor of Politics at Reading University who specialises in the far right. Fewer people, she says, are willing to sign up to a blatantly racist platform, whereas saying you are "fighting for my freedom, my liberty and my security… is more legitimate." But, Halikiopoulou says, the success or otherwise of these groups depends on their ability to back up that approach in practice. Among other things, that means holding genuinely peaceful protests. "The movement will [only] become successful when it attracts members of the middle class," says Halikiopoulou. That means finding a way to speak to ordinary people "who feel a bit insecure with the situation" but want to know "it's not going to be hooligans getting drunk and breaking things up."
It's a point not lost on Robinson. While he says he thinks the use of violence on protests is wrong, his interest in PEGIDA's more disciplined methods could be construed as more tactical than moral. He says he wants to "show the British public this is an organisation for you. This is something you can get behind and support," he says. This appearance of respectability is important to PEGIDA groups throughout Europe. An organizer for PEGIDA Netherlands who calls himself Edwin Utrecht laments recent police crackdowns on the Dutch group, and says it's crucial to be able to march unimpeded. "When you can't walk… it's not for the normal people then, you only have the hardliners," he says, "we want to have the normal people on the streets." Robinson's demonstration has already been condemned by local Muslim leaders and also by the left-wing British opposition leader Jeremy Corbyn.
Robinson says February's demonstration, to be held on the outskirts of the city of Birmingham, will enforce a strict alcohol ban and will take place in "the middle of fucking nowhere" to avoid confrontation. Local police confirmed the demonstration's remote location in a statement which says "there is nothing at this stage to suggest a significant risk of disorder." Groups are also at pains to manage expectations over the size of these protests. Resistance Republicane, the group staging France's rally, won't give Newsweek a prediction on turnout. Police estimate the PEGIDA U.K. demo will number about 350 people. Utrecht says he hopes somewhere between 300 and 500 people will turn up to the march in Amsterdam.
But serenity is far from assured. During a recent demonstration staged by an offshoot of Pegida in Leipzig, a separate, smaller group of hooligans went on a rampage. Five police officers were injured, 57 people were arrested and the carnage dominated the headlines. When asked about the incident, Robinson claims the men who rioted were provoked by the rape that day of a local woman by a migrant. "Look mate, if I'm in Luton, and we had a demonstration on Monday night and a woman I know was raped by a gang of refugees, I can guarantee that frustrations would boil over on that day too. So you can't stop that." He says being in a remote area might make trouble less likely and that he, with the help of stewards, will be personally vetting attendees, but this doesn't entirely rule out another possibility: traditional far-right or far-left groups, who match each other in their loathing for Robinson, turning up to cause trouble.
Tactical questions aside, what exactly do these groups want? At this point, there's little in the way of formal pan-European policy. The groups share a pessimistic view of the scale and long-term impact of immigration to Europe from Islamic countries. Robinson, whose home town of Luton has an unusually large Muslim population for Britain, styles himself as a kind of prophet: "I've seen what's coming," he says. When asked, the U.K. leadership endorses a Donald Trump-style ban on Muslim immigration to Britain: "Deliberately importing people without checking what their backgrounds are," says Paul Weston, the group's third leader, "who are in their own religious and political terms sworn enemies of the West, what on earth is the West doing inviting any of them in at all?" Weston also says he'd like to see a ban on all Muslims holding public office in Britain: "In World War II, did we fight the Nazis or did we fight the Germans? We had to fight the Germans, we could not differentiate between the good ones and the bad ones." Robinson is keen on segregating Britain's male prisons into Islamic and non-Islamic inmates, and on closing down any religious "Sharia law" courts operating in Britain. Rather than try to prevent British jihadis leaving for Syria and Iraq, Robinson would wave them off "Send them all mate. I'd be chartering jets for 'em."
Shot through PEGIDA'S ideology is a deep distrust of elites whose "rules," according to the declaration signed in the Czech Republic, "have brought only poverty, unemployment, corruption, chaos and moral collapse." Robinson's book, too, is riddled with paranoia. "My overarching crime, at least in the eyes of the British establishment, has been to be a patriot," he writes, at the beginning of an account which takes in convictions for travelling to the U.S. on someone else's passport and for mortgage fraud—Robinson argues he has been treated more harshly than other people by the legal system because of his political beliefs. Robinson is due to answer another charge of Assault on February 10. Asked why law abiding British Muslims should listen to the moralizing of a man with his record, Robinson says: "I'm not telling you how to live…You want to be a peaceful, quiet Muslim inside your house, you do that."
One protest will not amount to a revolution. But PEGIDA hopes that a new wave of collaborative anti-Islam dissent will swing the political conversation their way and attract the moderate supporters that a traditional far-right group could never hope to gain. He says in 10 years mainstream politicians will be implementing the ideas he and others like him are calling for. We're a long way from that, but in the space of a month the U.K.'s Denmark's parliament has voted through proposals to confiscate refugees' valuables to pay for their stay in the country and German Chancellor Angela Merkel is seeking to make it easier to deport asylum seekers who commit crimes. For all their bluster, the likes of Robinson and PEGIDA are still on the fringes, but their voices are only going to get louder.