Senator Tommy Tuberville has co-sponsored a bill that would end federal funding for schools that teach critical race theory and "The 1619 Project."
The Alabama Republican joined six other conservative members in supporting the so-called Saving American History Act on Monday.
Tuberville said the legislation will allow schools to "encourage the open debate of ideas and teach important morals to our students."
"When done right, education is the key to freedom," Tuberville said in a statement. "By expediting the use of the 1619 Project, our schools are coming perilously close to cementing existing inequality, rather than giving kids the chance to escape it. The U.S. government should not spend a single taxpayer dollar to teach children to dislike their country."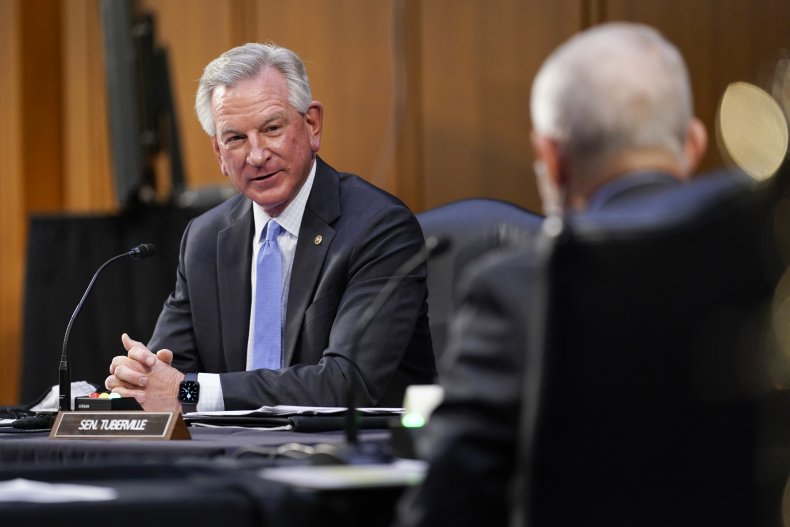 The Saving American History Act was first introduced by Senator Tom Cotton of Arkansas in 2020. Other cosponsors include Senate Minority Leader Mitch McConnell, John Boozman of Arkansas, Marsha Blackburn of Tennessee, Cynthia Lummis of Wyoming and Thom Tillis of North Carolina.
Critical race theory examines the ways race and racism intersect with culture, law and politics. "The 1619 Project" is a New York Times feature that aims to shift perceptions of American history by placing the consequences of slavery at the forefront. The ongoing project won the 2020 Pulitzer Prize for Commentary.
Critical race theory has gained prominence over the past year amid a nationwide reckoning on issues of racial justice. But Republican lawmakers across the country are pushing to ban it from school curriculum.
Last week, Florida became the latest state to ban critical race theory. Florida Governor Ron DeSantis, a Republican, said ahead of the vote that critical race theory would teach children that "the country is rotten and that our institutions are illegitimate."
State attorneys general penned a letter to Education Secretary Miguel Cardona on May 20 asking him to reconsider an agency proposal to prioritize grant funding for schools that teach critical race theory.
Tuberville, a freshman congressman and former college football coach, said Alabama needs to follow the lead of other states and stop "The 1619 Project" and critical race theory from being taught in schools.
"We can't teach our kids to hate this country," Tuberville said during an appearance on Rick & Bubba, a radio show based in Birmingham, Alabama.
Tuberville also encouraged parents to call their children's schools and ask "what kind of history are you teaching?"
"They need to check with their high schools, their school boards, their principals and their superintendents."
Newsweek reached out to Tuberville's office for additional comment, but didn't receive a response before publication.