Tommy Wiseau Tries To Steal Mic From James Franco, Creates Viral Meme at 2018 Golden Globes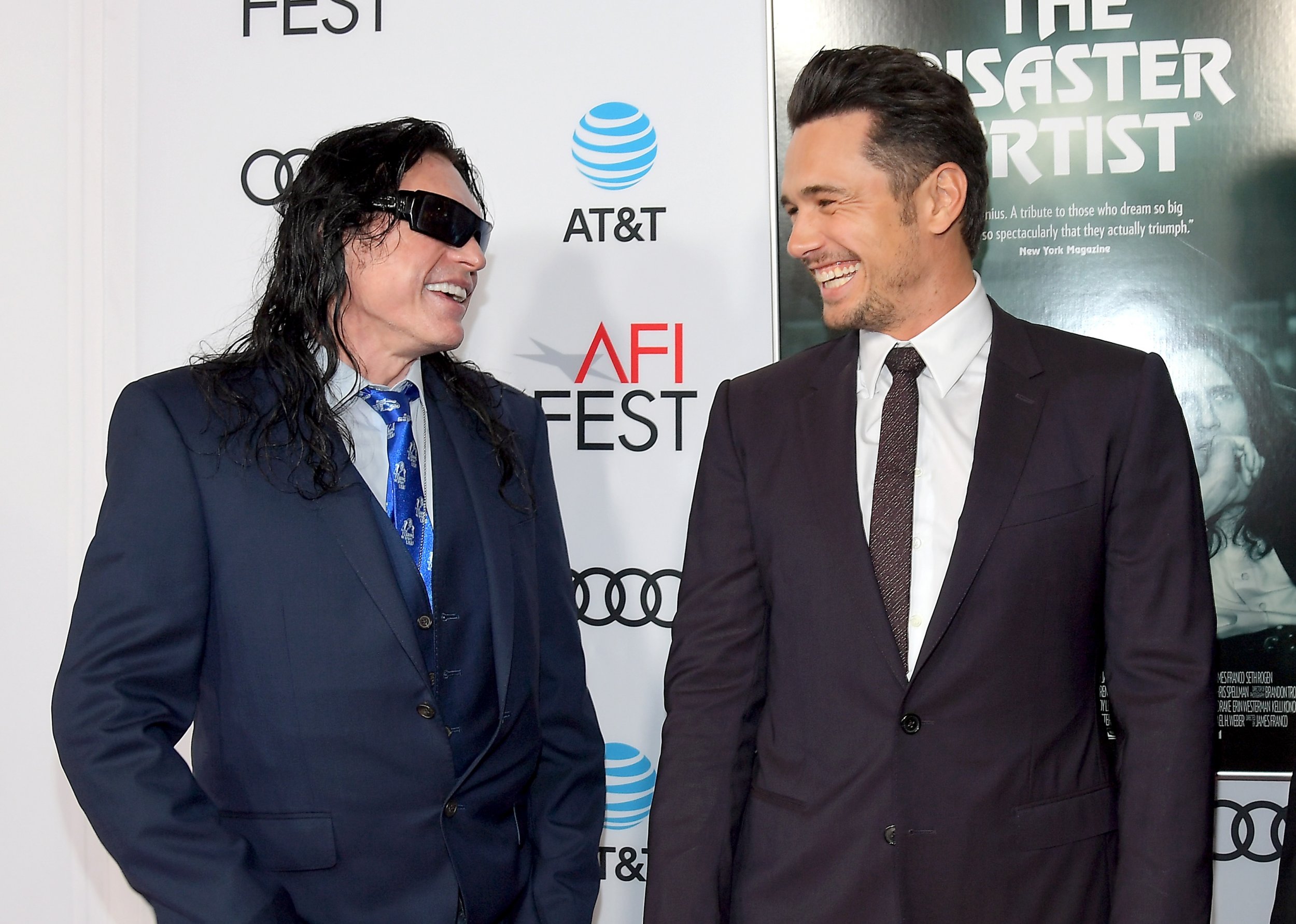 When James Franco won the Golden Globe on Sunday for Best Performance by an Actor in a Motion Picture (Musical or Comedy), for his role in the film The Disaster Artist, the eccentric Tommy Wiseau—who Franco plays in the film—was already on his way to he stage when Franco told him to come up. (Some had already noted that Wiseau was not seated at The Disaster Artist table. Hmmm.)
The Disaster Artist, a film about the making of Wiseau's doomed The Room, a movie so bad and weird it became a cult hit. Wiseau, a mysterious, odd person, seemingly struck up a friendship with Franco during the making of The Disaster Artist. But when Wiseau strolled up to the Globes stage and tried to grab the microphone from Franco, the star kept The Room creator at bay.
After hugging him, Franco stepped between Wiseau and the mic: "Whoa, whoa, whoa," he said, immediately creating a viral moment.
Wiseau stayed on stage with Franco, without speaking, disappointing some fans of The Room. Others thought Franco should have given Wiseau a chance to speak since he earned the award by portraying the eccentric filmmaker. More likely, Franco knew he had limited time to thank everyone he needed to, and Wiseau has a reputation for speaking at length. Whatever the reason, Wiseau's name was soon trending nationwide on Twitter.
Greg Sestero, who starred in The Room and wrote the book that inspired The Disaster Artist, told Newsweek's Anna Menta in December what it was like to see the terrible-but-somehow classic Wiseau film. Even then, he said, it was clear Wiseau was at times impossible to ignore (except, apparently, when he's on a stage with Franco).
"After The Room premiered in 2003—which went exactly as it does in The Disaster Artist—I didn't think it was going to go anywhere," Sestero told Newsweek. "It wasn't a film I wanted to share with people. For a few years The Room wasn't a part of my life. But I knew Tommy was a great character. I would tell people stories from the set and they would say, 'There's no way that happened!'"