#TomPerezResign Trends as 2020 Democrats Accuse DNC Chair of Changing Rules for Mike Bloomberg's Benefit
Democratic National Committee Chair Tom Perez is facing calls to resign amid accusations that a decision to relax the DNC's debate criteria was made as part of an effort to give former New York City Mayor Mike Bloomberg the chance to participate.
As the Iowa caucuses descended into chaos on Monday due to inconsistencies in reporting results, Perez faced scrutiny over the DNC's announcement that it would no longer require 2020 Democratic presidential candidates to meet any donor requirements in order to participate in debates.
Newsweek subscription offers >
While the decision was billed as a way to open up the debate stage to more candidates, 2020 hopefuls were quick to catch on that the rule change would be of particular benefit to one competitor: Bloomberg, who has refused to accept donations, opting to funnel millions of dollars from his own fortune into his campaign instead.
In a statement published on Twitter, Massachusetts Senator Elizabeth Warren condemned the rule change, asserting that "the DNC didn't change the rules to ensure good, diverse candidates could remain on the debate stage."
"They shouldn't change the rules to let a billionaire on," she said, without naming Bloomberg. "Billionaires shouldn't be allowed to play by different rules—on the debate stage, in our democracy, or in our government."
Jeff Weaver, a senior adviser to Vermont Senator Bernie Sanders, echoed that sentiment, telling The New York Times: "To now change the rules in the middle of the game to accommodate Mike Bloomberg, who is trying to buy his way into the Democratic nomination, is wrong."
Newsweek subscription offers >
"That's the definition of a rigged system," he said.
For Sanders, accusations of a "rigged system" within the DNC will be nothing new, with the Vermont senator having accused the committee of rigging the primary process in favor of former Secretary of State Hillary Clinton when he tried to run against her to represent Democrats in the 2016 election race.
Entrepreneur Andrew Yang was similarly critical of the DNC's decision, accusing the committee of making a change that seemed "tailor-made to get Mike Bloomberg on the debate stage."
Yang, who had previously advocated for relaxing debate criteria to include a more diverse range of candidates, said: "The DNC changing its debate criteria to ignore grassroots donations seems tailor-made to get Mike Bloomberg on the debate stage in February."
"Having Americans willing to invest in your campaign is a key sign of a successful campaign," he said. "The people will win out in the end."
Yang further added that he didn't believe "Mike particularly wants to debate."
"He could easily have gotten himself onto the stage with the donor requirements," the entrepreneur and 2020 hopeful said.
Former Vice President Joe Biden also weighed in on the development, appearing genuinely confused about Bloomberg's potential appearance on the debate stage in Nevada on February 19th.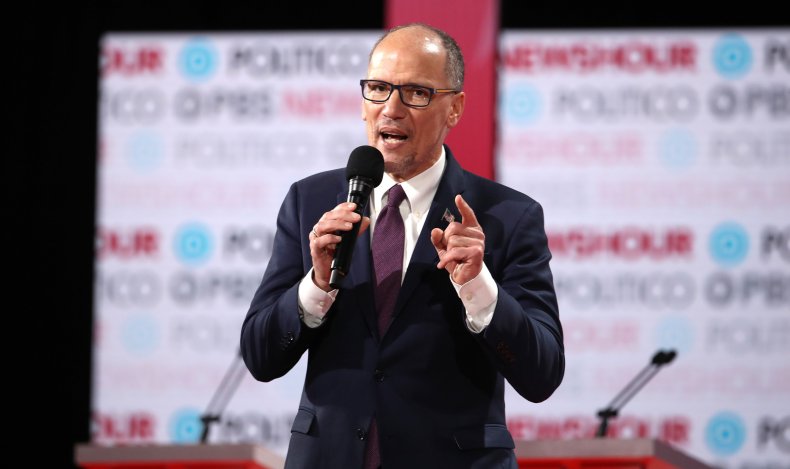 "For the next debate?" Biden questioned. "He's not even on the ballot in Nevada," Biden said, before raising his eyebrows and shaking his head as he walked away.
Candidates may have good reason to be confused by the DNC's sudden rule change, given that the committee previously refused to change debate participation requirements for the sake of "any one candidate" after competitors asked for changes to be made to boost diversity on the debate stage.
"The DNC will not change the threshold for any one candidate and will not revert back to two consecutive nights with more than a dozen candidates," the DNC said in a statement to Politico in December. "Our qualification criteria is extremely low and reflects where we are in the race."
Now, however, it looks like that criteria will be adjusted in a way that ensures Bloomberg will be able to secure a spot on the debate stage—an opportunity that the DNC declined to extend to past candidates who failed to meet requirements, including New Jersey Senator Cory Booker and former Secretary of Housing and Urban Development Julián Castro, who both dropped out of the race.
As candidates raced to slam the DNC's rule reversal, critics appeared to point the finger directly at Perez, who took up the helm of the DNC in 2017, calling on the committee chief to resign.
"The Democratic Party would rather reelect Trump than bend to the will of the people," commentator Michael Salamone wrote on Twitter.
"The only Iowa caucus result we know tonight is that Tom Perez will resign tomorrow #TomPerezResign," screenwriter Greg Cope said.
Politico Senior Politics Editor Charlie Mahtesian also weighed in, saying: "You can already see the poison working its way through the party."
"#TomPerezResign is now trending on Twitter. Bernie's supporters, already inclined to believe the party is working behind the scenes to stop him, smell a rat," Mahtesian said.
Newsweek has contacted the DNC for further comment for this article, as well as 2020 Democratic presidential candidates.
#TomPerezResign Trends as 2020 Democrats Accuse DNC Chair of Changing Rules for Mike Bloomberg's Benefit | U.S.