While Tonga is dealing with the effects after the underwater volcanic eruption Hunga Tonga-Hunga Ha-apai, delegates from the Red Cross warn against an influx of aid workers.
Katie Greenwood, the head of delegation for Asia Pacific's International Federation of Red Cross and Red Crescent Societies, said Tonga, home to roughly 105,000 people, is one of the few remaining places in the world that has avoided the COVID-19 outbreak. She warned that outsiders, even aid workers, could potentially bring the virus, creating an even bigger problem than the eruption's aftermath.
The Tongan government reported "significant infrastructural damage" caused by the eruption, the Associated Press reported. Greenwood, who has been communicating with the island via satellite phone, said roughly 50 homes on Tongatapu were destroyed, and 90 people on the island of 'Eua were using emergency shelters. However, the biggest problem is the ash covering the main island, contaminating the rainwater that the Tongan people drink.
The eruption destroyed nearly every home on Mango island, leaving only two houses remaining, according to a statement from the office of Prime Minister Siaosi Sovaleni.
"There has been no contact from the Ha'apai Group of islands, and we are particularly concerned about two small low-lying islands — Mango and Fonoi — following surveillance flights confirming substantial property damage," U.N. spokesman Stephane Dujarric told AP.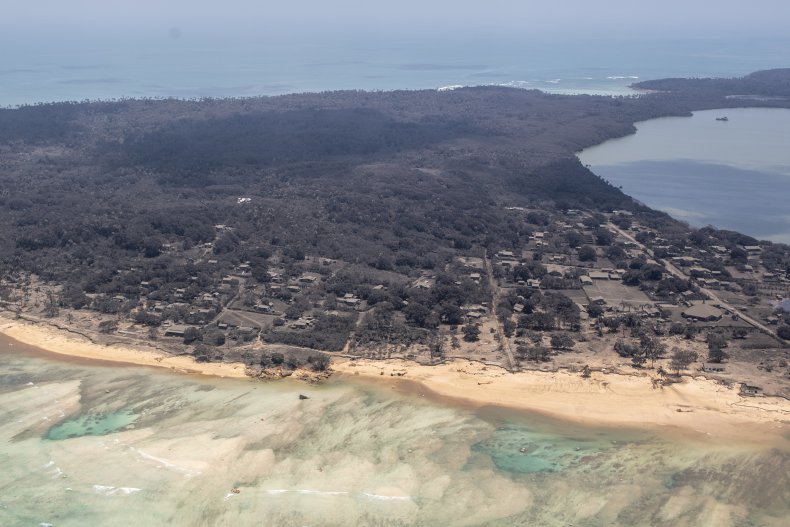 Communications are down, making complete assessments challenging. Samiuela Fonua, who chairs the board at Tonga Cable Ltd., said the single underwater fiber-optic cable was most likely damaged during the eruption.
Fanua said one break on the cable, which lies on top of the coral reef, would take a week to repair, but multiple breaks could mean it would take three weeks to get communications running.
Dujarric said the U.N. World Food Program is developing methods to deliver relief supplies and help fix the communication lines.
"The United Nations offices in the Pacific are closely monitoring the situation and are on standby to provide support if requested," U.N. spokesperson Farhan Haq said in a statement.
The New Zealand military is sending fresh water and other supplies, but the ash covering Tonga's main runway is creating delivery delays. Military officials said they hope the airfield will open Wednesday or Thursday since Tongan authorities do not prefer airdrops.
Zhao Lijian, a spokesperson for the Chinese Foreign Ministry, said his nation is sending food, drinking water, personal protective equipment and other necessary supplies when flights to the area resume.
In Tonga, three are dead, including British woman Angela Glover, whose family said she died after being swept away by one of the waves.
According to Glover's brother, Nick Eleini, her husband discovered her body as they tried to rescue their dogs.
The eruption, which was heard in Alaska, triggered a tsunami and waves across the ocean, causing an oil spill and two drownings in Peru.