Tongan Olympic Flag Bearer Pita Taufatofua Nears Fundraising Goal to Rebuild After Tsunami
Tonga's Pita Taufatofua, the bare-chested Olympian who captivated the world while carrying his country's flag during the opening ceremonies at the Summer and Winter Games, is raising money to help the island nation recover from widespread destruction caused by Saturday's volcanic eruption and tsunami.
Taufatofua set up a GoFundMe page with a goal of raising $1 million AUD ($750,000 USD) to help rebuild schools and hospitals that were severely damaged after an underwater volcano erupted off the coast of Tonga.
The Hunga Tonga-Hunga Ha'apai volcano sent a plume of volcanic ash more than 100,000 feet in the air. NASA said the eruption was so powerful that it triggered tsunami and atmospheric shock waves around the globe.
The ash fell on the islands of Tonga, covering everything in sight and contaminating drinking water. Some of the smaller islands were almost completely decimated by 49-foot-high tsunami waves. The United Nations said at least three people died, with several others still missing.
Taufatofua's GoFundMe has surpassed its halfway mark with $615,302 AUD raised as of 12:37 p.m. Thursday from more than 10,000 donors.
"I am currently in training camp in Australia but am imobilising all the assistance I can to send to our beloved Tonga," Taufatofua said on the page.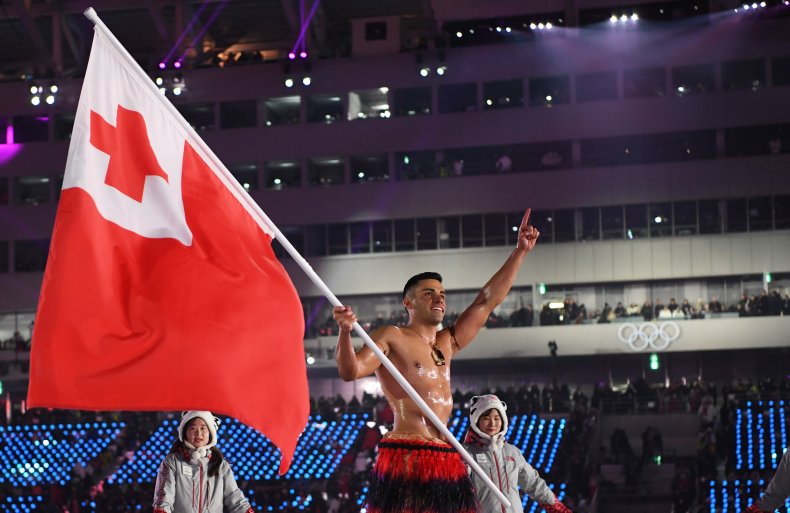 Taufatofua said he has still has not been able to contact his father, the governor of Ha'apai. ESPN reported nearly 100,000 people were cut off from the outside world after their only fiber-optic cable in the ocean was severed. Some information is beginning to trickle in that satellite phones on the islands are starting to work.
Taufatofua told USA Today that he was able to get confirmation from some relatives on Ha'api that they were safe and their home still standing. However, his father was on the main island of Tongatapu and has yet to be heard from. The last known whereabouts of his father were when he was securing the family home.
"I have no idea what has happened to him," he told CNN. "I am optimistic he will be OK, and hopefully, he is out there working in the community. That is probably my guess, but that is just me speculating."
He told USA Today that instead of worrying about his father, he's going to do what he can to help the islands recover from the devastation.
"I have no choice. When times get tough is when we actually have to stand up," Taufatofua said. "It's not a time for me to sit back and worry about my own personal feelings. That stuff, I can deal with it afterward. There's work that needs to be done, so I've got to stand up and help do what I can to get it done. So yeah, there is no choice."