Tonga's Smaller Islands Devastated By Tsunami, Prompting Evacuation of Residents
Residents on the smaller outlying islands of Tonga have started to evacuate after an underwater volcanic eruption on Saturday triggered giant tsunami waves.
According to Red Cross officials, three of Tonga's smaller islands were seriously damaged by 49-foot waves. Other islands once filled with bright colors are covered by dark brown and gray ash.
U.N. spokesperson Stéphane Dujarric told the Associated Press that the islands of Mango, Fonoifua and Nokuma suffered widespread damage and the several hundred residents have started to evacuate.
"All houses have apparently been destroyed on the island of Mango and only two houses remain on Fonoifua island, with extensive damage reported on Nomuka," Dujarric said.
Katie Greenwood, the head of delegation in the Pacific for the International Federation of Red Cross and Red Crescent Societies, told AP that the majority of the structures of the islands were completely destroyed by the tsunami.
"Very unfortunate information has come to light overnight about the three islands that we were really worried about—that they have all suffered devastating consequences as an effect of these incoming waves," she said.
The immense volcanic eruption triggered tsunami warnings and advisories across the globe, including parts of the United States, Canada, New Zealand and Japan, according to CNN.
Iwate in northeastern Japan saw waves as high as 9 feet (2.7 meters) as other regions in the country reported smaller waves. CNN reported that cities across the coast of California saw waves exceeding 3 to 4 feet.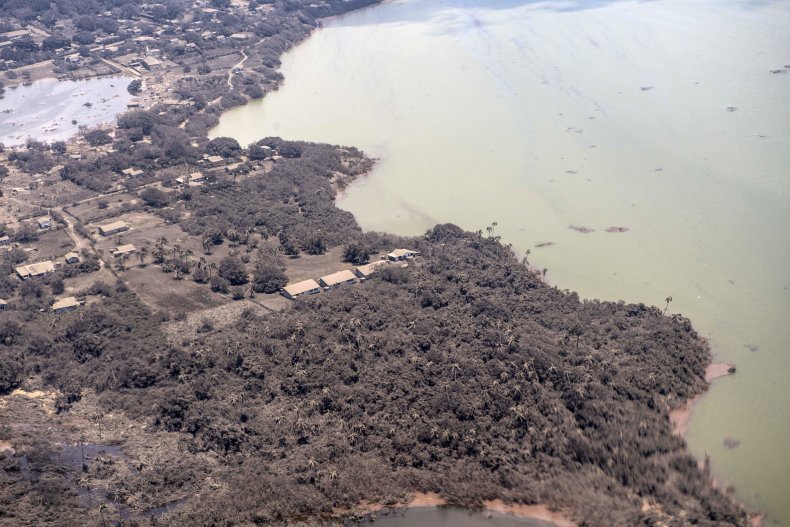 NPR reported that the eruption was likely one of the loudest explosions on the planet in 100 years and could be heard in Alaska. NASA researchers estimated that the eruption was more than 500 times as powerful as the nuclear bomb used on Hiroshima, Japan, in World War II.
The volcanic blast was so loud that some Tongans said they were deafened by the sound and could only wave at loved ones to tell them to run, Reuters reported.
"The first explosion...our ears were ringing and we couldn't even hear each other, so all we do is pointing to our families to get up, get ready to run," Marian Kupu, a local journalist in Tonga, told Reuters.
About 84,000 people, more than 80 percent of Tonga's population, were affected by the eruption. Three deaths have been reported, along with reports of several injuries, structural damage and polluted water, Dujarric said.
"What we are concerned about now is clean drinking water. Most of our drinking water has been contaminated from the volcanic dust," a witness told Reuters.
Planes and ships carrying supplies started to arrive on Thursday. New Zealand and Australia sent military planes filled with water, shelter kits, hygiene supplies, generators and communication equipment, according to AP.
A New Zealand navy ship was deployed to Tonga carrying 66,000 gallons of water. AP reported that the ship can also create fresh water every day using a onboard desalination plant.