What Has Toni Braxton Said About Her Relationship With Hospitalized Sister Tamar Braxton?
Tamar Braxton was taken to the hospital after she was discovered unconscious on Thursday. The 43-year-old singer was found in a room at the Ritz Carlton Residences in Los Angeles where she had been staying with her boyfriend David Adefesco, 49.
The Blast was first to report the story.
Los Angeles Police confirmed that officers responded to a call on Thursday night regarding a "possible overdose" by a woman at the hotel. Reps for Braxton's family issued a statement noting, "Tamar has a had a very tough and emotional day—more information will be coming in the next few days. Please pray for her."
Braxton was reported to be in stable condition on Friday.
Braxton, who shares a son with ex-husband Vincent Herbert, was gearing up for her new reality docu-series, Tamar Braxton: Get Ya Life, which was set to premiere on We TV on July 30. The network is also the home of Braxton Family Values, the reality show she has appeared on with her sisters—Toni, Traci, Trina and Towanda Braxton—for six seasons.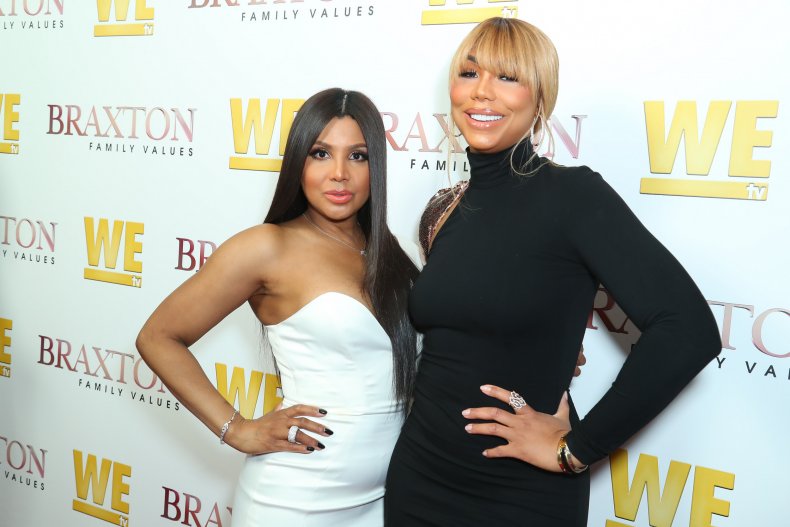 Although Tamar Braxton was moving on independently with her reality show, the former co-host of The Real was still maintaining her close bond with her sisters. The women often engaged in spats and tiffs and heated family disagreements on Braxton Family Values—some of the biggest being her blowout with big sister Toni Braxton over their mother's health in season 5 and Tamar Braxton's meltdown when Trina Braxton's boyfriend proposed during her Napa Valley birthday trip in season 6.
Despite their many ups and downs, though, the sisters always managed to get past their disputes and keep their relationships intact; this was especially the case with Tamar and Toni's friendship.
At the height of the coronavirus pandemic, Toni Braxton, who suffers from Lupus, made a point to spend a "sister day" with Tamar Braxton—although Tamar Braxton made their outing difficult by not wearing a mask.
"@tamarbraxton completely RUINED quarantine break sister day...she didn't have a mask or gloves and she wanted to use ALL OF MY @unclebuds_hemp HAND SANITIZER but no my sista ya gotta get ya own!" Toni Braxton shared in an Instagram video posted back in March.
Tamar Braxton was also there for her sister during Toni Braxton's breakup with fiancé Birdman. When critics bashed the award-winning singer for calling off her engagement, Tamar Braxton defended Toni Braxton, writing on social media, "All of you can drag me to the ground (I honestly don't care), but it's 2019!!! Full fckn warning...come for ANY of my sisters and I promise u will regret it."
Reps for Toni Braxton did not respond to Newsweek's request for further comment.