Tonight's 'Bachelorette' Finds Black Lives Matter a Part of the Plot
Tayshia Adams's date night on Tuesday will turn into an emotional conversation on race, according to spoilers from Reality Steve. When Adams has some alone time with contestant Ivan Hall, their pair will speak about their races and racism they've experienced throughout their lives.
Adams is the second Black Bachelorette, and she's also part Mexican. Hall is Black and Filipino.
Apparently, the one-on-one date moment will bring very personal experiences from both Hall and Adams to the forefront. "Ivan tells her the story of his younger brother who went to jail for 4 years after he'd just had a baby, his child could only see him in prison, and the conversation got pretty deep," Reality Steve wrote in a blog post on Tuesday. "Ivan wanted to open up and Tayshia shared growing up in Orange County, CA where there were not a lot of mixed race [sic] kids, and she breaks down."
The conversation will then turn to Black Lives Matter and the impact the 2020 movement had on both Adams and Hall throughout the summer.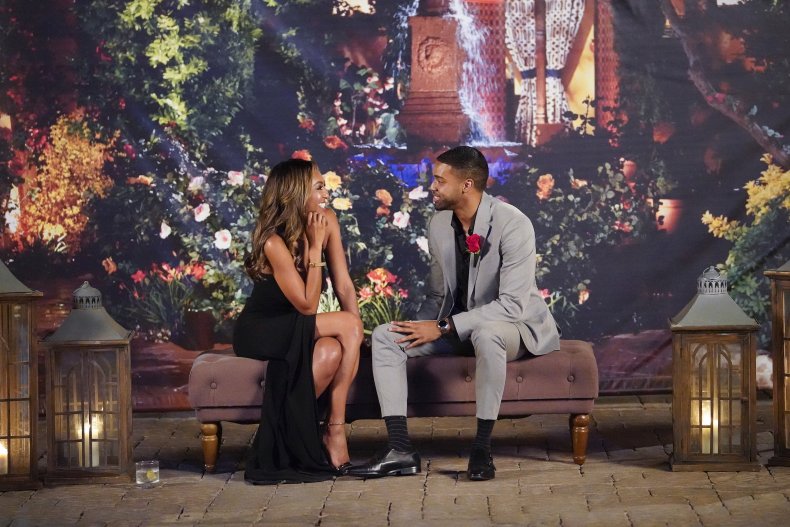 Most viewers likely know the Black Lives Matter movement didn't originate in 2020, but it saw a giant increase in support after the murder of George Floyd, a Black man who was killed by a white officer. Protesters took to the streets around America to campaign for equality, police apprehension and defunding police departments in favor of more community resources in large cities.
Adams did take part in the Black Lives Matter protests, which her followers saw on her Instagram account in June. A lengthy caption expressed what the protests meant to her. In the photo, she held a sign that read "We're not trying to start a race war, we're trying to end one."
"I have never been one to talk about my race because I have always been the minority," Adams wrote. "I never knew any different but also never wanted to bring attention to something that would make people see me differently/ not as an equal. It wasn't until 4th grade when I had my first cognitive encounter with someone not wanting to associate with me based on the color of my skin."
Hall's Instagram account doesn't feature any snaps from Black Lives Matter protests, though it does sport a black square. This was a trend by some social media users who advertised "blackout Tuesday" as a way to block out normal content in favor of listening to Black voices.
You can watch the deep conversation on The Bachelorette Tuesday night at 8 p.m. ET on ABC.