Lady Gaga has spoken of her joy at Tony Bennett calling her by name for the first time "in a long time" as the pair reunite for another collaboration.
The two first joined forces for their 2014 album Cheek to Cheek and have once again teamed up for what will be Bennett's last album Love For Sale.
The musical icon, 95, has been battling Alzheimer's, and a 60 Minutes special on CBS this weekend shared details of his life with the disease as well as footage from his last concerts at Radio City Music Hall this summer.
Speaking about working with Bennett amid his ongoing health struggles, Lady Gaga said he still knows what to do when the music starts playing.
"When that music comes on... something happens to him. He knows exactly what he's doing. And what's important for me, actually, just to make sure that I don't get in the way of that," the Chromatica singer told CBS.
The special showed footage from the Radio City concert on Bennett's 95th birthday when he introduced Gaga mid-show by saying: "Woah, Lady Gaga!"
As the pop star twirled on stage, Bennett added: "I like that, do it again."
Gaga told Anderson Cooper: "That's the first time that Tony said my name in a long time.
"I had to keep it together, because we had a sold-out show and I have a job to do. But I'll tell you, when I walked out on that stage and he said, 'It's Lady Gaga,' my friend saw me. And it was very special."
The touching moment has been circulating widely on social media where fans are celebrating the sweet moment between the two artists.
"She was so pure and happy when he called her name," tweeted one fan.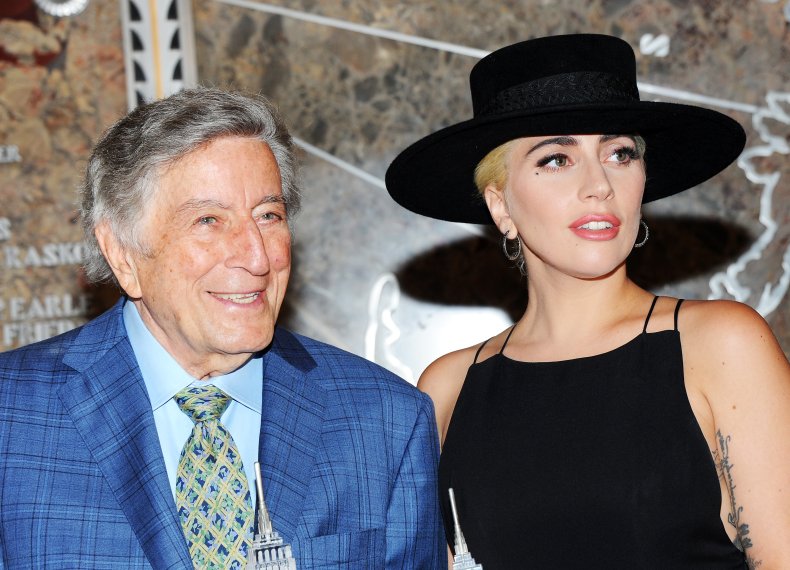 While another added: "She's so happy and he recognized her instantly and seemed so happy to see her. They are like Father and daughter."
Another added: "I'm feeling this all the way to my soul."
Susan Benedetto, Bennett's wife, said "every day is different" with her husband's Alzheimer's.
"He recognizes me, thank goodness, his children you know, we are blessed in a lot of ways," Benedetto said on 60 Minutes. "He's very sweet. He doesn't know he has it."
Benedetto, who has been married to Bennett since 2007 added: "'Tony late at night, sometimes early in the morning, he's more alert, if I can use that word.
"So, I'll tell him, 'Tone, you're gonna be on 60 Minutes.' He's, like, 'Great.' I said, 'You remember that show, 60 Minutes?'
"He's, like, 'I do.' But in any other given moment, he won't know."